Getting Started In Football Manager 2010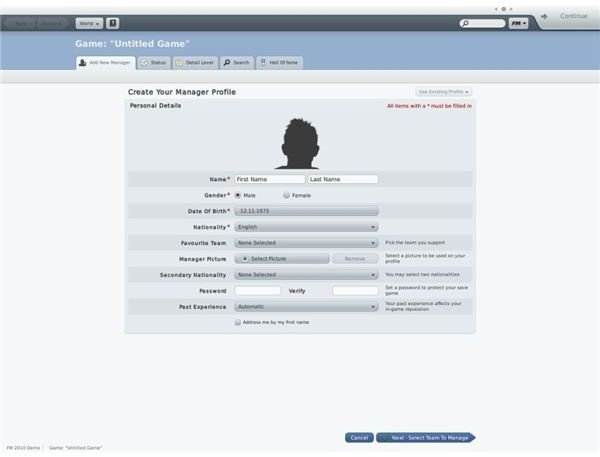 Getting Ready for Kick-Off
Sports Interactive's Football Manager 2010 is a huge game of soccer management comprising scores of spreadsheet-like player stat screens, tactic design screens and a 3D match engine.
With so much going on in the game, you could be forgiven for getting lost – and newcomers to the game and Football Manager veterans alike might have some problems with simply getting started and choosing a team, especially if they missed out on the new interface that was introduced with last year's Football Manager 2009.
Before you can test out your ideal formation and tactics you need to set up a profile and pick a team. Thankfully setting up a manager profile and choosing your team isn't too complicated; however there are a couple of pitfalls that you need to avoid…
Setting up a Manager Profile
When starting a new game in Football Manager 2010, you must create a new Manager Profile.
This is a screen that determines who you are, your age, nationality, favourite team and experience with the game, and also allows you to choose a second nationality, set a password for your profile (you don't need this unless you share your computer and you are worried someone will take over your game) and even choose a photo to display.
A word of warning here – if you launch Football Manager 2010 and omit to enter the password (assuming you entered one) to your manager profile but go straight to the Continue button in the top right of the screen, the game will proceed without you. Obviously this could prove problematic, so make sure you have your Manager Profile active as soon as you logon!
You'll also need to check the Detail Level screen which provides various options that can only be set up at the start of a game, such as selecting what leagues are available for you to manage in, while the Status tab confirms some of this information as well as letting you keep an eye on processor usage throughout the game. You can even let the game select the optimum settings for your machine which will help things run smoothly.
Choosing Your Club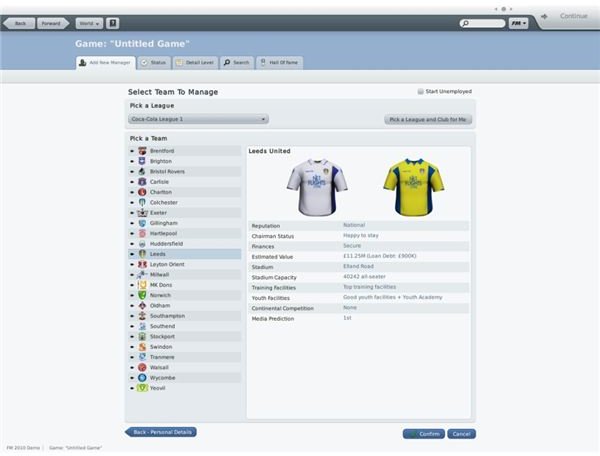 Once your Manager Profile has been created and you've selected your detail level, it's time to choose a club to run. At the start of the game you can choose anyone, from the lowest team at the foot of the lowest league to Manchester United, Chelsea, Barcelona, Juventus – anyone!
Of course it could be said that there is no challenge in managing a giant, with more satisfaction to be had from taking a small club or sleeping giant from their position of mediocrity back to the big time.
There is no right or wrong answer. A large group of Football Manager fans play what they term LLM – lower league management – in which they manage lowly clubs on shoestring budgets with part time players with the odd opportunity for FA Cup glory with a home tie against a major club.
As the clubs in the game are pretty much in tune with their real world contemporaries, it's a safe bet that if you choose a club that has recently been relegated then they will have a limited financial situation.
Meeting Your Team
After choosing your team, it's time to become familiar with your squad and staff. Over the coming days in the game, you'll be playing a series of "friendlies" – pre-season matches against other teams.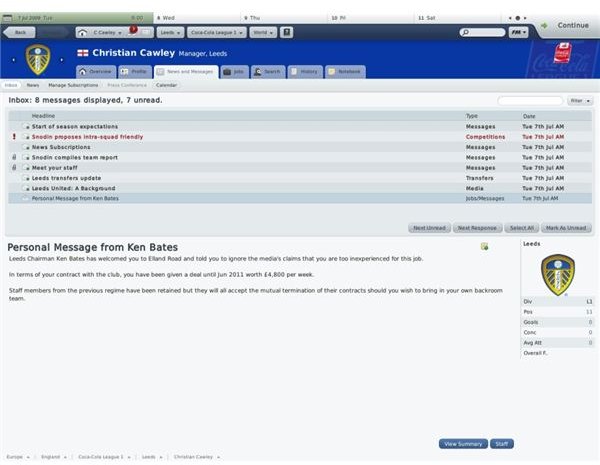 You need to make sure your team is a match for your next opponents and the forthcoming season, and the earlier you can get in to take a look at your player profiles the better.
Player wages and transfer values are a good measure of the player's quality, while an in depth look at the player profile will show you what foot they use and how good they are in particular situations as well as listing a vast array of technical, mental and physical attributes.
Another reason to check this information early is so that you can quickly get on the transfer market – weak or aging players should be replaced, although avoid letting go of players popular with other members of the team. Taking 30 minutes to check through each player profile in detail will yield a lot of information about your squad of players – information that will become vital when it comes to picking a team…
This post is part of the series: Football Manager 2010 Guide
A comprehensive walkthrough for playing Football Manager 2010.