Football Manager 2010 Guide - Managing Other Teams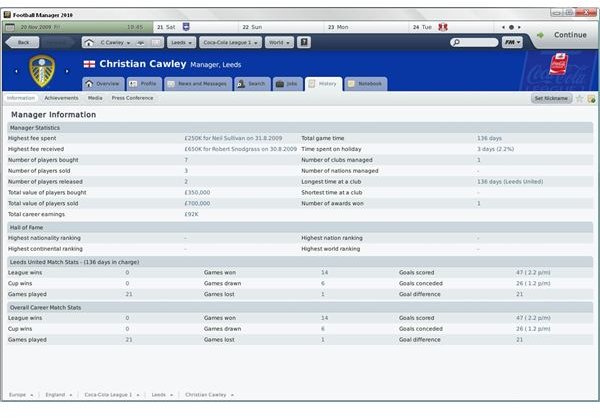 Develop Your Career in Football Manager 2010
Taking your team to domestic and continental success isn't the only reason to play Football Manager 2010 – regardless of how good your tactics and team selection are, beyond your team talks and reputation with the fans and other clubs, there is always a new challenge.
This challenge might be any of the following:
Managing your clubs biggest rivals
International management
Lower league management
Moving abroad to manage a club
For any manager there can be a period when it feels as though all that can be achieved has been achieved. This is true both in real life and in FM 2010. In a situation like this, it is a good idea to start investigating your options.
Your Career Statistics
The best way to have a look at what your options are is to check out your manager profile – simply click your name in the upper portion of the Football Manager 2010 game screen. The Profile tab contains your basic information, based on your performance to date. For most of your first season, for instance, the Mental section of your Attributes screen will all score an average rating of 10.
To get a good idea of your success as a manager, take a look at the History tab. The first screen of this is Information – a series of statistics based on your transfer market activity, games won and lost at each of your clubs, etc. A good record here should see you in good stead to move up a division as a manager in the early days of the game, while a longer career might get away with a few ups and downs.
Also of importance is the Achievements screen, which lists records for each competition, while the Media and Press Conference screens allow you to see how you conducted previous interactions with the press – all of this goes into building your player profile, so it is important to treat the press interaction element of Football Manager 2010 with respect.
Taking a New Job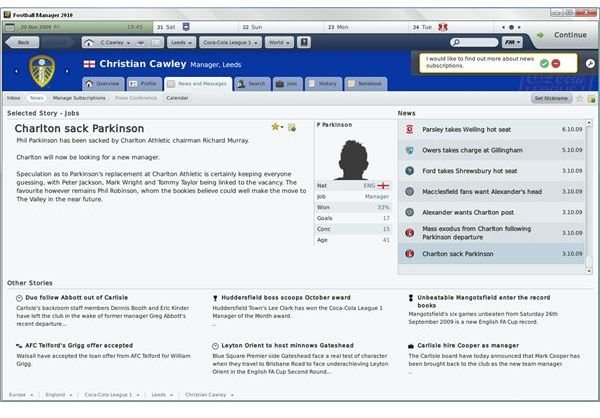 To see what jobs are available, go to the Jobs tab in your Manager Profile. The Job Security screen is the important one when looking for a new club – this lists the current situation at each club, listing a manager's Job Status as being Untouchable if he is very safe all the way down to Insecure or Under Review if there is any doubt.
Alternatively, a manager might be sacked by his club. If you're a big name, you might get headhunted - otherwise you can apply for the job at the other club. Note that word will get back to your own club pretty quickly, however, so unless you have decided you definitely want to move on, don't apply rashly..
When selecting a new job, it is important to bear in mind the basic criteria for selecting a club, as outlined in our Getting Started guide – in brief, check the finances, the clubs recent record and decide whether or not you're happy with the existing support staff such as the Assistant Manager and Physio. Also pay particular attention to the club's results under the previous manager and the actions of the club's board. While you might have a £50 million transfer kitty, being able to spend this on the players you want might not be possible.
Interference from the chairman is the last thing you want.
You'll find loads of extra help with the game in this article: Get to Grips with Football Manager 2010
This post is part of the series: Football Manager 2010 Guide
A comprehensive walkthrough for playing Football Manager 2010.