Understanding Player Profiles in Football Manager 2010 – Reports and Statistics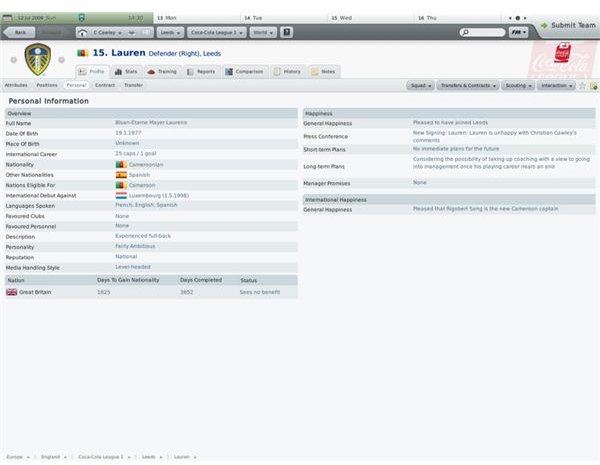 Beyond Player Attributes
As well as a considerable array of player attributes, the Player Profiles provide information that lets you identify how a player might react in a certain situation.
There is key information stored in these screens, ideal for judging how good your players are, their attitudes and their methods of play – all of which is vital information both for getting your team playing as a unit and winning games. Additionally, the information in these screens can prove vital when picking the right players to sign.
Other Profile Information
Further information about your players can be gleaned from other screens on the Profile tab.
The Positions screen outlines what parts of the pitch the player is comfortable occupying and in which roles – many players can play in two or three roles to varying degrees of success, and this is illustrated on the right side of the screen with a representation of a soccer pitch and the player's preferred roles marked with a green disc. The green will fade to yellow and through orange to red as a player's ability in each position is illustrated. A text version under the heading Positions is displayed on the left of the screen, as well as information about which feet the player is comfortable with using when passing, crossing, shooting and tackling.
Keep an eye on the Preferred Moves field, which gives a lot of information on how your player likes to play.
The Personal screen tells you more about the player, his reputation, friends at the club or within football, his personality and his aspirations. Meanwhile the Contract screen outlines the length of the player's current contract, the wages and the bonuses the player receives, while the Transfer screen displays information such as the player's value, asking price in the event of a sale, clubs that are interested in the player and any offers that have been received.
Reports, Statistics and Making Notes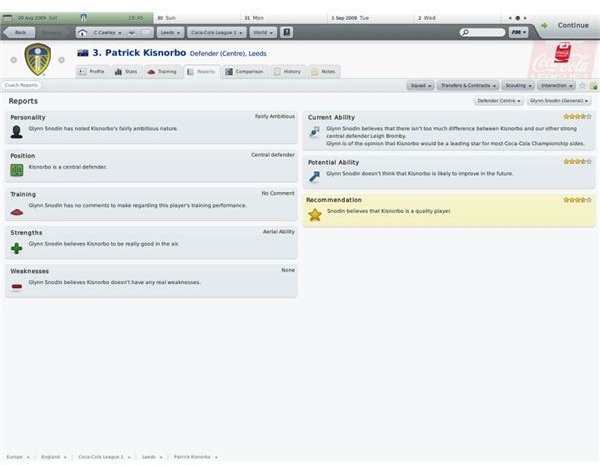 Other elements of the Player Profile include:
Stats – information on goal attempts, passes, appearances and more across all competitions; this information can also be filtered to display by competition.
Training – here you can set your player's particular training regime as well as monitor his development under the regime via the Attributes tab.
Reports – this is a very useful screen in which your Assistant Manager gives his opinion on the player's Personality, Position Training, Strengths, Weaknesses, Current and Potential Ability and summarises his report with a Recommendation.
Comparison – useful for comparing two players in the same role, this screen displays basic profile information of two players (your currently selected player and a second chosen through the Compare With drop down menu) complete with a summary spider graph; you can also compare Attributes as well as player Stats.
History – the entire playing career of your player is detailed here with dates, teams, what league the team was in, transfer values where appropriate as well as goals, appearances, assists (passes leading to goals), Man of the Match awards and the player's average rating within the current game of Football Manager 2010.
Notes – a great option, this screen allows you to make your own notes about a player and easily recall them. These notes can be anything, from noting a performance to a reminder to retrain them to a different position.
With the above information carefully studied (around 5 minutes for each player) you should be able to get a good handle on your team, and utilise their strengths to good effect on match day.
This post is part of the series: Football Manager 2010 Guide
A comprehensive walkthrough for playing Football Manager 2010.