FM 2011 Cheap Players: Transfer Listed and Bargain Players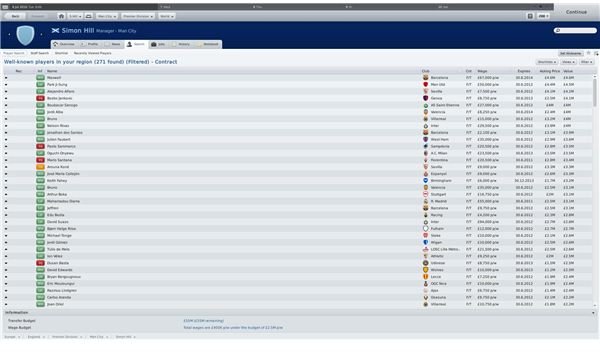 Bargain Players
If your transfer pot is looking small and you need to sign some new players then it's time to search for bargains. Sometimes it doesn't work out at a club for a player for whatever reason and so they'll be offloaded for below market value. Sometimes a club may be in financial trouble and they have to reduce that wage bill, so once again they'll offer players cheap. Finding bargains can be tough and as the season progresses you'll find more bargains appearing. You'll also be offered players from time to time, sometimes for free, because a club is looking to offload them and hasn't received any bids.
Here's a small sample of FM 2011 bargain players to start you off at the beginning of a new game. Most are suitable for lower leagues. A few will be able to contribute at a high level.
Transfer Listed Bargains
Bosko Jankovic AMR/MRLC/AMLC 26 Genoa £4.1 mil (asking price £2.5 mil)

Jordi Alba ML/WB/AML 21 Valencia £4 mil (asking price £2.4 mil)
Bruno DM/MC 26 Villarreal £4 mil (asking price £3.2 mil)
Jonathan dos Santos MC 20 Barcelona £3.9 mil (asking price £3.1 mil)
Julian Faubert MR/D/WB/AMR 26 West Ham £3.6 mil (asking price £2.9 mil)
Roque Santa Cruz ST 28 Man City £3.6 mil (asking price £2.4 mil)
Jose Maria Callejon ST/AMC 23 Espanyol £3.3 mil (asing price £2.6 mil)
Mahamadou Diarra DM/MC 29 Real Madrid £3.1 mil (asking price £2.5 mil)
David Edwards M/AMC/M/AMR 24 Wolves £2.5 mil (asking price £1.2 mil)
Rasmus Lindgren MC/DM/ML 25 Ajax £2.4 mil (asking price £1.4 mil)
George Elokobi DL 24 Wolves £2.2 mil (asking price £900k)
Sunny DM/MC 21 Valencia £2 mil (asking price £850k)
Fabrizio Cacciatore DR/DL 23 Sampdoria £1.7 mil (asking price £875k)
Garry O'Connor ST 27 Birmingham £1.1 (asking price £850k)
Leandro Grimi DL 25 Sporting CP £925k (asking price £275k)
Kirk Broadfoot DC/DR 25 Rangers £825k (asking price £275k)
Timothee Atouba D/WBL 28 Ajax £350k (asking price £200k)
Per Karlsson DC 24 AIK £210k (asking price £14k)
Football Manager 2011 Cheap Players
Diego Lugano DC 29 Fenerbahce £2.9 mil
Ibrahim Afellay AMC/MRLC/AMRL 24 PSV £2.3 mil
Andreas Hinkel D/WBR 28 Celtic £1.5 mil
Gonzalo Pineda DL/DC/DM/MC 27 Cruz Azul £1.4 mil
Sasa Papac DL/DC/WBL 30 Rangers £1.3 mil
Anthony Annan DM/MC 23 Rosenborg £1.1 mil
Jordan Spence DC/DR 20 West Ham £1.1 mil
Jonathan Orozco GK 24 Monterrey £1.1 mil
Christian Benitez ST 24 Santos Laguna £1.1 mil
Alex Witsel MC/M/AMR 21 Standard £1 mil
Humberto Suazo ST 29 Monterrey £1 mil
Guillermo Ochoa GK 24 America £1 mil
Morgan Scheneiderlin MC 20 Southampton £850k
Mauricio Molina AMLC/MRLC/AMR 30 Seongnam £825k
Server Jeparov MC 27 Bunyodkor Toshkent £650k
Luizao DC 23 Cruzeiro £600k
Miles Addison DC/DM/MC 21 Derby £500k
Adam Lallana M/AML/M/AMRC 22 Southampton £425k
Vincent Enyeama GK 27 Hapoel Tel-Aviv £230k
Katlego Mphela ST 25 Sundowns £220k
Leigh Griffiths ST 19 Dundee £210k
Peter Masilela DL/WBL 25 Maccabi Haifa £180k
Petar Zanev WBL/DL 24 Litex £180k
Sebastian Grazzini AMC/MC 29 All Boys £140k
Matthew Booth DC 33 SW Sundowns £70k
FM 2011 Out of Contract Players
There's nothing better than picking up a quality player or even some backup cover for free. Many clubs in Football Manager 2011 start with no budget or even mountains of debt. If you like to take up the challenge in the lower leagues you'll also suffer from a lack of reputation. It can be tough to attract players. This year we've got a bumper crop of FM 2011 out of contract players for you to check out. The majority of these guys can make a big impact at lower league sides and there are a few in there who can still cut it in the top flight.
Under 30
Nicolas Puydebois GK 29

Nicolas Bonis GK 28

Franck Signorino DL/WBL 28

Steven Pele DC 28

Calum Davenport DC 27

Dino Drpic DC 29

Joe Martin DL/ML 21

Mitchell Burgzorg DR/WB/MR 22

Ondrej Svejdik DC/DR 27

Jose Goncalves DC/DL 24

Vinicius DC 29

Coelho WBR/D/MR 27

Abubakari Yakubu D/WBR/DC/DM/MC 28

Bob Malcolm DM/MC 29

King Gyan DM/MC 21

Gerard Lifondja DM/D/MC 21

Sergio Zijler AMR/MRL/AML 22

Etienne Esajas AML/ML 25

Anduele Pryor AML/MRLC/AMRC 25

Libero Parri MC/AMC 28

Salomon Olembe ML/D/WBL 29

Marko Babic ML/WB/AML 29

Nashat Akram MC/AMC 25

Ali Fuseini MC/AMC 21

Devann Yao AMR/MRL/AML 20

Francisco Duran MC 22

Gauthier Mahoto MC/DM 18

Jonatas MC 27

Alex Perez AML/WB/ML 25

Ibrahim Sissoko MC/DM 21

Selim Benachour AMC/MRC/AMR 28

Andranik Teymourian MC/DM 27

Bernard Mendy MR/WB/AMR 28

Olivier Kapo AMR/MRLC/AMLC 29

Romano Denneboom AMR/ST 29

Nicola Mingazzini MC/DM 29

Chris James MC/MRL/AMC 23

Nicky Travis MC 23

James Ashmore MC/AMC 24

Mauro Rosales AMR/ST 29

Gari Uranga AMC/AMRL/ST 29

Klemen Lavric ST 29

Abdessalam Benjelloun ST 25

Wason Renteria ST 25

Marko Livaja ST 16
Over 30
Frederic Herpoel GK 35

Ronan Le Crom GK 35

Stephane Trevisan GK 37

Espen Johnson GK 30

Fabian Carini GK 30

Mahamadou Sidibe GK 31

Tony Sylva GK 35

Carlos Sanchez GK 32

David Jemmali DC/D/WBR 35

Kurt Elshot D/WBR 33

Alessandro Grandoni DC/DR 32

Duccio Innocenti D/WBR/SW/DC 34

Rigobert Song DC 34

Max Tonetto DL/WB/ML 35

Beto DC 34

Richard Hastings DLC/WBL 33

Michael Ball DL/WBL 30

Ibrahima Faye DL/DC/WBL 30

Hugo Ibarra D/WBR 36

Diego Crosa SW/DC 34

Sylvinho DL/WBL 36

Walid Regragui DR/WB/M/AMR 34

Alessandro Birindelli DR/WBR 35

Steve Finnan D/WBR 34

Pierre Wome WBL/DL 31

Derek Geary DR/DL 30

Manuel Tena SW/DC 33

Jay DeMerit DC 30

Cedric Uras DC/DR 32

Anderson DC 30

Thiago Gosling DC/SW 31

Sebastiano Siviglia DC 37

Cristian Zenoni D/WBR/MR 33

Marco Di Loreto DC 35

Juanpa DR/DC 31

Eric Cubilier DR/DC/WBR 30

Stephen Wright D/WBR 30

Diego De Ascentis DM/MC 33

Sander van Gessel DM/DC/MLC 33

Roberto Baronio DM/MC 32

Paul Matthijs DM/D/MC 33

Peter Luccin DM/MC 31

Ousmane Dabo DM/MC 33

Tommie van der Leegte DM/MC 33

Gavin McCann DM/MC 32

Mauro Cantoro DM/MC 33

Mineiro DM/MC 34

Mathieu Berson DM/MC 30

Diego Camacho DM/MC 33

Brahim Hemdani DM/MC 32
You'll find more out of contract players over 30 on the next page.
More Over 30 Out of Contract FM 2011 Players
Quinton Fortune MLC/D/WBL/DM 33

Domenico Morfeo AMC/MLC/AML 34

Vivar Dorado MC/MR/AMC 36

Rivaldo AMC/ST 38

Philippe Brunel AML/ML 37

Robert Pires AMC/MRLC/AMRL 36

Carlos Merino MC/AMC 30

Bonaventure Kalou AMC/AMR/ST 32

Jacek Krzynowek AML/ML 34

Andy van der Meyde M/AMR/M/AML 30

Hans Somers ML/MC 32

Ebou Sillah AMC/MLC/AML 30

Yildiray Basturk AMC/MC 31

Yuri Cornelisse AML/MRLC/AMRC 34

Christophe Gregoire ML/AML 30

Mozart M/AMC 30

Leon Kantelberg AML/ML 31

Simone Barone MC 32

Ighli Vannucchi AMC/MRC/AMR 32

Damiano Zenoni MR/D/WBR 33

Jonathan Aspas M/AMR/M/AMLC 28

Sergio AMC/MC 31

Majid Oulmers MC/WB/M/AML 31

Denilson AMC/AML/ST 32

Stephen Hughes MC 33

Martijn Reuser AML/MRL/AMR 35

Florentin Petre AMR/MR 34

Martin Astudillo MC/DM 32

Stephane Noro MC/ML/AMLC 30

Youssef Mokhtari AMC/MLC/AML 31

Richard Knopper AMC/MC 32

Zvonimir Vukic AMC/MC 30

Jose Juan Luque AML/ML 32

Massimo Margiotta ST/AMC 32

Massimo Marazzina ST 35

Salva ST 35

Sylvain Wiltord ST 36

Julio Cruz ST 35

Gionatha Spinesi ST 32

Luca Saudati ST 32

Guillermo Franco ST 33

Yordi ST 35

Diego Tristan ST 34
Other Prospects
You can find other out of contract players who may be worth taking a chance on. Just remember to check the last time they played, if they've been out of football for a long time then give them a trial and check them out before you sign.
Caution Advised
Just remember, especially with the older guys, many of these players need to be trained up and will take a few games to hit their stride. It's not advisable to build a team of veterans - they will struggle with fitness so use them sparingly. Beyond a certain age the deterioration can be rapid but every player is different so this is always a gamble. If you do sign an old player and don't play him he'll be worthless pretty quickly.
These players were scouted using a large database so depending on your game set up they might not all appear. You'll also get different players according to the leagues you select, this list is based on selecting the English and Scottish leagues. You'll also find changes when Sports Interactive releases an update.
If you've got any of your own suggestions for cheap Football Manager 2011 players or out of contract players to add then please post a comment.
Check out our Football Manager 2011 Review and the Football Manager 2011 Guide as well.
This post is part of the series: FM 2011 Player Guide
This is a guide to help you find the best young prospects and wonderkids in Football Manager 2011. We also cover bargain players, transfer listed players and out of contract players so you'll find the best free FM 2011 players here as well.