Football Manager 2011 Best Young Players: Wonderkids and Hot Prospects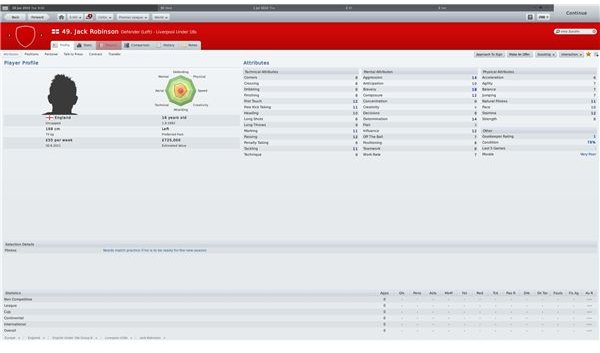 FM 2011 Hot Prospects and Wonderkids
This year's release from Sports Interactive offers a slight tweak on the winning formula and a couple of new features. You can read about the game in our Football Manager 2011 review. One of the addictive hooks is the ability to build your team and seek out some of the best young prospects around. Taking youngsters and transforming them into multi-million pound football stars is hugely satisfying and in this guide you'll find a list of the best young players in Football Manager 2011.
Each of our FM 2011 wonderkids or hot prospects is listed by name and divided into age groups. You'll also find their positions, age, current club and value. In the majority of cases you'll have to pay a lot more than the listed value to secure them. These players all have the potential to be superstars but they'll need the right training and encouragement to make it.
Best Young Players in FM 2011 – 16 Year Olds
Lucas Digne DL/WBL 16 Lille £1.4 mil

Jack Robinson DL 16 Liverpool £725k
Romario DR/WBR 16 Vitoria £625k
Tobias Figueiredo DC/DM/MC 16 Sporting £200k
Zeli Ismail AMR/MR/ST 16 Wolves £1.4 mil
Mateo Kovacic AMC/MC 16 Dinamo £500k
Bryan Rabello AMC/MRC/AMR 16 Colo Colo £475k
Suso AMC/MC 16 Liverpool £1.3 mil
Abdallah Yaisien AMC/MRC/AMR 16 Paris Saint-Germain £1.2 mil
Toni Silva AMRL/MRL 16 Liverpool £875k
Harry Kane ST/AMC 16 Tottenham £975k
Lucas Piazon ST/AMC 16 Sao Paulo £750k
Francisco Alcacer ST 16 Valencia Mestalla £1.7 mil
Piotr Parzyszek ST 16 De Graafschap £700k
Amine ST 16 Sporting £1.1 mil
Lenny Nangis ST 16 Caen £900k
Marko Livaja ST 16 £0
Marko Maletic ST 16 FC Utrecht £220k
Best Young Players in FM 2011 – 17 Year Olds
Alphonse Areola GK 17 Paris Saint-Germain £1 mil

Jack Butland GK 17 Birmingham £625k

Matej Delac GK 17 Vitesse £3 mil

Serge Aurier DR/WBR 17 RC Lens £1.9 mil

Raphael Varane DC 17 RC Lens £1.3 mil

Tony Huston DC/DR 17 Le Mans £1.4 mil

Tomas Kalas DC/DR/DM/MC 17 Sigma Olomouc £400k

Lorenzo Crisetig DM/MC 17 Inter £1.4 mil

Fraser Fyvie MC 17 Aberdeen £1 mil

Ouasim Bouy MC 17 Ajax £425k

Josh McEachran MC 17 Chelsea £1.6 mil

Ravel Morrison AMC/MRC/AMR 17 Man Utd £975k

Raphael Holzhauser M/AMC 17 Stuttgart £800k

Zakaria Labyad MC/AMC 17 PSV £1.2 mil

Thorgan Hazard AMC/MLC/AML 17 RC Lens £1.4 mil

Jano AMC/MLC/AML 17 Spartak Moscow £2.9 mil

Stephan El Shaarawy AMR/MRC/AMC 17 Padova £2.3 mil

Mehdi Abeid AMC/ST 17 RC Lens £1.1 mil

Martin Galvan AMC/ST 17 Cruz Azul £925k

Simone Verdi AML/MRLC/AMRC 17 AC Milan £2.4 mil

Romelu Lukaku ST 17 Anderlecht £1.3 mil

Connor Wickham ST 17 Ipswich £1.7 mil

Son Heung-Min ST/AMRC 17 HSV £3.2 mil

Luc Castaignos ST/AMRLC 17 Feyenoord £950k

Sani Emmanuel ST/AMR 17 My People £0

Iker Muniain ST/AMLC 17 Bilbao £3.5 mil

Nikao ST/AMC 17 Atletico Mineiro £825k

Jese ST/AMC 17 Real Madrid C £1.2 mil

Stanley Okoro ST/AMR 17 Almeria £2.1 mil

Tiago Alves ST/AMC 17 Santos £1.2 mil

Borja Baston ST 17 Atletico Madrid B £2 mil

Wellington Silva ST 17 Fluminense £1.5 mil

Philipp Prosenik ST 17 Chelsea £220k

Arsenio Valpoort ST 17 Heerenveen £775k
Best Young Players in FM 2011 – 18 Year Olds
Luis Guilherme GK 18 Botafogo £750k

Zacharie Boucher GK 18 Havre AC £975k

Dodo DL/WBL 18 Corinthians £1.5 mil

Atila Turan DL/WBL 18 GF 38 £1.4 mil

Danny Wilson DC/DL 18 Liverpool £2 mil

Dennis Appiah DR/DC/WBR 18 Monaco £1.1 mil

Leonel Galeano DC 18 Independiente £1.5 mil

Darnel Situ DC 18 RC Lens £650k

Kyriakos Papadopoulos DC 18 Schalke £2 mil

Marc Muniesa DC 18 Barcelona £2.5 mil

Phil Jones DC/DM/MC 18 Blackburn £3.9 mil

Nampalys Mendy DM/MC 18 Monaco £1.2 mil

Sergio Oliveira DM/MC 18 Porto £700k

Jonjo Shelvey MC/AMC 18 Liverpool £1.7 mil

Alexandre Coeff MC 18 RC Lens £450k

David Alaba MC/ML 18 Bayern Munich £3.9 mil

Kevin MC/MR/AMC 18 Zaragoza £1.6 mil

Torric MC/DM 18 Hearts of Oak £75k

Xherdan Shaqiri ML/MR/AMRL 18 Basel £2.3 mil

Jack Wilshere AMC/MRLC/AMRL 18 Arsenal £5 mil

Zezinho AML/MLC/AMC 18 Santos £2.2 mil

Berkin Arslan AML/MRLC/AMRC 18 Galatasaray £975k

Christian Eriksen AMC/MC 18 Ajax £3 mil

Mario Gotze AMC/MRLC/AMRL 18 Dortmund £3.6 mil

Coutinho AMC/MC/ST 18 Inter £4.1 mil

Dudu AMC/AMR/ST 18 Coritiba £2 mil

Keko AMR/MR 18 Atletico Madrid £2.8 mil

Adem Ljajic AMR/MRLC/AMLC 18 Fiorentina £3.2 mil

Oscar AMC/MRC/AMR 18 Internacional £2.1 mil

James Rodriguez AML/MLC/AMC 18 Porto £575k

Pablo Sarabia AML/ML 18 Real Madrid £1 mil

Wendel AMC/MC/ST 18 Atletico Mineiro £1.7 mil

Davide Petrucci AMC/ST 18 Man Utd £975k

Federico Macheda ST 18 Man Utd £4.9 mil

Neymar ST/AMLC 18 Santos £4.1 mil

Vaclav Kadlec ST 18 Sparta Prague £1 mil

Ishak Belfodil ST 18 Lyon £3 mil

Mahatma Otoo ST 18 Tunis £1.1 mil

Nelson Oliveira ST 18 Ferreira £1 mil

Nassim Ben Khalifa ST 18 Wolfsburg £3 mil

Sergio Araujo ST 18 Boca £800k

Taufic Guarch ST 18 Estudiantes Tecos £825k

Terence Makengo ST 18 Monaco £875k

Chris Gadi ST 18 OM £1.1 mil
Best Young Players in FM 2011 – 19 Year Olds
Dedryck Boyata DC 19 Man City £3.7 mil
Ezequiel Munoz DC 19 Palermo £2.6 mil
Davide Santon DR/DL/WBRL 19 Inter £5.5 mil
Jorge Pulido DC 19 Atletico Madrid £525k
Fabio DL/DR/WBRL 19 Man Utd £4.2 mil
Roderick Miranda DC 19 Benfica £825k
Mateo Musacchio DC 19 Villarreal £4.5 mil
Rafael DR/WBR 19 Man Utd £4.9 mil
Tom Cairney MC 19 Hull £1.4 mil
Aaron Ramsey MC 19 Arsenal £5.25 mil
Necip Uysal MC 19 Besiktas £2.4 mil
Franco Zuculin MC/DM/MR 19 Hoffenheim £3.3 mil
Eden Hazard AMC/MLC/AMLC 19 Lille £6 mil
Sergio Canales AMC/MC 19 Real Madrid £5.75 mil
Antoine Griezmann AML/MLC/AMC 19 Real Sociedad £4.4 mil
Clement Grenier AMC/MC 19 Lyon £2.1 mil
Gael Kakuta AMC/MRLC/AMRL 19 Chelsea £1.6 mil
Alan Patrick AMC/MC 19 Santos £2 mil
Thiago AMC/MC 19 Barcelona £3 mil
Lewis Holtby AML/MRLC/AMRC 19 Mainz £4.5 mil
Georginio Wijnaldum AMC/MRLC/AMRL 19 Feyenoord £3 mil
Andre Schurrle AML/AMR/ST 19 Mainz £3.4 mil
Levan Kenia AMC/MC 19 Schalke £3.8 mil
German Pacheco AML/AMC/ST 19 Atletico Madrid £2.6 mil
Bebe AMRL/MRLC/AMC 19 Man Utd £7.5 mil
Daniel Pacheco ST/AMC 19 Liverpool £3.3 mil
Cedric Bakambu ST 19 FC Sochaux-Montbe £1.4 mil
Sofiane Hanni ST/AMC 19 FC Nantes £875k
Alex Nimely ST 19 Man City £2.2 mil
Lacina Traore ST 19 CFR Cluj £1.5 mil
Abel Hernandez ST 19 Palermo £6.25 mil
Raul Nava ST 19 Toluca £900k
Best Young Players in FM 2011 – 20 Year Olds
Luis Bareiro DR 20 Atlanta £14k

Jordan Spence DC/DR 20 West Ham £1.2 mil

Sebastian Toro DC/SW/DR 20 Colo Colo £1.4 mil

Dalton DC 20 Internacional £2 mil

Pichu Atienza DC/DM/MC 20 Atletico Madrid B £1.6 mil

Vladimir Weiss MR/MLC/AMRC 20 Man City £3.8 mil

Younes Belhanda AML/ML 20 Montpellier £3.7 mil

Edgar Ivan Pacheco AMC/MC 20 Atlas £875k

Yacine Brahimi AMC/MC 20 Stade Rennais FC £925k

Alan Dzagoev AMC/MC 20 CSKA Moscow £6 mil

Daniel Sturridge ST/AML 20 Chelsea £4.4 mil

Alberto Paloschi ST 20 Parma £4.9 mil

Pato ST/AMR 20 Milan £11.75 mil

Sercan Yildirim ST 20 Bursaspor £3.7 mil
Best Young Players in FM 2011 – 21 Year Olds
Adrien MC/DM 21 Maccabi Haifa £1.4 mil
Matias Ezequiel Schelotto MR/WB/AMR 21 Cesena £2.8 mil
Adam Hlousek AML/ST 21 Slavia Prague £900k
Shinji Kagawa AMC/MRLC/AMRL 21 Dortmund £4.5 mil
Lee Chung-Yong AMR/MR 21 Bolton £4.7 mil
Guilherme ST/AMC 21 Dynamo Kiev £4 mil
Best Young Players in FM 2011 – 22 Year Olds
Fabio Coentrao D/AML/ML 22 Benfica £3.7 mil
Steven Defour MC/DM 22 Standard £1.8 mil
Tomas Horava MC/AMC 22 Sigma Olomouc £180k
Pedro AMR/MRL/AML 22 Barcelona £9 mil
Ermin Zec ST 22 Genclerbirligi £2.9 mil
Word of Warning
While some of these youngsters are good enough to slot straight into your top flight team and do a job others will need some careful handling if they are ever to fulfil their potential. Many of the best FM 2011 young players listed here have the potential to be great but that's no guarantee and their actual performance will vary from game to game. Part of that is random and part is down to how they are trained up and how much experience they get. Bringing talent through is a tightrope and you need to give them enough play to develop but not so much that they burn out or lose confidence.
Remember you can loan players out to get experience at a lower level so you don't need to pitch them straight in at the deep end. You'll find some bargain and out of contract players in our other player guide and you can also find handy hints and tips about negotiating contracts, tactics and formations in our Football Manager 2011 Guides.
If you've got any other suggestions for good young players in FM 2011 then post a comment.
This post is part of the series: FM 2011 Player Guide
This is a guide to help you find the best young prospects and wonderkids in Football Manager 2011. We also cover bargain players, transfer listed players and out of contract players so you'll find the best free FM 2011 players here as well.