Football Manager 2012 Review: Find out What's New in the Best Footy Management Series Ever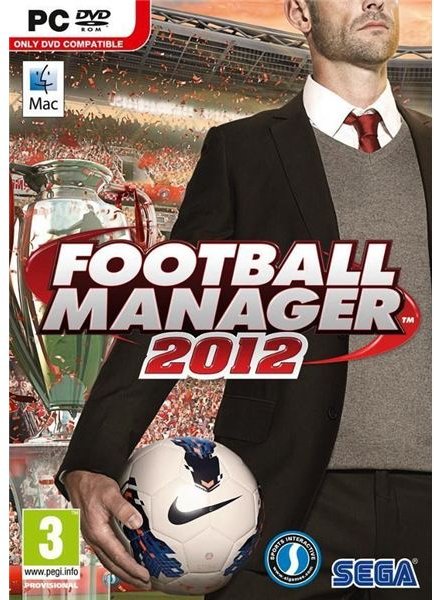 The Football Manager series has been top of the league for several years now. They are so far ahead of the competition that creating a new version becomes a uniquely risky prospect – if you tinker with perfection too much then you might end up ruining the experience. Football Manager 2012 is every bit as addictive as its predecessors. This treble winning squad doesn't need to be rebuilt so they've drafted in a couple of backup players and focussed on slight tweaks.
As always you take on the manager role and immerse yourself in constructing a team, creating a tactical approach and shepherding your players on and off the pitch. The level of detail is typically astounding but you can choose your own level of involvement so the game remains fairly accessible for newcomers. It's not about pretty graphics, although there have been a few improvements – it's really about providing you with a realistic framework to explore your managerial dreams and guide a club to glory.
We'll kick things off with a look at what's new this year.
What's New in FM 2012?
By far the biggest change is the ability to add and remove leagues to a game in progress. For seasoned pros this is a welcome addition and it means you can start off a game in the English Premiership and then later turn on the Spanish league and take a job there if you want to. It gives you much greater flexibility.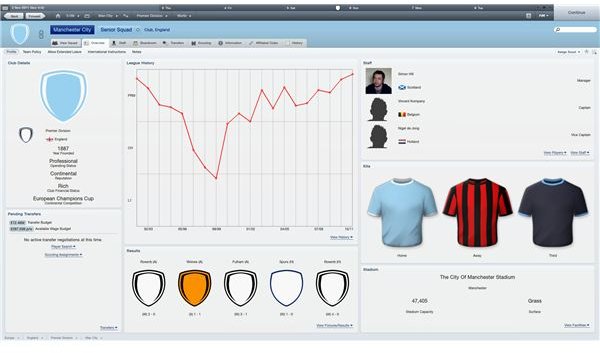 This is also the first Football Manager release to feature a full tutorial system and it should prove very useful for any new players. The tutorials take you through how to navigate the interface, how to sign players, how to set tactics, and how to play actual matches. There are five tutorials in all and they are essential for newcomers. The in-game help system has also been expanded as Sports Interactive try to make the game easier to get to grips with.
The rest of the gameplay is going to be very familiar for fans of the series. There are a few other tweaks worthy of mention though.
You can now apply a tone to your discussions with staff and players and with the media. You can be aggressive, assertive, passionate, calm, cautious or reluctant. There are also more conversational options available generally. This includes some great additions to the private chat and team meeting conversations that can really boost morale. The team talks also give you instant feedback in terms of player reactions so you get a real feel for how your talk went down and you can start to suss out individual personalities and what they respond to and then tailor your personal talks accordingly.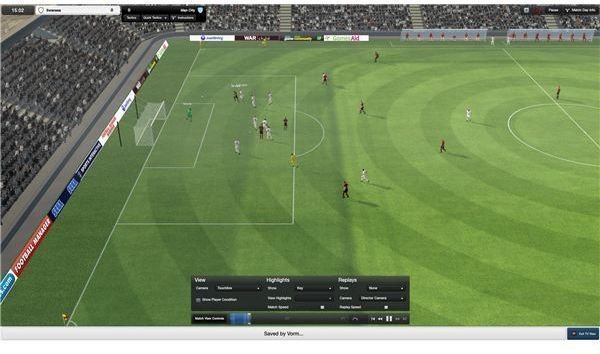 Dealing with agents during player contract negotiations was added last year and it has been refined here with the option to set various clauses in stone during negotiations. It doesn't help you to secure players when you can't meet the terms the agent demands but it does at least cut down on the pointless back and forth.
The scouting reports are more detailed than ever before. If you want to know how your next opposition normally plays, where their goals come from and all sorts of other details to help you prepare then you'll find all that info at your fingertips.
Gameplay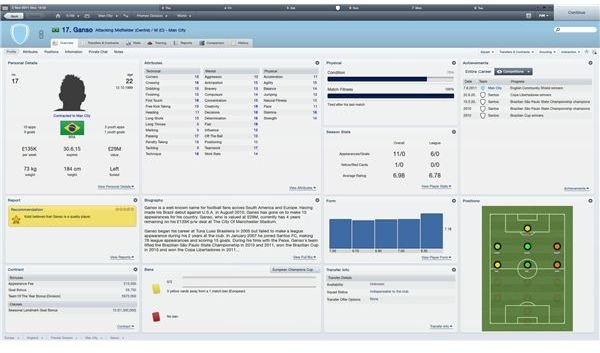 The game plays essentially the same way it has always done. You deal with your inbox and then hit continue to advance the time. You can send out scouts, search for players and staff, set up tactics and review all the usual club information. The match interface is much the same as last year. There are countless menus and screens to explore but you needn't delve too deeply if you don't want to. The information is better organised so there's less clicking around. You can always get your staff to deal with any elements that you don't want to be bothered with.
You'll agree to your aims with your chosen club at the start of each season and the board will award you a transfer budget and wage budget that reflects your ambition. You need to keep your board, fans and players happy if you want to succeed and for the most part that boils down to getting results on the pitch.
The tactics set up is slightly better in FM 2012 and you can pick a main formation and set of tactics to prepare and also select two backup tactics in case you want to switch your formation during a match. You also have the option of focussing on a specific area like Attacking Movement. If you aren't confident about creating tactics then just use the tactics creation wizard and read the information as you go through.
There's no barrier here for experienced players so just dive in. The help that has been provided for newcomers looks pretty good to me but I can't judge it from a newbie point of view because I've been playing the FM series since the first game after SI broke away from Eidos and left them with Champ Man.
What I can say without any doubt is that this is a dangerously addictive game for any football fan and you will lose days immersed in your team's stats, seeking out that special wonderkid or getting your team fired up for derby day with the right team talk.
Graphics and Sound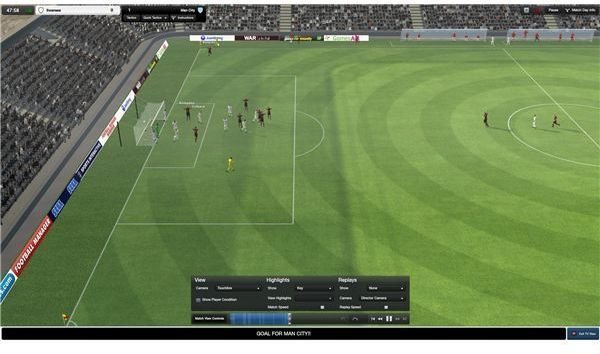 The FM series isn't really about graphics and sound, it's one of those rare games that plugs into your imagination and existing knowledge of the world of football. Football Manager 2012 is still definitely the best looking release yet. The menus are clean and provide maximum info without drowning you. The matches feature new camera angles and there are many more player animations, especially goal celebrations. There are also new stadiums and crowds to create a better backdrop.
The sound is as sparse as ever and most players simply switch it off and stick on music in the background or, even better, some real football on the radio.
So Addictive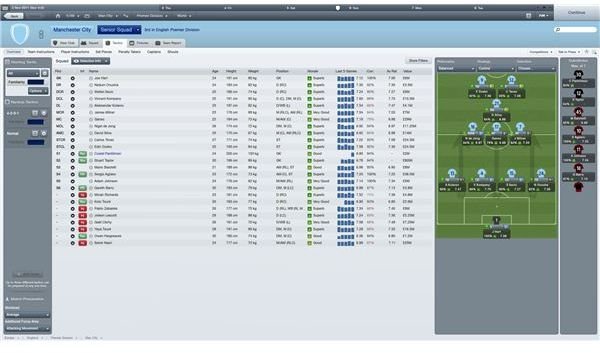 With each new version of Football Manager there's a small period when you first begin to play where you feel underwhelmed. The big addition of agents in last year's release was a turn-off and FM 2012 doesn't have any blockbuster new features. Instead it has a series of small changes that make it more accessible and more enjoyable to play.
For that first little while you wonder if it was worth shelling out for a slight update and then your team begins to compete. The players you signed prove themselves on the park. The team talk you gave changes things around and you come from behind to smash your opponents in the second half. It just sucks you in and you start to care about your team. You start to obsess over how to guide them to glory, whether it's a top flight treble or a lower league promotion. My managerial mind is ticking over even right now as I write this, wondering about exactly how to accommodate those three strikers and whether I can make it to the next transfer window without a new defensive midfielder.
Football Manager 2012, just like its predecessors, ties in so closely with your love of the beautiful game that you can hardly fail to get sucked in. I can honestly say that my biggest problem with this game is that it demands too much time from me. The unwashed car, the unfinished novel and tonight's dinner can all wait – I've got some managing to do.
References
This post is part of the series: Football Manager Reviews
A collection of reviews for various versions of Football Manager.