Football Manager Live - The Greatest Sports Sim Franchise Goes Live - Review of Football Manager Live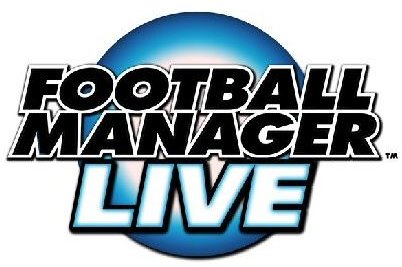 Background (4 out of 5)
Sports Interactives Football Manager Live looks and feels a lot like Football Manager 2009 – but the similarities are purely visual. Whereas FM2009 offers the usual annual update of player stats and new features, FM Live dispenses with the in depth tactics and interaction with players and the press in favour of enhancing the rivalry between managers and teams.
In the world of online gaming, the requirement to communicate, engage and interact with fellow players is key to success, and FM Live follows this model closely.
System Requirements (5 out of 5)
The minimum system spec for running Football Manager Live is a Windows XP machine with a 1.6GHz processor and 256MB RAM. In contrast to the single player, desktop-based version, Football Manager Live's player database and processing takes place on the server side, offering a lightweight thin-client solution to playing the game.
As such, there's no need to worry about the size of the database increasing as with the desktop version.
As more of a recommended spec, I would suggest around 2.5GHz processor and 512MB RAM - as well as recommend playing on a system with an AGP or PCIe graphics card. A lot of data is processed at the client end and it's useful to take the load away from the system memory and onto your GFX hardware.
Getting Started and Gameplay (5 out of 5)
Getting started is easy, whether you want to take it quick or slow, and depending on whether you've splashed out on a boxed copy of the game or registered online and downloaded. The monthly fee is around £7, depending on how much you pay in advance, and there are two types of server – pro and semi-pro – depending on your skill level and the amount of time you can devote to managing your team.
There are no real life teams in the game – FM Live is populated by custom teams with crazy owner-specified names. Players mirror their real world alter egos, but there is also scope for new players to be brought in as the game progresses. Progression in the game depends crucially on winning matches, of course – as well as developing your own skill set.
FM Live is similar to a fantasy MMORPG in this respect – various skills in the categories (man) management, physio, coaching, scouting, tactics and infrastructure need to be honed, developed and utilised in order for your team to be as successful as possible. These skills have sub-skills that can be unlocked and upgraded as time goes on, with some accessible after 15 minutes of play, others after major wins or successes in the transfer market.
Screenshots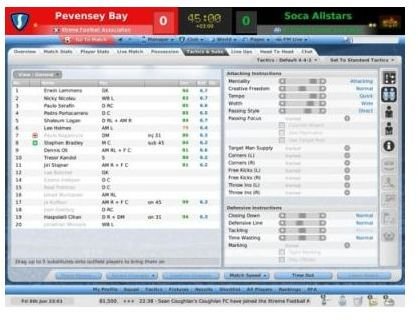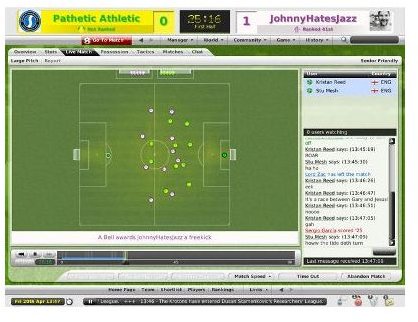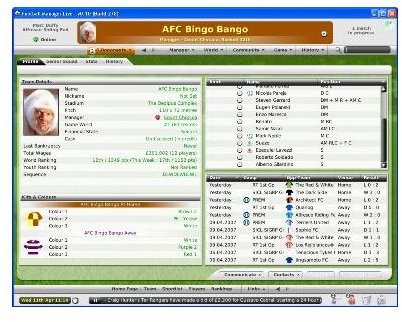 Graphics and Interaction (3 out of 5)
The biggest difference between FM Live and FM 2009 is the onus on tactics. FM Live includes the ability to arrange players, movement, passing type and formation as one of its six skills, meaning that budding tactical geniuses need to work as much on their physio skills as their ability to communicate when the ball should be played on the ground.
Football Manager Live comes alive during the course of playing a match. A streamlined version of the desktop game's engine is in use here, allowing for tactical changes and substitutions during the match – however the impact and type of changes available depends on how far your tactics skill has been levelled up…
Graphically the game mirrors the 2D top down view of the older entries in the Football Manager series, coupled with some jazzed-up tactical screens and the endless lists of player and team stats. Playing a match usually takes around quarter of an hour, and matches for a season can all be played within a close time frame, meaning that FM Live needn't ruin your love life.
Sound and Data Management (3 out of 5)
Sound-wise, things are as limited as a standard Football Manager release – but then the game is about football and community, not immense atmospheric soundtracks. As such there's plenty of opportunity for FM Live managers to listen to their MP3 collection.
The amount of data in the game is immense. From your own manager profile, to your team, league or server, pages and pages of data is available to assist in the management of your team. Player search is also available to assist scouting, while players can be signed either automatically (in the initial game setup) or via a 24 hour eBay style auction.
Summary (4 out of 5)
Engaging with the player community is a key element of FM Live – the other players are all managers, and can prove to be valuable barometers for how the game is progressing depending on how different their skillset is to your own. There's also plenty of opportunity for banter either during matches or between them, and agreements and deals can be made on friendly matches, private tournaments and transfers. Real time scouting can also take place, allowing managers to drop in on other matches to see how future opposition shapes up.
FM Live is the ultimate football management sim. It is different enough from the single-player version to entice newbies to the FM world, and similar enough to persuade those of us locked into an endless FM 2009 game to drop it all for some online community, banter and football.
This post is part of the series: Football Manager Reviews
A collection of reviews for various versions of Football Manager.