Football Manager 2010 - Review of New Soccer Management PC Game from SEGA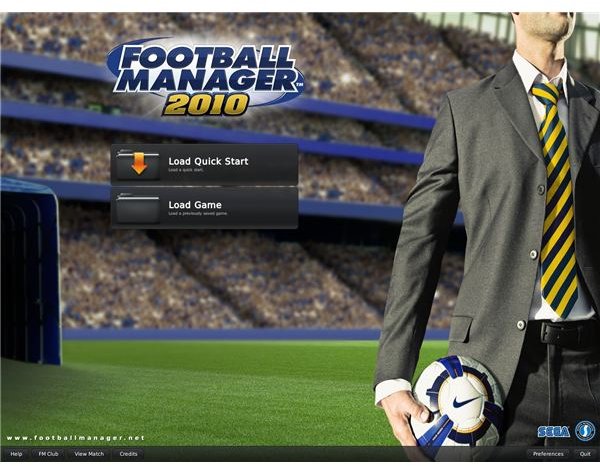 Background
Football Manager 2010 is the latest installment of the successful football management series from Sports Interactive, published by Sega.
Until 2004, Sports Interactive produced the Championship Manager series for Eidos until an acrimonious split that saw them use the Football Manager title while Eidos pushed ahead with a new development team for the Championship Manager games. Sports Interactive retained their code, resulting in the majority of football management gamers moving on to the Football Management series.
Championship Manager had been considered a dead franchise but their latest release (reviewed last month) has proved that there is life in the older title - can Football Manager 2010 hold off the challenge?
System Requirements
It's an impressive piece of work by the developers - Football Manager 2010's system requirements are barely different to the previous version and the game also runs in Windows 7 as well as XP and Vista.
Windows XP requires a 1.4 GHz or faster CPU while Vista and Windows 7 both require 2.0 GHz or higher; similarly XP requires just 512 MB of system RAM while Vista and Windows 7 users will need 1 GB spare.
To get the most from the game and enjoy the Football Manager 2010 3D match engine a decent video Card with at least 128 MB should be used, although the game can still be played without the 3D match engine in 2D mode.
Depth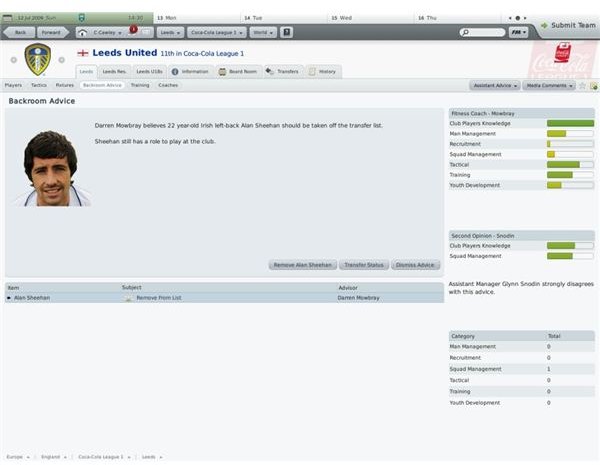 This game is huge. It features clubs and leagues from around the planet and these can be added to with custom leagues and competitions – the developers rightly boast that this makes Football Manager 2010 the first game that lets the player take part in every tier of the English football league, down to the amateur level.
Football Manager 2010 goes beyond this however – whether it's player stats (pretty much every professional player in the world is in this game), the immense tactical options, training, or even the improved press conference feature, the game impresses at every level.
There is a complete gaming experience available in Football Manager 2010, one that engages the player in a way that other football management sims cannot match.
Gameplay
With a standard mouse controlled interface, FM 2010 continues with its newer interface unveiled in the previous version. Smoother and more welcoming than the older Championship Manager-esque interface, functions and displays are laid out intuitively and there is a very useful in game help system through every stage of the game that can be enabled and disabled when required.
Curiously however due to some licencing issues, the German national team isn't in Football Manager 2010. If you choose international management at any stage of your career, that will be pretty noticeable, especially if you are a fan. But the rest of the time there probably won't be a problem with this.
Graphics and Sound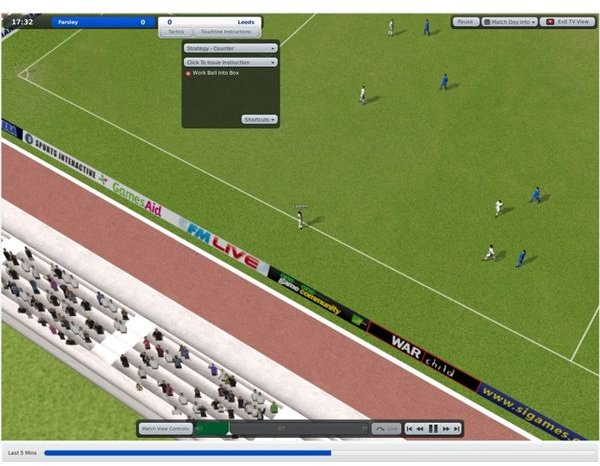 Traditionally there isn't much to Football Manager other than player photos and a visually pleasing interface – this changed in FM2009 with the introduction of the 3D match engine and this element has been enhanced for the new version, offering more player animations, different stadia and the wonderful idea of the pitch degrading as the match carries on. Football matches played in persistent rain see considerable damage to pitches – damage that can influence the course of a game in the real world, and it's good to see this element introduced.
It's while viewing a match via the 3D engine that the game uses most system resources – lower spec PCs can disable the 3D engine but this does result in a big portion of the fun and intensity of the experience being lost. Player animation is generally smooth with the odd quirk, but on the whole a better implementation than the previous version and that seen in Championship Manager 2010.
Sound is used to minimal effect in Football Manager 2010 – this is no bad thing however. Outside of the matchday sound effects there really is no need, and playing FM 2010 affords a great opportunity to listen to your favourite music.
The Best Football Manager Yet! (5 out of 5)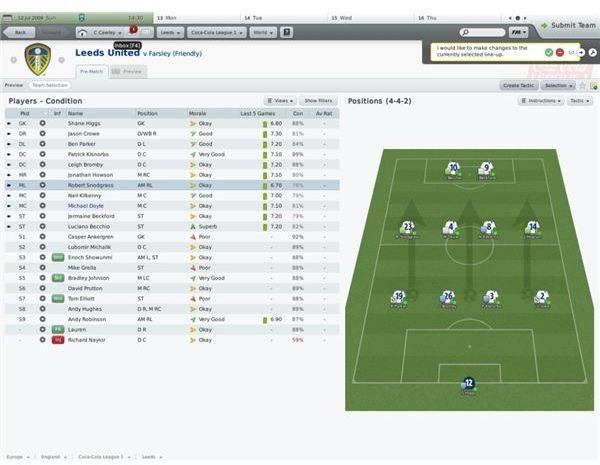 I've been playing football management sims since the 1980s and seen amazing breakthroughs in gameplay over the years, from the original Sports Interactive produced Championship Manager series through their split with Eidos in 2004 and subsequent adoption of the Football Manager title.
After the considerable improvements made to Championship Manager 2010 (reivewed here), I had expected to find Football Manager 2010 failing to retain its spot as top football managment sim dog.
I was wrong.
Rather than finding the game to be lacking in some ways under the attack from the Eidos title, Sports Interactive has developed Football Manager in new and exciting ways.
From developing the 3D match engine (now superior to the CM2010 effort) to making changes ("shouting") from the touchlines, and making tactical decisions and substitutions as the game plays, Football Manager 2010 takes a five-year dynasty of successful football management and pushes it further than ever.
Just when you think this title can't get any better, Sports Interactive have delivered once again – totally deserving of full marks, the depth and range of Football Manager 2010 is astounding, and fully deserving of full marks.
This post is part of the series: Football Manager Reviews
A collection of reviews for various versions of Football Manager.