Championship Manager 2010 Reviewed for PC - Background, System Requirements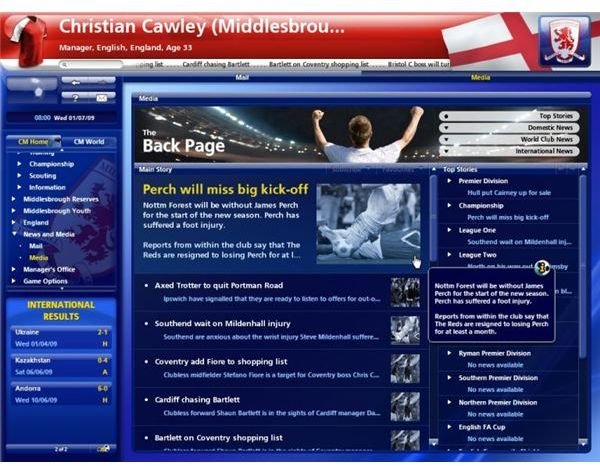 Footballing Legend
(Championship Manager is a World Soccer management simulation - as the game is known as "football" beyond the United States, the two terms are interchangeable throughout this review.)
Featuring up to date teams, players and statistics, a restructured training system, real-time set-piece editor and a remarkable 3D match engine, Championship Manager 2010 sets itself up as the ultimate football management sim before a ball is even kicked.
With a 17 year history behind it, Championship Manager is one of the most successful gaming franchises around – but following the split from publishers Eidos by developers Sports Interactive to release Football Manager through Sega, and taking the old game engine with them, it looked as though the Championship Manager franchise was past its best, a feeling only encouraged by the subsequent below-par releases. So is this installment enough to win back our love?
Strength in Depth
Championship Manager 2010 certainly makes a good case – this is a brand new game with a new interface, new management options, and a new 3D match engine – and it's fair to say that in this new form the ghost of the past and the competition from Sega can be laid to rest.
A mammoth game, Championship Manager 2010 can be a little daunting to get started in, especially for newcomers to the football management simulator genre. It's best to throw yourself in however, and respond to whatever the game throws at you.
Once the user profile, leagues and preferred team (domestic and or national) have been chosen, it's time to accept letters from the club board and supported club, meet the club captain and start investigating the team via the main game interface. There is a lot going on here, from well written and varied on-screen dialogue to the vast number of transfer, contract, and off the ball stories being displayed on the media and news screen. There is strength in depth here; early proof that Eidos have pulled out all the stops for CM 2010.
Championship Manager 2010 Screenshots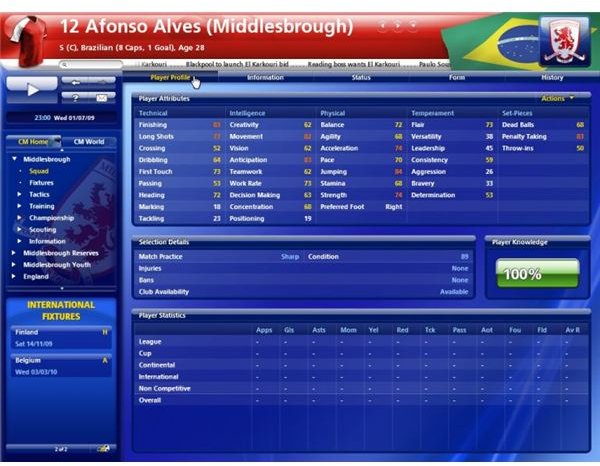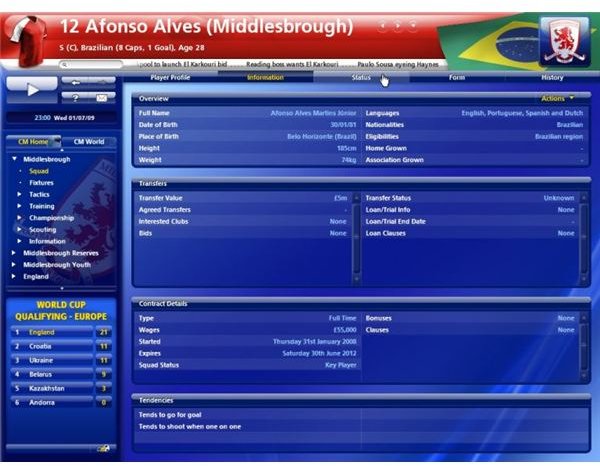 System Requirements and Price (4 out of 5)
Following a successful pre-launch "pay what you want" offer in which the game was made available for just 1p (plus £2.50 processing fee), Championship Manager 2010 was released on September 11th at prices ranging from £14.99 ($24) to £19.99 ($32), remarkably cheap for a fully featured PC game and proof if any was needed that Eidos are serious about challenging the market share of Football Manager.
The following minimum system specs have been released by Eidos:
Operating System: XP with Service pack 2 or Vista
Processor: Intel 3GHz P4 or dual core intel / AMD equivalent
Memory: 1Gb
Graphics: Direct X 9 compatible. 128 Mb nVidia FX5600, ATi Radeon 9800 or equivalent
Soundcard: Direct X 9.0c compatible
Hard Drive: 3Gb + additional space required for CM Season Live™
Users with lower grade graphics cards can set the game up to skip the 3D match engine and instead use the traditional text updates, but boy will they be missing out! More about the new match engine on the next page.
Sound and Graphics (4 out of 5)
Traditionally, neither sound nor graphics have been particularly vital to a football management sim - in the main these types of game comprise rows of numbers and text updates.
With Championship Manager 2010 however, things have changed - whereas previous installments of the series would feature just crowd noises and referee whistles, a soundtrack now accompanies the tactics screen during a game and the various statistics and news screens. It isn't much, but it is a considerable improvement on previous versions!.
The star of the new Championship Manager isn't a secret player in a remote Norwegian football team, but the match engine! Previous engines have been little more than statistical info dumps accompanied by a standard and eventually repetitive set of statements that form a minute-by-minute match commentary. This has largely been done away with – vital tactical and performance information is now communicated by the Assistant Managers notes, while the in-game commentary is now replaced with labelled players attempting to carry out your instructions on the pitch.
It is of course in the match engine where the graphics come into play - as with sound, graphics had previously been restricted to endless screens of player skills with the occasional player photo accompanying the profile. The traditional text update match engine had no graphical aspect of any interest which is why the new 3D engine is both significant and revolutionary.
Over 500 individual player animations are used in the football match engine, which also affords the manager seven different camera angles. With the added ability to rewatch matches and replays, these new visual options add a vital dimension to the game, allowing for closer monitoring of player performance as well as more effective opposition scouting.
More Championship Manager 2010 Screenshots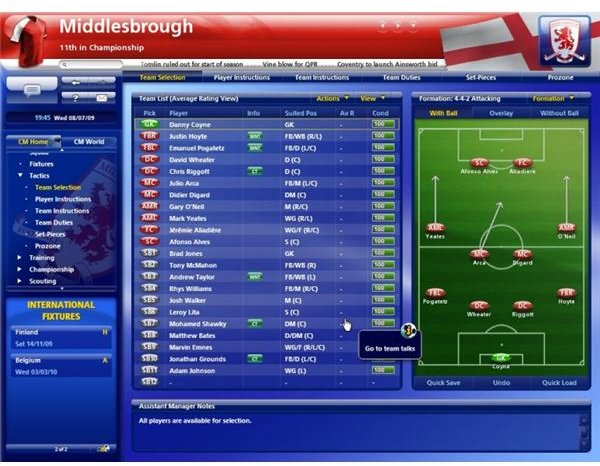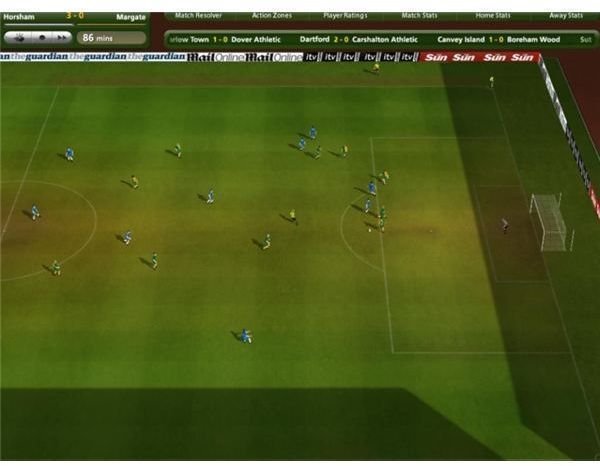 Total Football Management (5 out of 5)
Championship Manager 2010 brings all of the elements you would expect from a real life soccer management job to your desktop. Elements that particularly impress are the set-piece editor (in which free kicks can be designed and tried out), the scouting screen (which allows investment to be allocated to different countries in order to turn up useful players), and the news and media screen (an impressive wealth of information from leagues and competitions throughout the in game world).
Coupled with the remarkable level of control that the match engine brings - individual player orders, general team orders and changes in formation - these impressive new elements (as well as the traditional player statistics, transfers and contract wrangling) come together to form a totally immersive football management experience.
As a confirmed Football Manager fanatic, this is a very difficult thing to admit: Championship Manager 2010 has vanquished the opposition, and is truly back on form.