Offer Contract To Players And Staff In CM2010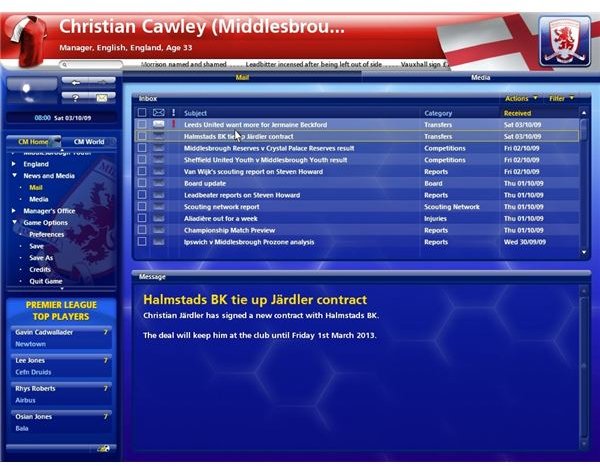 Realistic Contract Negotiations
Buying and selling players is one of the most interesting aspects of football management and one of the most fun to engage in when playing soccer management simulations.
Championship Manager 2010 offers many opportunities to sign new players and offer contracts to potential free transfers, but beware, there is a transfer and wage structure to adhere to.
With players sporting their own aspirations and ambitions throughout the game, building relationships and responding favourably or poorly depending on various elements, it's easy to see that offering a player what looks like a reasonable contract might be turned down. Championship Manager 2010 features digital representations of real world footballers, with the game aspiring to be as realistic as possible.
In the real world, contractual negotiations can often go on for weeks.
When to Offer a Contract
There are a few different situations when you will need to offer a contract:
Hiring Coaching Staff: Usually there will be no transfer fee involved for hiring staff, although the Assistant Manager, Coach or whoever's previous club may require compensation. A player-coach may have a transfer fee.
Retaining your own player: If you're either promoting the player from the Youth Team or trying to keep hold of a prized player, you'll need to offer a new contract that reflects your belief in the player.
Signing a new player: With a fee agreed with the selling club, you can proceed to offering your targeted player a new contract.
We'll focus on the scenario of signing a new player, although the principle is the same for each type of contract.
Offering Contracts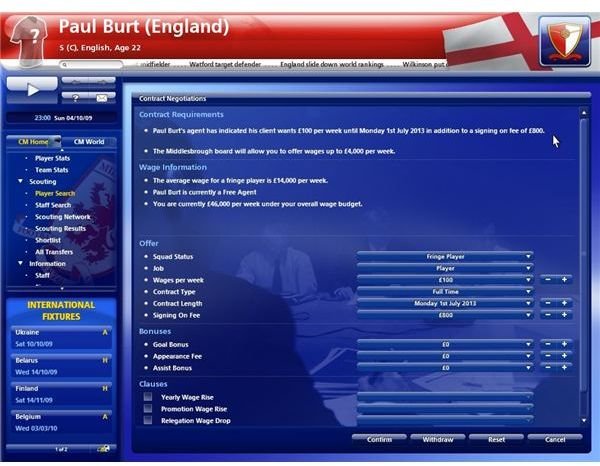 After the transfer negotiations (your initial bid may be rejected for instance, or the other club might want more money for the player) offering your intended new signing a contract is the next job on your list.
Most of the time this will be a simple task, meeting the usually low demands of the player; however on occasion you may need to meet some higher demands – ones that your board will refuse.
Generally speaking offering a contract is a simple task of meeting the player's wage demands, possibly offering a larger than requested signing on fee to keep them sweet. If the player has some reservations (expressed by the player's agent in the top of the Offer Contract screen) then offer a relegation release clause or similar incentive.
You'll have no trouble getting the right players to sign but if your target is stalling over terms then, unless they're vital to your plans, it is best to cut and run.
This post is part of the series: Championship Manager 2010 Walkthrough
Guides and suggestions for gameplay, tactics and formations for the new Championship Manager 2010 soccer management sim from Eidos