Playing A Match In Championship Manager 2010 - 3D Match Engine And Kick Off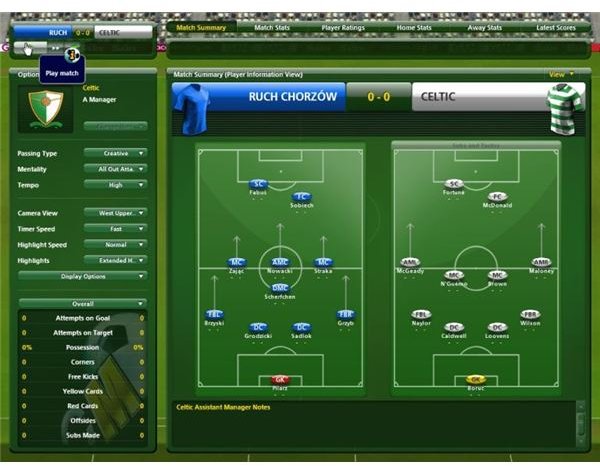 Playing the Match
Once all of your tactical information and team talk are completed, its time to send your team onto the pitch and hope that they follow your instructions to the letter…
Championship Manager 2010 comes with a brand new 3D match engine that illustrates your players in real time making the moves and playing in the manner you dictate to them.
(Note that there is no compulsion to use the 3D match engine – this can be disabled to allow users with slower PCs to enjoy the game via the traditional text commentary. The remainder of this article will focus on the 3D match engine however).
Watching the game can be quite entertaining but since you'll often be watching your own team (although it is possible to check out your opposition before you play them via the 3D match engine) there is no time to be entertained. You need to make sure your team plays as instructed and adapts to changes in circumstance on the pitch.
Championship Manager 2010 Screenshots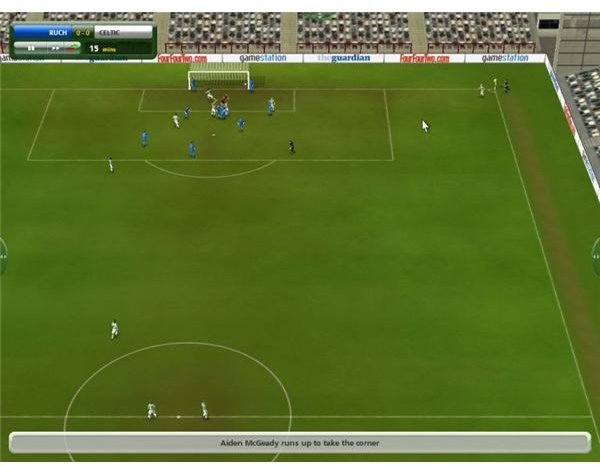 Kick Off!
To begin the kick off, you need to click the green "play" arrow in the upper left of the display. Before you do this however, make sure you know where the Substitutes and Tactics button is. It's to the right of the play button and features a green and red arrow facing in opposite directions. This is the most vital button in the entire Championship Manager 2010 game. The situation on the pitch may require you to find this in order to make substitutions and changes to your tactics at the drop of a hat. Make sure you have your mouse pointer close to it at all times.
Once the match is under way, keep an eye on the fitness of your players. This is signified by a number under 100 (and ideally above 90) floating above your player. If a player is involved in the action in some way, their name and condition will be displayed. Look out for a pale yellow number turning blue. In this situation, you need to substitute your player as their condition has dropped below an acceptable level, and they will need resting for at least one match.
Monitoring Your Players
If your player displays a bright yellow name and condition number, this will be because they have received a yellow card. This player should be either substituted or instructed to play with less aggression in order to avoid them being sent off.
The most vital information can be gained from a combination of the text commentary which accompanies the 3D action and the notes displayed by your Assistant Manager. He will look out for weaknesses in the opposition while keeping an eye on your own team. The latter is vital for being aware of how the opposition are attacking or who they might exploit, the former is important as it means you can tailor your attacks to focus on a particular area of the pitch.
Championship Manager 2010 features a very useful Assistant Manager, who gives advice and suggestions on player purchases, will pick teams for you if you can't select the right players and much more.
During matches, your Assistant Manager and the current formation view are accessible via the right-side tactical overlay.
Playing a Match in Championship Manager 2010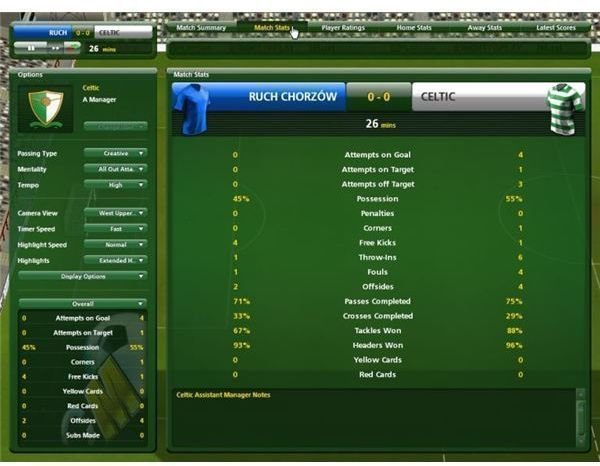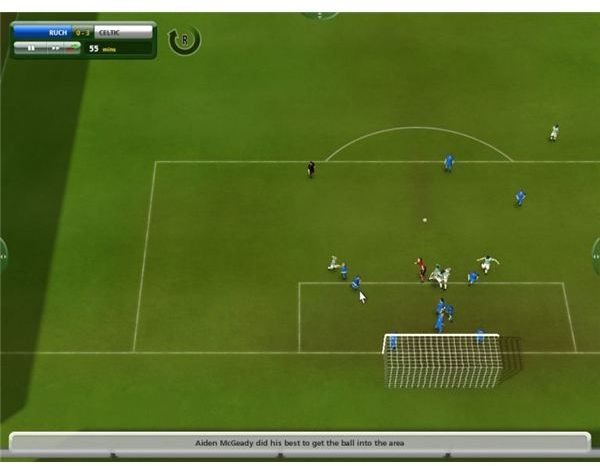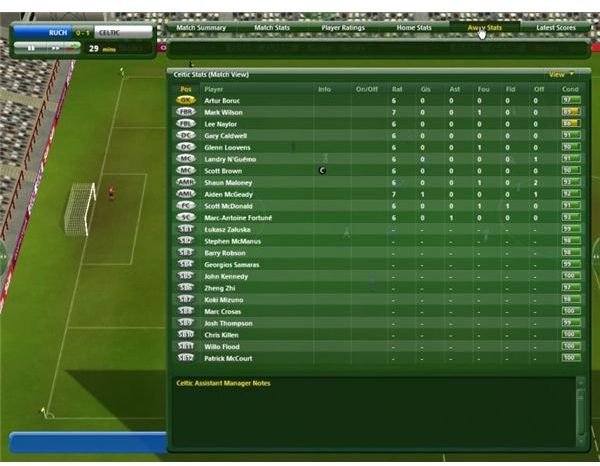 Tweak Your Tactics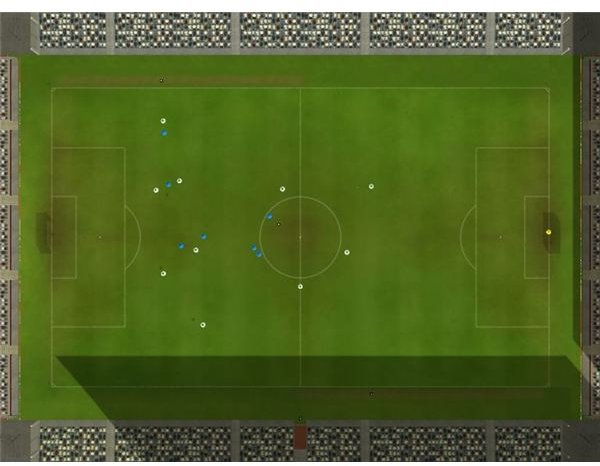 Substitutions and tactical changes can be made throughout the match. The Substitutes and Tactics button will take you to the pre-kickoff screen and lets you make changes to the team tactics and formation. You cannot make a team talk at this stage however, only before the game, at half time and after the game.
Making a substitution is only necessary if a player is injured, or seriously underperforming. Players should have a rating of 6-10 throughout a match. Any lower than this and it's time for a pep talk with that player at half time or it may be time to swap him for another player in the same position.
If you're in the middle of a promotion or relegation battle, the upper menu overlay will be vital to you during the match. This menu displays the current scores of matches taking place at the same time as your own, as well as displaying various in game statistical information.
The final in game screen is an overlay available via the left side of the screen. This displays real time statistical information such as possession, shots on target, corners, free kicks etc, while you can also make changes to your team's style of play. For instance if it is late in the game and you have a comfortable lead, you might choose to play the "time-wasting" style.
It's worth trying out all of these options throughout the first few matches of the game. These are pre-season friendlies, suitable for experimentation of team selection, formation and tactical exploration.
This post is part of the series: Championship Manager 2010 Walkthrough
Guides and suggestions for gameplay, tactics and formations for the new Championship Manager 2010 soccer management sim from Eidos