Championship Manager 2010 International Management - Choosing The Right Nation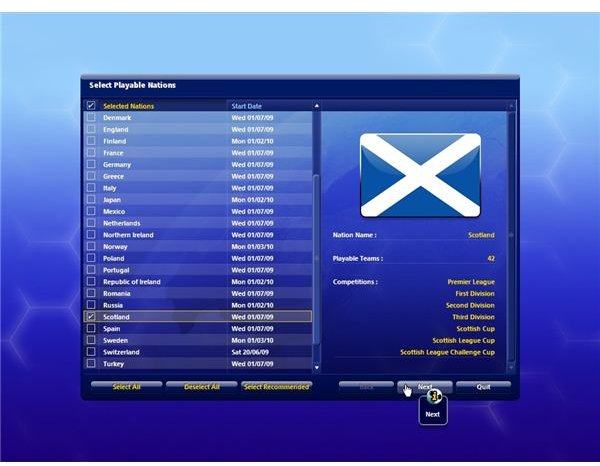 Two Ways to Manage an International Team
Managing a football club is only one aspect of Championship Manager 2010 – the game also allows you to manage a national side, and potentially win the World Cup!
There are two ways of managing an international team. You can either do a part-time management job, running your domestic club most of the season and also picking and managing an international team, or you can choose to solely manage the international side.
However you choose to do this, the most important thing is that you choose the right nation to take charge of. This can involve quite a bit of work, especially if you're choosing an international team to manage at the beginning of the game – at this stage you can choose any you like, but later in the game you will be judged on your record to date…
Choosing a Nation to Manage in Championship Manager 2010
As with choosing a domestic club, there are certain things to bear in mind when selecting a nation to manage.
While there is no transfer budget, you will still need to be aware of other factors, not least the talent pool on offer and the expectations.
For instance, a major European nation will be expected by that country's football association or governing body to be challenging for the European Championship or the World Cup, whereas a smaller nation like Ireland would be expecting to simply qualify.
Similarly, the manager of a major African nation would be expected to get the team to the knockout stages of the World Cup, and win the African Cup of Nations.
A team like England meanwhile has high expectations, a good pool of players - but a lack of recent form in tournaments. Choosing from the more successful international teams such as Germany, France, Italy, Brazil, Argentina should see get a good team with relevant winning experience.
If you're not looking to manage an international team at the start of the game however, you'll find that you need a good deal of experience at club management as the game progresses in order to be accepted as manager of one of the larger nations. If you want to lead your team into World Cup and can't get a job with a big international team, try someone like Mexico or Australia - they play in reletively weak qualifying groups.
Building a Pool of Players
There is quite a difference between international management and club management. The main difference is with the players – effectively, you have none, and it is only through building a pool to choose your squad from that an international manager can "transfer" new talent into the squad.
While a squad of players might already exist when you take the job as international manager, you might not be happy with one or more of them. If this is the case then you need to start scouting for suitable new international players.
There are two ways of doing this – send your scouts out to search for the players, or use player statistics to identify the top performing players in the national league and then scout these individuals. Use Championship Manager's 3D match engine to keep tabs on all of your players or potential players – with so many gaps in the international football calendar, there is plenty of time to do this.
Once you have found the players you want, add them to the pool, from where you can easily call them up to the international squad.
Getting the Tactics Right
As with club games, it is important to get the tactics right in international football – bear in mind the hopes of an entire nation are in your hands.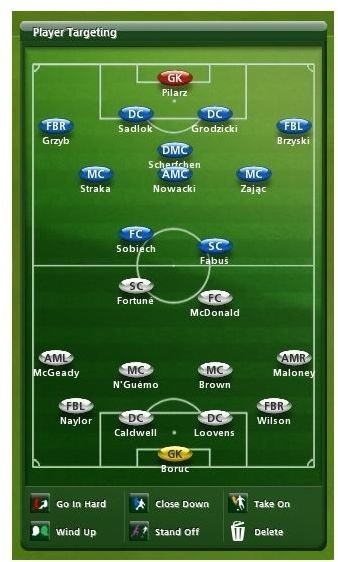 With a selection of the best possible players (as manager of a major European nation) or the best possible players from your country at your hands, the formation that you line up with should be only one element of your gameplan. While you can get away with overlooking setpieces (freekicks and corners) while managing a domestic team, if you have the best players at your disposal then designing new freekick routines is a good idea.
The players you have picked from your pool should be the best available in each position. If this is the case, then individual player orders can heavily influence the course of a game. Whereas at club level a winger might be used as a way to cross the ball into the box, at international level you should be able to pick a player who will make the right choices, make the right cross and deliver it from the best position for a striker to get on the end of it.
For clues as to how to get your international team to play, keep tabs on the players at club level – by watching all of their games, you can see how they perform and make a judgment as to what instructions they have been given.
It's pretty impossible to get any real success at international level without taking the time to watch plenty of domestic encounters on the 3D match engine, so don't mistake international management as an easy option in Championship Manager 2010.