Transfer Players In CM2010 - Identifying Players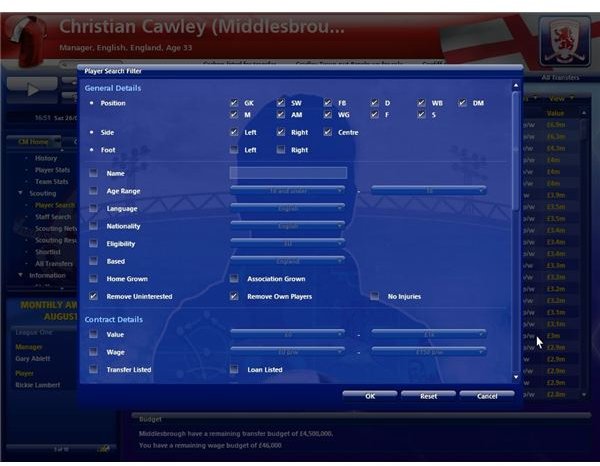 Transfers Explained
The do's and don'ts of attempting to transfer players are simple - don't punch too far above your weight.
Basically, you can't sign Cristiano Ronaldo as a player if you're the manager of Dagenham and Redbridge – even if the player was available on a free transfer due to being out of contract, he wouldn't want to join a team in a lower league. Players in CM2010 all have personalities and aspirations which usually don't involve taking a wage cut or dropping down several divisions. Unless your club is heading for the big time, which at the start of the game it probably isn't, you need to be looking for decent players in lower leagues or players near retirement age in the higher leagues.
What this means is that unless your club has millions to invest in new players, you'll be looking for players that rate highly with your scouts, fulfil a first team or backup role, and neither cost nor want the earth in wages.
Signing the right new players with little to spend in the transfer kitty requires some wheeling and dealing. For instance you might have to sell one player to buy another, or if you're lucky you could get a player swap or player plus cash deal.
Identifying Players
The best way to identify suitable players is to send your scouts out using the Scouting screen (see Championship Manager 2010 Walkhrough - Making the most of your Scouts for more on using the scouts). If they haven't yet identified the sort of player you want, visit the Scouting > Player Search screen. Here you can use the Filters to select the type of players you want, specifying both position and more specific player information such as current contract status, country of origin, preferred foot or even particular attribute information.
For instance, you might be after a goalkeeper with particularly good Shot Stopping ability – by using the Player Search Filter you can find such a player by specifying a minimum value for this particular skill. If you're unsuccessful, try reducing your minimum value until you find a match.
Use Scout Reports
Once you have identified a player to sign, you need to have them scouted. With decent scouts you can find out as much information about the player as possible – this is important as you don't want to make unsuitable purchases. You scouts will give an honest opinion on the players they're sent to observe, but it is always worth getting opinions on the same player from two or three of your scouts.
Foreign players can take a while to scout on occasion, as leagues in different countries take place at different times of year. Similarly if a player is out of favour at his club, he may be difficult to scout. This can, however, mean that the club may be willing to let him go, or at least join your club on loan.
Alternatively if the player is out of contract you can offer them a trial. This way you can quickly see how good they are and get a quicker response from your scouts.
Making a Bid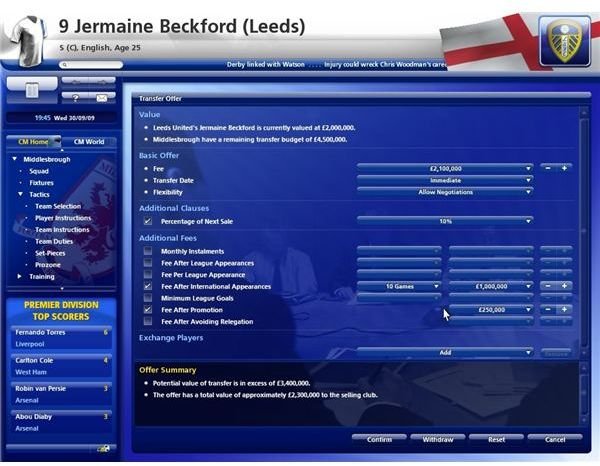 With a suitable player identified, and after checking your have enough money for the transfer fee and the players wages (Club > Information > Finances) you have several options. If the player is an established member of his team, and you're in a position to offer him a role at a bigger club, it is worth unsettling the player.
This can be done by right-clicking the players name or going into his profile and choosing Declare Interest from the Actions menu.
Alternatively you might use the Enquire option to find out more about the player from his club manager.
To make an actual bid on a player, in the Actions menu go to Make an Offer and select either Transfer Offer, Loan Offer or Trial Offer. A Trial Offer would only be selected for a player currently out of contract.
On the Make an Offer screen when attempting to purchase a player for transfer, you'll be given the chance to specify an amount of money to offer the player, as well as additional clauses and fees such as offering the selling club a percentage of the next sale, fees after a certain number of appearances or other achievements, as well as specifying players to offer in exchange. To make a firm offer for the player, click the Confirm button – your transfer bid has been received!
There may be some negotiation, a bit of haggling over the price – but when the selling club is happy with your offer, it's time to offer the player a contract…
This post is part of the series: Championship Manager 2010 Walkthrough
Guides and suggestions for gameplay, tactics and formations for the new Championship Manager 2010 soccer management sim from Eidos