Championship Manager 2010 Guide To Tactics And Formations - Tactics And Team Instructions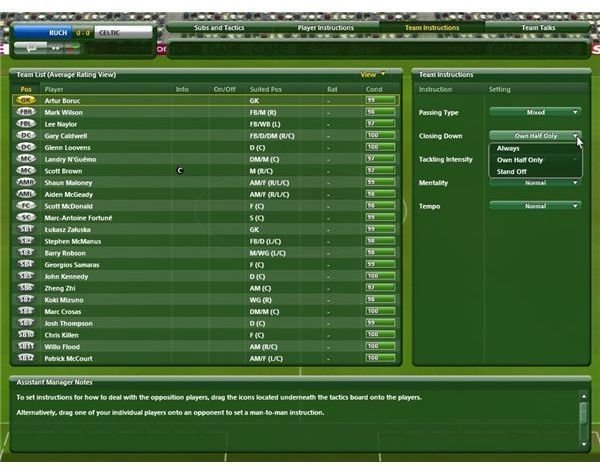 Vital Aspects of Winning
Your first match in Championship Manager 2010 will be full of anticipation and excitement, and that's before the "play" button has even been pressed!
This latest version of the Championship Manager series has a revised match engine in which players organize themselves and perform (to the best of their ability) the instructions you give them before the match. While the instructions may be precise, the individual players each have their own personalities, which may result in them misunderstanding, misinterpreting or just ignoring your instructions.
Continuing our walkthrough guide of Championship Manager 2010, this article covers formations, tactics and team talks. Each a vital component to winning a game.
We'll look at every element of the tactical side of the game in turn. Each of the sections below describes one of the screens available to you right before playing a match.
Subs and Tactics
A range of formations are already setup in Championship Manager 2010, from the standard 4-4-2 to more eclectic styles such as 3-1-3-1-2. These can be accessed from the Subs and Tactics screen, or before the match in the Team Selection view.
At the beginning of the game formations should be based on your team's strengths. As you play Championship Manager for longer and have the opportunity to buy the players you want, you should find that you can alter formations or design your own to meet your requirements as a manager and tailor the shape of your team.
Eventually, and with a bit of luck, the team will play how you want them to play.
Team Instructions
This screen allows you to instruct your team to play in a particular way as a unit.
For instance you can set the team to play with short, simple passing, light tackling and a fast tempo. Alternatively you might instruct them to play an aggressive game, close down the opposition whenever they have the ball and launch long balls up the middle of the pitch to the big centre forward.
Instructing the team to play in a particular style can also please the fans. A team that plays fast attacking football will impress more than a team that plays the long ball method. High flying teams that take their time, pass the ball well, and retain possession will also impress fans and the club's directors.
Player Instructions
Player instructions is probably the most involved aspect of the formations and tactics screens. For each position on the pitch there are a set of default instructions. These can be removed or added to, depending on the player, the opposition and the style of play you wish to dictate to your players.
For instance, you might prefer your players to attack the ball when defending rather than covering space, well you can instruct them to do this here. You can also instruct a player (usually a forward) to "go to ground" (fall over) at the slightest hint of contact from an opposition player, in order to win freekicks and corners. Of course, if your player isn't very good at this, or has a reputation for it, this can work against you…
Team Talks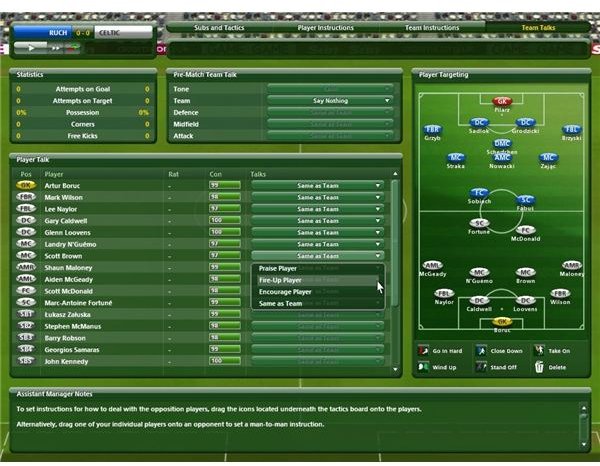 This is a superb addition to the game – both the team, individuals and position (defence, midfield and attack) can be the focus of team talks from the manager.
These team talks can make or break your next match. A big game with no team talk beforehand will more than likely see your players under perform and lose.
At the beginning of a match you should be attempting to let the players know what type of game it is. Consider whether it is a "normal match" or a "must-win" game, for instance. After that, you need to pick key players to concentrate on, probably no more than 5.
You can either Encourage, Praise, or Fire-up your players, while the general team talk can have a tone of Passionate, Calm, Eccentric or Aggressive.
The best players to attend to at this stage are your captain, a key forward and up to 3 others.
It's important to make the right decisions as to how you encourage your team and individual players but note that you should avoid trying to fire them all up. That would be attempting to spread your encouragement too thinly.
At half time, you can tailor your team talk to match the performance of the first half and at this stage your individual player talk should be concentrated on either the best performers or those that should be playing better.
Once you have completed your team talk, your pre-match preparation is finished. It's time to send your team onto the pitch to take on the opposition!
This post is part of the series: Championship Manager 2010 Walkthrough
Guides and suggestions for gameplay, tactics and formations for the new Championship Manager 2010 soccer management sim from Eidos