Championship Manager 2010 Guide To Picking Your Team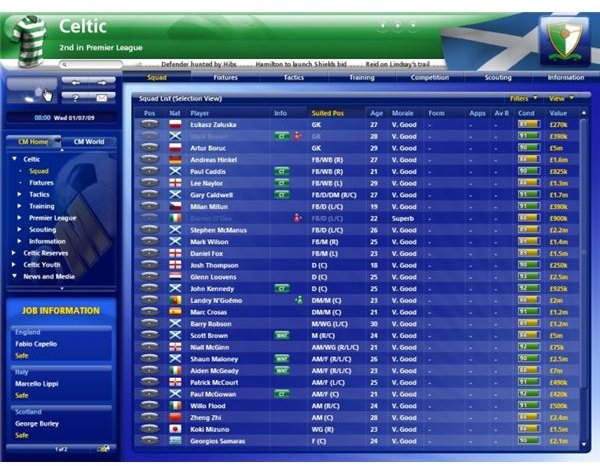 Check the Schedule
Once you have familiarized yourself with the basic game controls, the back button, the search bar and the cluster of buttons in the upper-left of the display, it's time to take the bull by the horns and move towards your first match.
It's important to have a good idea of your team's schedule as early on as possible. A quick visit to the Fixtures link under your team menu on the left column will display a list of games, which competition they're in, the date they will be played, the opposition and the kick off time, as well as whether the match will take place at home or away.
You can check out your opposition by clicking on the team name. This will take you to their Squad list, and at the top of this view you can check out this team's own fixture list to see how they have been fairing recently. This fixture list will display a scoreline. This can be clicked to be taken to the match in question so you can view various statistics such as possession, attempts on goal, etc.
Vital Statistics
This is all vital information that you will need to judge which of your players to select, what formation to play and what overall tactics and game plan you should enact.
Selecting the right players is more than pulling 11 names out of a hat. You need to be able to match the opposition, or better still out match them.
Defining and deciding upon the shape of your formation is a vital first step and this involves investigating each player to assess his ability. Players are rated based on 36 attributes under the headings of Technical, Intelligence, Physical, Temperament and ability at Set-Pieces.
Each skill is rated out of 100, with everything below 50 coloured white, 50-75 amber and 75+ in red. This colour coding makes it easy to see where your players strengths lie. Knowing your your players means you can choose the best 11 men to play.
Formation Positions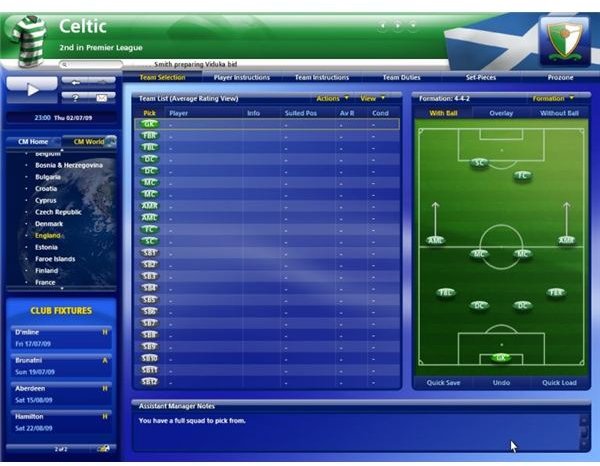 Before choosing a formation, you need to measure your team in terms of positional strength. Do you have more quality midfielders than defenders? If so a team that relies more on its midfield would be wise, and a formation such as 3-5-2 should be considered. On the other hand if everything appears well balanced between defence, midfield and attack, the 4-4-2 or 4-3-3 formations would be more suitable.
A variety of player positions are available in Championship Manager 2010, with players most suited to particular positions as detailed in their profiles.
GK - Goalkeeper

FBL/WBL - Fullback or wingback, left side

FBR/WBR - Fullback or wingback, right side

DC - Central defender

DM - Defensive midfielder, can be L, R or C

M - Midfielder, can be L,R or C

AM - Attacking midfielder, can also be L, R or C

WNG - Winger, can be L or R

FC - Centre forward

SC - Striker
With a suitable formation in mind that reflects your team's strengths, it's now time to pick your team.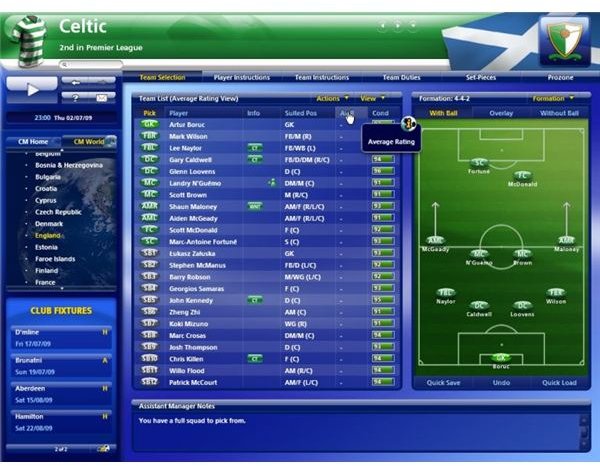 This can be done by going to the team selection screen, and clicking the grey lozenge next to any empty space which opens a menu to select the player required for that position. For a 4-4-2 formation, you would need to select a goalkeeper, four defenders, four midfielders and two strikers, along with a number of substitutes (this varies depending on the competition). If you're not happy with 4-4-2, use the right hand drop down menu to select a team shape that reflects the strengths of your players.
Once your team is picked, it's time to proceed to giving your team instructions, styling the way your team plays and giving the team talk.
This post is part of the series: Championship Manager 2010 Walkthrough
Guides and suggestions for gameplay, tactics and formations for the new Championship Manager 2010 soccer management sim from Eidos