Training Players In Football Manager 2010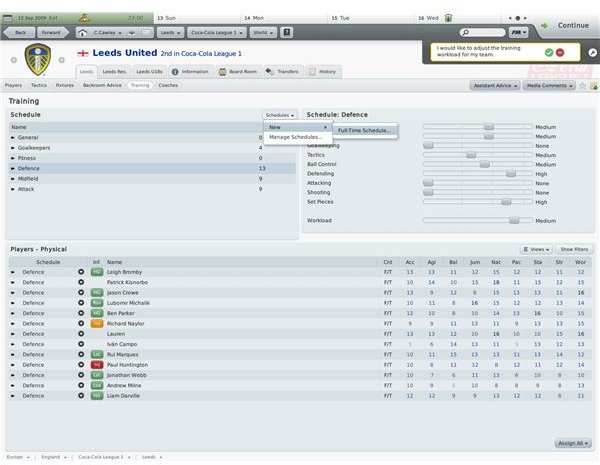 What's the Point of Training?
Providing a set of effective training programs for your players requires three things:
The best coaches
The best facilities
The best training schedule
Often in Football Manager 2010 it is difficult to find the best coaches, while your club may not be able to afford the best facilities.
You do have control over the schedules however and can set up several to benefit your players. This is best done by either treating your players as different groups based on position, or based on their roles – for instance wingers, full backs and wing backs do a lot of running, while central defenders and defensive midfielders do a lot of tackling and strikers and attacking midfielders are often in goal scoring positions.
However you want to approach the task, it's really easy to set up a training schedule in Football Manager 2010.
Creating a Training Schedule
To create a new schedule, first click the Training button on the Squad screen. You will see some schedules already set up. You can either use these and adjust them as you require or click on the Schedules drop down menu and select New > Full-Time Schedule…
Next, give the schedule a name. For the purposes of this guide, we'll create a schedule for "Tackling", and use that as a title.
Tackling is the skill of winning the ball from an opponent on the ground without fouling the opponent or causing injury. It doesn't require any Attacking ability, Shooting or Set Pieces (penalty taking, free kicks, corners and throw ins) so these can be set to None in the Schedule planner on the right of the screen.
What tackling does require however is Strength, Aerobic, Defending, Ball Control and Tactics – the latter vital to ensure your players win the ball in a position as far away from your goal as possible.
Each of the sliders alters the degree of the training from None through Light, Medium, High and Intensive. Intensive training should be avoided where possible, certainly for long periods of time, and the overall Workload can be controlled from the last slider.
Assigning Players to Training Schedules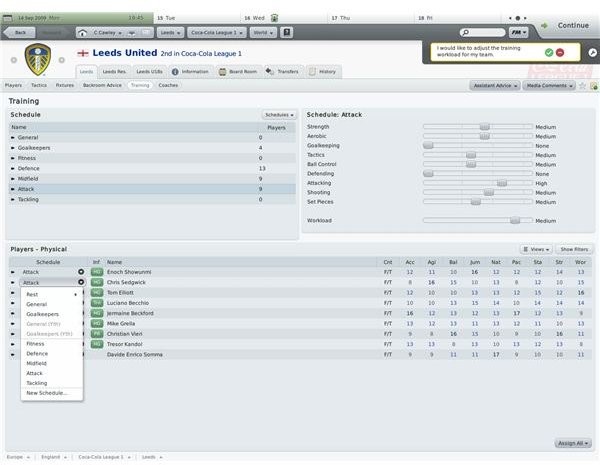 Finally, you need to assign players to your new schedule. In the Training screen, select a schedule with players in it and use the dropdown menu in the Schedule column next to the player's name to choose a different training program.
Remember also to go to the Coaches screen and ensure you have sufficient coaching and physio staff to manage the training schedules – alter this via the Assignments panel on the right side of the screen, checking and clearing the boxes as required. Unless you want a specific coach performing a specific training type you can click the Auto Assign All button to let the game allocate training.
This post is part of the series: Football Manager 2010 Guide
A comprehensive walkthrough for playing Football Manager 2010.