Understanding Player Profiles in Football Manager 2010 – Player Attributes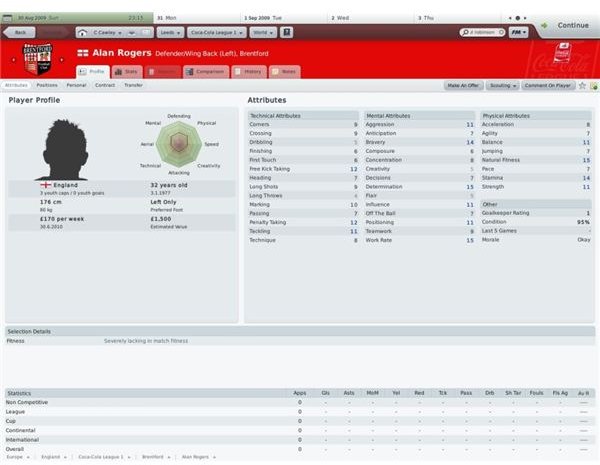 Know Your Players
Getting to know your players in Football Manager 2010 is absolutely vital if you are to get the most out of them and this can only be achieved via the Player Profile.
Comprising 11 screens, the Player Profile conveys information such as technical attributes, contract and transfer information, training and coaching reports, player history and even stores your own notes on the player.
This first part of the Player Profiles guide concentrates on the Player Attributes – the individual skills that are each given a rating that illustrate just how good your players are.
Player Attributes
The most famous of all screens in the Football Manager series is the Attributes screen, under the Profile tab. This is the first view of the Player Profile, and features all of the important stuff – the players name, nationality, age and date of birth, height and weight, whether he is left or right footed and his preferred foot, his wage, value – and of course his technical, mental and physical attributes, the details that tell you how good a player he is.
Each player has a list of Technical Attributes (such as dribbling or finishing) Mental Attributes (such as bravery or influence) and Physical Attributes (natural fitness, pace) with a slightly different set of skills for the goalkeepers. Outfield players also have a Goalkeeper Rating which allows you to decide which player to stick between the posts should your goalie get sent off. Condition, average rating over Last 5 Games and Morale are also displayed on this screen.
Player attributes are each rated between 1 and 20, where a higher rating makes a better player. Lower scores are coloured grey, whereas a higher rating is a deep blue. It is rare to find a player with every attribute over 15 – Portuguese winger Cristiano Ronaldo is poor at Tackling, for instance scoring a 7 whereas his Dribbling is fairly rated at 19; similarly, Brazil's Kaka can't take Long Throws (7) but is considered to have excellent Technique (19).
What it all Means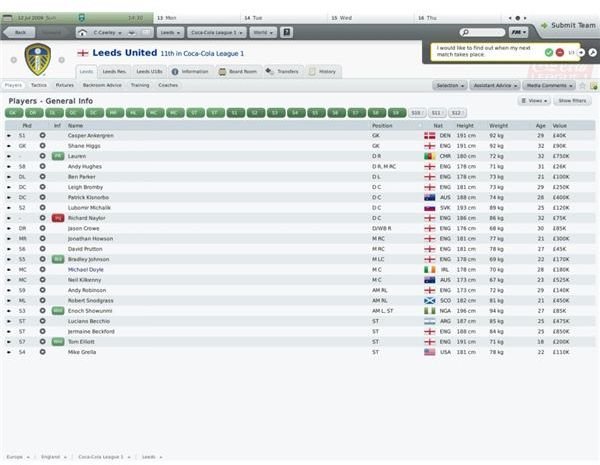 Clearly there is a vast amount of information to be gleaned from the Attributes section of the Player Profile. To help out as a general overview, the screen also presents Fitness information as well as match Statistics based on the player's performance over the season.
Thanks to the spider graph beside the player's photo and the colour coding of the individual Technical, Mental and Physical Attributes it is possible to get an idea of a player's ability quickly using this screen.
You might also spot a selection of small flags next to a player's name on the Squad view. These convey various bits of useful information. For example HG indicates a "Home Grown" player, while CT indicates the player's Contract is up for renewal. BID indicates that a transfer bid has been received for the player and PR shows that the player has been affected by some announcement made in the press.
By correctly judging the various attributes and any visible flags you can get a very good picture of your players – other screens help to flesh out their characters, ambitions and what role they can play in your club (or not).
This post is part of the series: Football Manager 2010 Guide
A comprehensive walkthrough for playing Football Manager 2010.