How To Transfer A Player In Football Manager 2010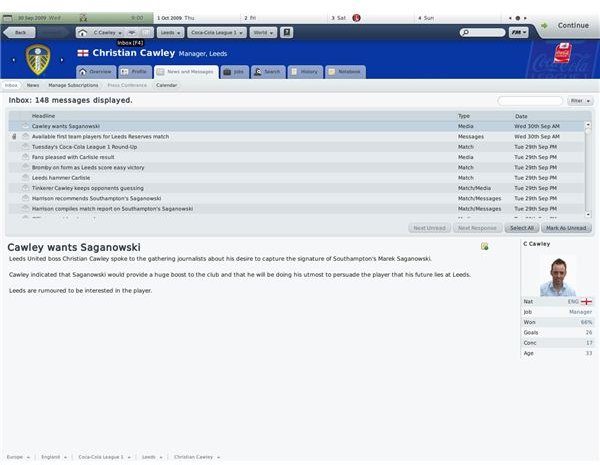 Target Your Player
Getting hold of the right players for your team is important – and Football Manager 2010 has a great transfer system that allows you to make a bid for them and come to an agreement with the selling club about how they might be paid.
If the other club is unwilling to part company with the player you have in mind meanwhile, you can unsettle your target player by making comments about him in the press, thereby making his club more likely to sell.
Of course, this only works under certain circumstances but get it right and you can sign that key player.
Unsettling Players
Getting a psychological advantage over your opponent is always important in FM 2010, and this is just as true off the pitch as on it.
If you have your eye on a player who is tied to a long contract (assuming you have the funds to meet his wage demands and the transfer fee) then releasing a statement of intent is the first step.
You can release a comment about the player in the Player Profile, via the Comment on Player button. If you've already been scouting this player (always wise to get a good opinion on your target) then this will be reported in the press and have an effect on your transfer target.
Make a Transfer Bid
To bid on a player, either right-click on his name or use the Make An Offer button in the Player Profile.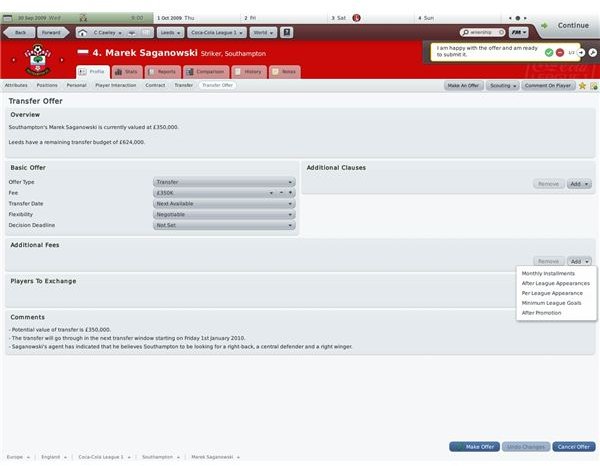 The Transfer Offer screen will display the current valuation of the player, your remaining transfer budget and the type of offer you're making – a full transfer, a trial (useful for signing good players from lower league clubs), a loan (borrowing the player for a period in which you pay a percentage of their wages) or an enquiry (a hush-hush chat with the other team's manager). Co-ownership is available in some situations.
Other elements to the transfer might include Additional Clauses such as a Buy Back Price or Percentage Of Next Sale, or Additional Fees like paying in Monthly Installments or paying a lump sum After Promotion to a different league. If you're short of cash you can also add one of your current players into the deal…
After the bid has been made (use the Make Offer button) the other club will then mull the offer over, and hopefully get back to you with a positive response.
On occasion however they may turn you down or want more money. At this stage it would be wise to consider pulling out if the deal isn't favourable to you, but don't be afraid of a bit of negotiation.
Once the fee is settled and an agreement has been made, the player must then decide if he wants to join your club and if he does, you'll get the opportunity to offer a contract…
This post is part of the series: Football Manager 2010 Guide
A comprehensive walkthrough for playing Football Manager 2010.