What Is The Assistant Manager For In Football Manager 2010?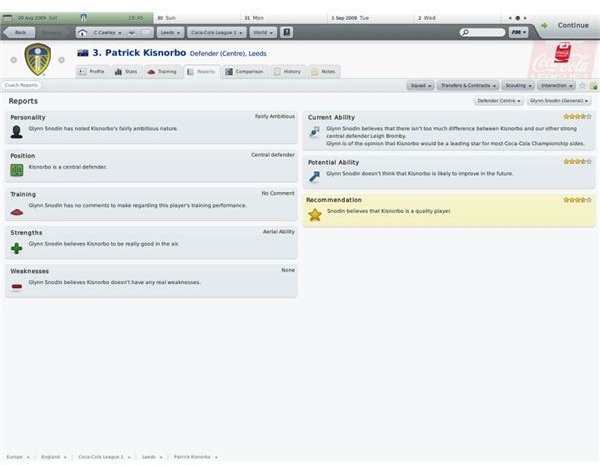 Reports from your Backroom Staff
One element of Football Manager 2010 that has been considerably improved upon compared to the previous versions is the interaction with your backroom staff.
The assistant manager, coaches, scouts and physiotherapists all play a vital role in the running of your team and its success – and they have opinions, thoughts and observations to share with you so that you can get the best out of the players.
Your team of backroom staff provide player reports, team reports, opposition reports and pre-match tactical discussion – all vital information that can be the difference between success and failure!
Player Reports
Via your Player Profile you can check on your players and their progress via a series of reports made by your assistant manager and coaches.
These reports include information on each of your players:
• Personality
• Position
• Training performance
• Strengths
• Weaknesses
• Current Ability
• Potential Ability
The brief reports are concluded with a Recommendation and a star rating for your player. Vital information can be found in this screen, from determining a player's suitability for a style of play that you have planned, to deciding whether to let the player go.
Team Reports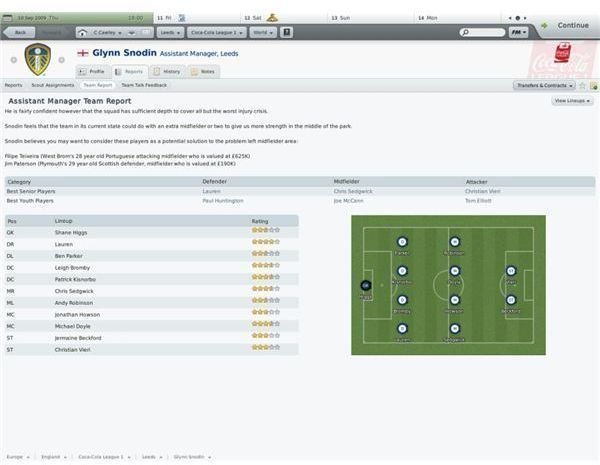 In the main Squad screen of your club you can use the Assistance Advice > Get Team Report menu item to get a look at who your assistant manager considers to be your best 11 players.
These team reports can be vital in helping you to pick a team and to see which players are improving. Information displayed in this screen includes:
• Your Assistant Manager's Team Report – this covers how your might cover an injury crisis, whether you should consider extra players for a particular role and what your weak areas are.
• Best Senior Players – one in each area (defender, midfielder, attacker)
• Best Youth Players – one in each area (defender, midfielder, attacker)
• An illustrated line up of your best starting XI, along with star ratings (out of 5) for each player.
Scouting Reports
Your scouts can be used to provide ongoing scouting on your next opponents. You can set this up in the Scouting screen in the Club menu. Simply select a scout and then use the Add New Assignment function to scout your next opponents.
The resulting team reports can be useful singling out the oppositions "dangermen" (players who can prove a threat to your team) as well as predicting the style of play they will adopt, the formation and any players likely to be missing the game through injury.
Scouting Reports can prove very useful in making you aware of the opposition's strengths and weaknesses.
Pre Match Tactical Meetings
Along with a next opposition scout report, your team of backroom staff will have a meeting to discuss various points about the opposition, what to look for and how to instruct your team to deal with their rivals.
Backroom Advice in the form of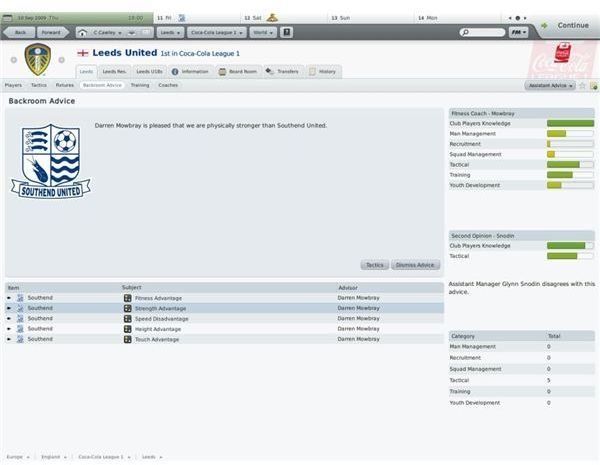 can prove valuable – here the assistant manager or a coach outlines various advantages your team has over the oppositions, such as height, technique, aggression, etc as well as underlining any distinct weaknesses your player have in this match.
Pre-match, this information should be taken on board and utilized so that your team can be instructed to play in a manner that will challenge the opposition.
All information from your backroom staff should be treated with respect and factored into your plans when building tactics as well as being very useful when issuing orders to your players on matchday.
This post is part of the series: Football Manager 2010 Guide
A comprehensive walkthrough for playing Football Manager 2010.