Offering Contracts In FM 2010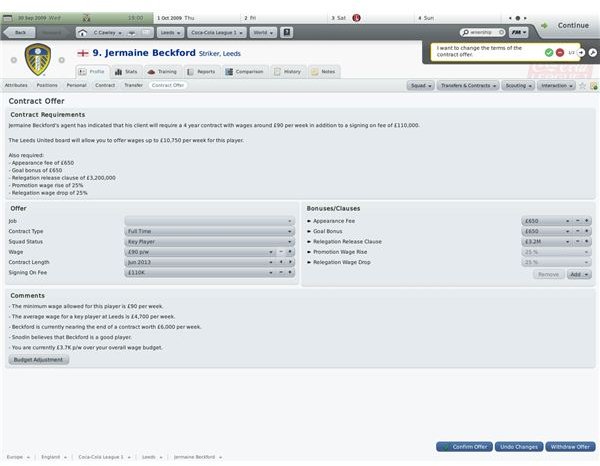 When to Offer a Contract
Whether you have had a transfer bid accepted, have a player in your sights who is out of contract and available for no fee or you just want to keep hold of an existing player, you need to be familiar with offering contracts.
In real life, players are contracted to teams to give them certain rights such as to receive wages and bonuses for good performance. Contracts usually expire after 2 to 5 years, at which point a player is free to move to a different club or accept a new contract from his current club.
After a transfer bid has been accepted a favourable contract should be offered to the player to secure his services. Although the other club may have agreed to sell, the player can still refuse, especially if he is an important player.
Offering a Contract
When the time comes to offer a contract to a player at the center of a transfer bid, an Offer Contract button on the news page will give you the chance to do this. To offer a contract to a player who is out of contract or already at your club, go to the Player Profile and select Transfers & Contracts > Offer Contract – this will take you to the Contract Offer screen where you can find out what the player demands, what the club can afford, and hopefully hammer out a deal.
As with a transfer bid, offering a contract can involve a certain amount of negotiation. On top of wages, additional pay elements such as Appearance Fee, Goal Bonus and Signing On Fee can all be added, as well as Contract Length and Squad Status.
Comments at the foot of the Contract Offer inform you what the players current deal is (if applicable), what the average wage for that type of player is and opinion on the player from your Assistant Manager.
Contract Refused?
On occasion, the player may turn down the contract.
This will usually mean that you need to improve the terms – offer more money in wages, a greater signing on fee, better bonuses and so forth… perhaps a minimum fee release clause should a bigger club become interested in the player.
Usually disagreements over contracts can be sorted out. If you're trying to sign a new player and the contract can't be agreed upon, the player simply won't sign then your transfer will effectively be over. Similarly making a contract offer to an out of contract player that is then turned down will require negotiation (the player's agent will make it clear if the player is still interested in joining) or an admission of defeat.
Offering a contract to an existing player that is then turned down, however, means you need to consider your options carefully.
If there is available funds to meet the players demand then do so but watch out for excessive wage and bonus requests. It may be less trouble to let the player go for free at the end of their contract and there's always the possibility that he might be picked up by another club before then…
This post is part of the series: Football Manager 2010 Guide
A comprehensive walkthrough for playing Football Manager 2010.