Football Manager 2010 Tactics Guide: Tips and Tricks for Choosing Your Team Formation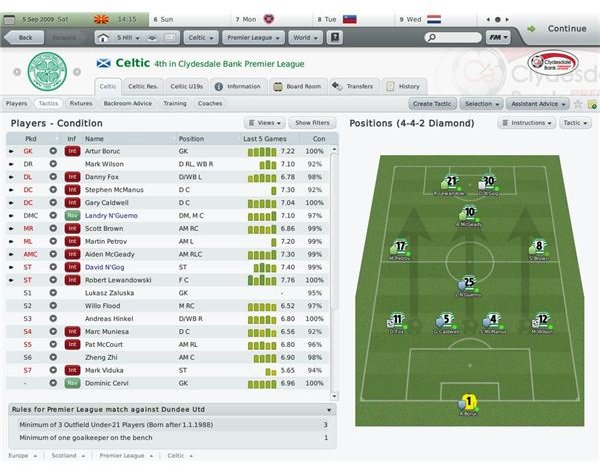 Football Games
Football is the most popular sport on the planet by a distance and there are several long running franchises which deal with various sides to the game. While Pro Evolution Soccer battles FIFA Soccer in the action category, the big match when it comes to management is between the Football Manager and Championship Manager franchises. Make no mistake, while Champ Man has improved, Football Manager 2010 is the best football management game available. This manual will help you decide on which tactics are best and how to change your formations.
FM 2010 Depth
The depth in FM 2010 can be daunting even for experienced fans of the series which makes it extremely tough for newcomers. The good news is developer Sports Interactive has found a way to simplify the process of setting up your team tactics and formation. They have also added some terrific text explanations so you are left in no doubt as to each player's role. While there is a simplified veneer for those who don't want to drill down any further the master tacticians are catered for too with an advanced set of options. To find the right screen you can choose Tactics from the drop down menu at the top of the HUD which bears your team's name or, if you are on the squad page, simply select the Tactics tab at the top left.
Create Tactic Wizard
There is a Create Tactic option in FM 2010 which guides you through the process. You can set your formation, choose general tactics and give players specific duties. The Create Tactic option is like a tactics wizard and once created you can save your tactics to use again. This is a simplified setting though, and if you really want to explore the possibilities and exert full control over your tactical approach you need to dive into the advanced options. We'll take a look at that in the Choosing your Tactics section below.
Setting your Formation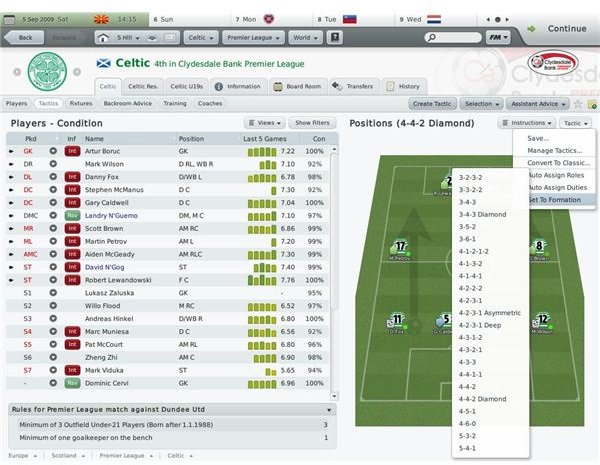 We'll kick off by selecting a formation first. Deciding on your formation can be a tricky task but most people have a personal preference, for me it is 4-4-2 with a diamond formation which includes an advanced attacking midfield playmaker and a protective defensive midfielder who sits just in front of the defenders. Whether you choose 3-5-2 or 4-3-3 once you have made a decision you have to make sure you have the right players to fulfil each role.
If you don't intend to wheel and deal in the transfer market too much then pick a formation that suits your current crop of players. It is always possible to retrain players to learn new positions or to buy a new player but both those solutions will take time. It is better to play a temporary formation and change when you have the right men for the job than it is to play players out of position.
The quickest way to select a new formation is on the Tactics screen. You should see a pitch on the right hand side which displays your player's positions. Above it on the right there is a drop down menu labelled Tactic, select that and then slide down to the bottom option Set to Formation and select the formation you want from the list. Alternatively you can just left click and drag the players on the pitch into the position you want.
Choosing your Tactics in FM 2010
Go to the Instructions tab above the pitch on the right and examine the drop down options. The default is Positions which just shows the pitch with your team formation. There are lots of other settings hidden in here and if you want your team to perform a certain way on the pitch this is where you'll tell them.
Team Instructions
Team Instructions allows you to set various things about the way your team will play. The overall Philosophy and Starting Strategy will determine how your team approaches the match. You can then dig down into more specifics with:
Passing Style
Creative Freedom
Closing Down
Tackling
Marking
Crossing
Roaming
The great thing about this screen is that selecting various options gives you a text explanation of your choice. For people new to the game or uncertain about which tactics to choose this text is invaluable.
At the bottom of the Team Instructions screen you can select a Primary Playmaker and a Primary Target Man and you can also decide whether the Target Man should receive passes to his feet, head or into space. You don't have to set a primary playmaker or a primary target man and if you don't have a star striker or a silky and creative midfielder you'd be best to leave these blank. To decide on the passes your target man receives check his stats and see how heading and jumping compare to first touch and technique or pace and positioning.
Individual and Advanced Tactics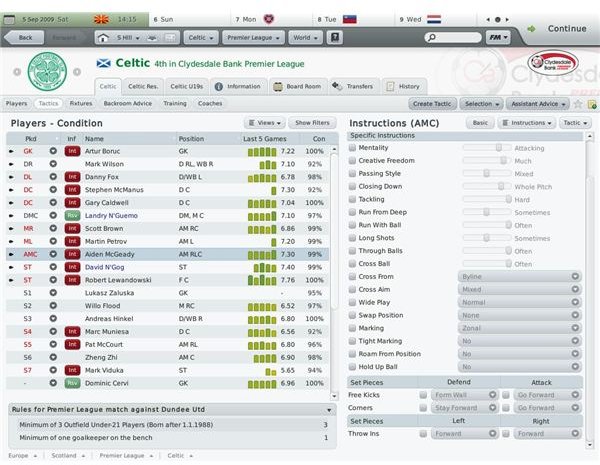 You can get a decent level of control from assigning Team Instructions but to really get the best from your team you need to dig down even further and select Player Instructions. This way you can select individual tactics for every member of your team. The default allows you to choose a role for your player and once again there is some text explanation. This is a good place to start but for real fine control you want to click the Advanced tab at the top of the right pane.
In the Advanced tactics screen for individual players you can see every detail of how your man will approach the game. This is great to illustrate the settings for each predetermined role and as you get more confident in your tactical abilities you'll want to tweak the defaults.
Experimenting and Tailoring Tactics
You should not be afraid to mess with your tactics but for safety's sake do it during your pre-season friendlies. Once you find some tactics you really like make sure you save them. The right approach to take for each individual match is to read your scout report on the opposition team, talk to your backroom staff via the Backroom Advice tab at the top left, and tweak your tactics accordingly. The same tactical approach will not work for every opponent. You'll need to consider whether you are home or away, deal with key danger men in the opposition line-up and adapt your game to exploit their weaknesses. We'll take a closer look at the tactical approach to your opponents in the forthcoming Playing a Match Guide.
This post is part of the series: Football Manager 2010
A series of guides for the greatest soccer management game ever released, Football Manager 2010.