Playing a Match in FM 2010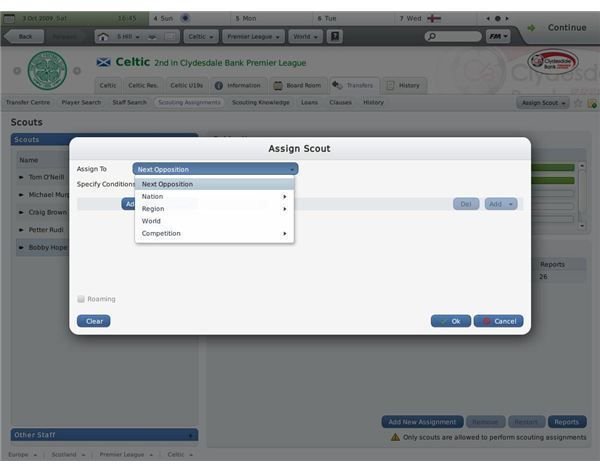 Scouting the Opposition
One of the first things you should do at any new club is to select one of your scouts to spy on your opposition. You'll probably want your best scouts to search for new talent and scout players you are thinking about signing. Choose one of your normal scouts and click Add New Assignment and Next Opposition (see screenshot).
He will now go and watch every opposition team you are about to play and provide you with a pre-match report which will give you an idea what tactics and formation your opponent generally adopts. His report will also highlight any specific danger men in the opposition team and offer you some advice on how best to approach the match.
Backroom Advice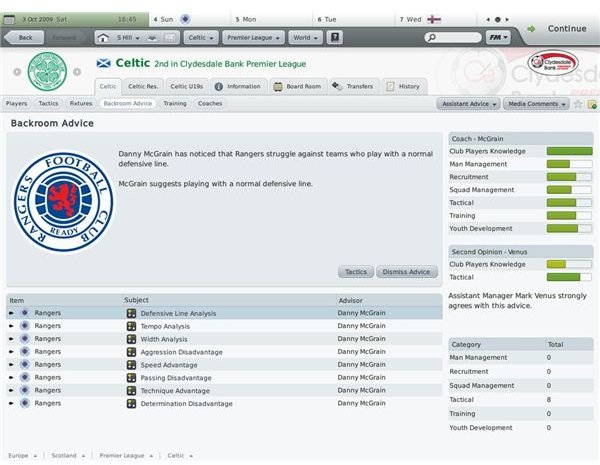 For each match you'll also want to check out your Backroom Advice before setting up your tactics. In here you'll find an analysis of your team's strengths and weaknesses when compared to your opposition. You may want to change your line up in reaction to this advice. At the very least you will want to tweak your tactical approach. For more on that check out the Football Manager 2010 Guide: Setting Tactics and Formation.
Once you have your team selected and you have tweaked your starting tactics you are ready to progress to the match. Remember you can always change your tactics in reaction to the on field action so if you are unsure start with fairly neutral tactics and tweak them during the game.
Opposition Instructions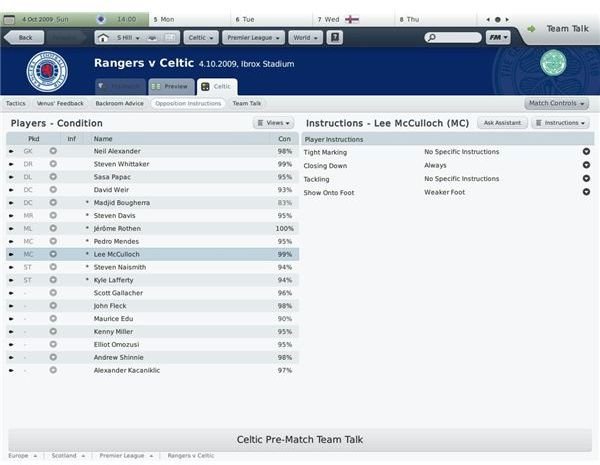 This is an absolutely vital element to every game you play. On this screen you can determine how your players will deal with each member of the opposing team. The danger men should be singled out here for special attention and it is a good idea to ensure that attacking players on the opposition side are always shown onto their weaker foot and closed down or marked.
If you are uncertain about what to do then click the Ask Assistant tab at the top right and he will pick for you. However, be warned, the assistant manager will often tell your players to go in hard on the tackle on certain opposition players and in my experience this leads to red cards so you might want to tweak his suggestions. Remember, like the rest of your tactics, these settings can be altered later so you can always try an approach and if it isn't working change it.
Team Talk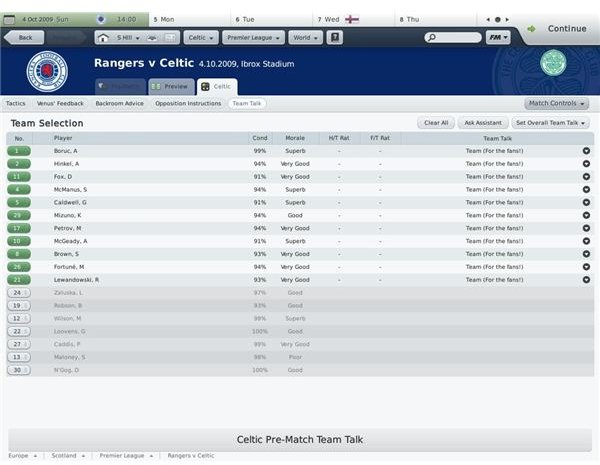 Many teams have run out onto the pitch over the years fired up by a rousing speech from their manager. You should be careful with your team talk though because it is easy to say the wrong thing and anger your players. For a big match like this old firm derby the natural choice is to select Do it for the fans! Just make sure you choose a different Team Talk each time or it will lose all impact, and try to tailor it to the game. If you think the match will be tough just wish them luck.
You'll get a chance to give another team talk at half time and then again at the end of the game. The half time talk seems to be the most important in terms of potential effect and it is possible to change the course of a game with the right words. Just remember to be more forgiving away from home and when playing tough opponents. You don't want to kill the morale of your team because this will have a negative long term effect on their performance. You can always ask your assistant for feedback on your team talk after the match and this helps you to see what works and what doesn't.
Match View Controls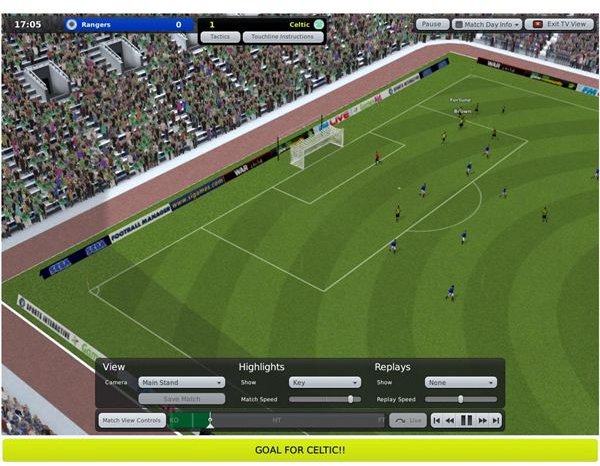 If you missed last year's Football Manager then the inclusion of a 3D match engine will surprise you. It is fantastic and allows you to watch the action as it unfolds. You can choose from a number of different views on the play, including the classic top down bird's eye camera but the best option is to watch the match from the TV view in the Main Stand. You may not want to watch every kick of the ball or see repeats of the goals in which case you just select the options you want from the Match View Controls bar at the bottom of the screen (see screenshot). You can also use sliders to select the match speed here.
At any time you can Pause the match by clicking Pause at the top right and restart play by hitting Play. It is advisable to press Pause before you access the Tactics screen because if you don't the match will continue to run in the background.
Touchline Instructions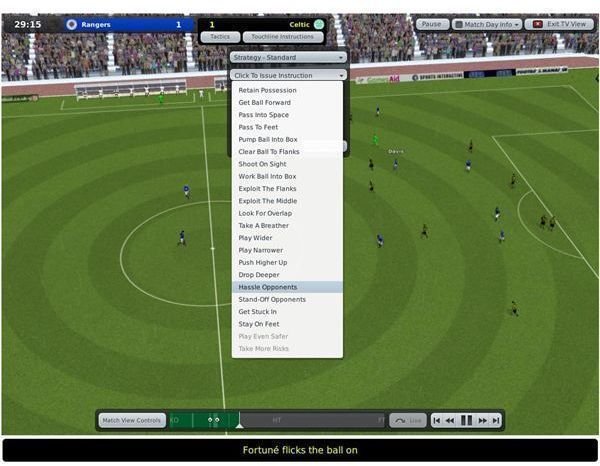 In order to react to the on pitch action and give your players updated tactics or new instructions there is a simple and versatile Touchline Instructions drop down menu (see screenshot). If things are not going your way make sure you use these instructions to change the game. They are very useful and can have an immediate impact on the way your players approach the game. They will not be enacted immediately and after you select an instruction you'll see it is pending and will be delivered during the next break in play. If you decide you no longer want that instruction to be applied simply select the minus sign on the left hand side and it will be removed.
Assistant Advice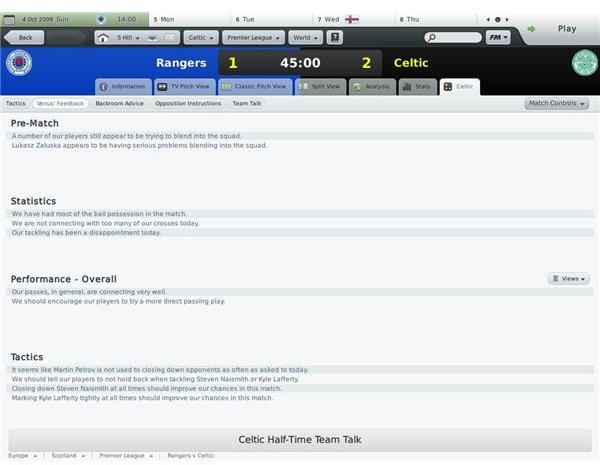 You can check your assistant manager's thoughts on the game by selecting his advice tab (see screenshot). This is well worth doing and can often provide you with ideas for tweaks to the tactics that will really make a difference. You shouldn't follow their advice blindly but take what you think makes sense and apply it to your team. He will also give you an idea of how well the team are performing in the match in various areas.
Substitutions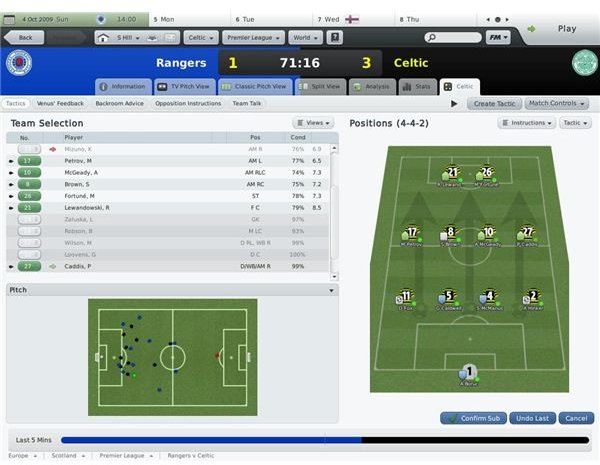 You can make a maximum of three substitutions in the majority of games, for friendly matches you can make as many as you like. You'll generally find that some of your players will tire towards the end of a match. I like to play with width and my wingers get worked hard so they often need to be replaced before the end of the game. You can make a substitution in the Tactics screen by dragging a player on the bench onto the name you want to replace (see screenshot). You can also drag him onto the pitch on the right to replace his man if you prefer. Once you have made the substitution you need to confirm it and the new man will come on in the next break in play.
There is also an option in the match screen where you can choose Touchline Instructions and then Shortcuts at the bottom which gives you a drop down menu including the option Make Quick Substitution.
Post Match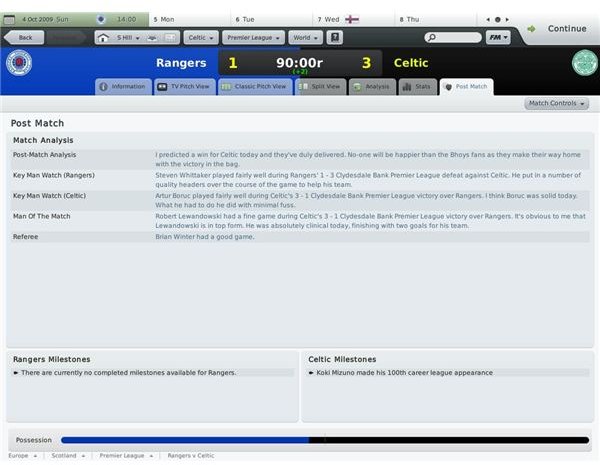 Once the match is over there is a wealth of analysis to study and in addition to the basic report (see screenshot) you can also enter the Analysis tab for more. This feature allows you to see what players did during the game, who your key players were and what areas of the pitch and overall match you dominated. This information is invaluable and in particular if you find a player you think should be performing well is underachieving for you, then you may find the reason in the match analysis. You should pay particular attention to this when you lose a match to try and figure out why it happened and how to rectify it in future.
Confidence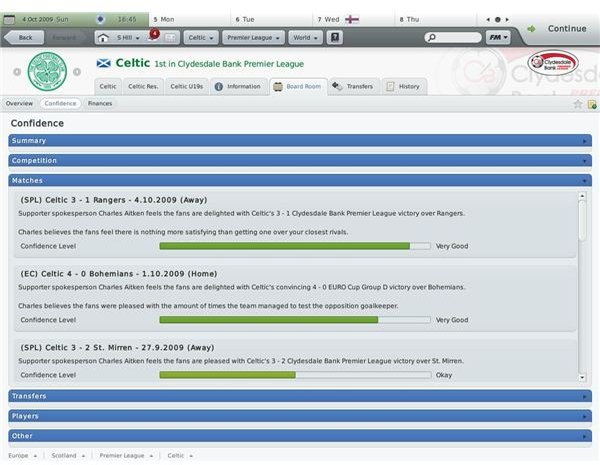 Every match will have an effect on your support at the club. It is important to keep the board and the fans happy. You'll find in Football Manager 2010 that they are not quick to forget or forgive a bad result but a good result soon slips from the memory. Always check to see the Fan Confidence after a game. If you are able to get a good derby win, as I did against Rangers (see screenshot), it will buy you a lot of good will. The Board Room confidence tab also allows you to see the fan and board reaction to other things you do at the club but we'll deal with them in a different guide.
As you can see there is a lot to playing a match. The good thing is you can take it at your own pace, select the way you want to watch it and make the changes you think will win out. There is plenty of help there but at the end of the day you are the man in charge and you'll live or die by the results you get on the pitch.
This post is part of the series: Football Manager 2010
A series of guides for the greatest soccer management game ever released, Football Manager 2010.