Building your Team in FM 2010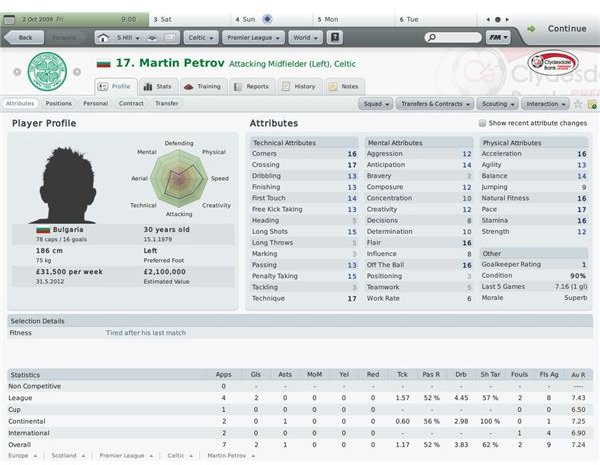 Wheeling and Dealing
For me the real addictive hook of the entire Football Manager series is wheeling and dealing in the transfer market to create my very own team. Whatever club you decide to manage you will inevitably want to bring in some of your own players. There are a lot of factors to consider though and blowing your transfer budget without making a plan can you leave you in a desperate situation. In this guide we'll examine the process of building your team in Football Manager 2010.
Evaluate your Existing Team
The first thing you need to do is examine your existing player base, talk to the coaches and the assistant manager and find out where your weak areas are. You will want to set up your own formation and tactics and so you'll need to ensure that you have the correct personnel. You can check how strong each player is in their detailed profile which you reach simply by clicking on their name.
There is a lot of useful information in here and you should start by checking out each tab:
Attributes – lists all of your player's skills
Positions – shows you which positions they can play in
Personal – tells you about any personal issues and preferences
Contract – tells you their contract status
Transfer – shows their value, transfer status and whether any clubs are interested
It is vital you have players who are excellent in each role you have to fill on the pitch. If there are any players you don't like the look of then transfer list them but watch out for personal relationships. If a player is good friends with another member of the squad (this is indicated in the Personal tab) and you transfer list them then the friend will become annoyed.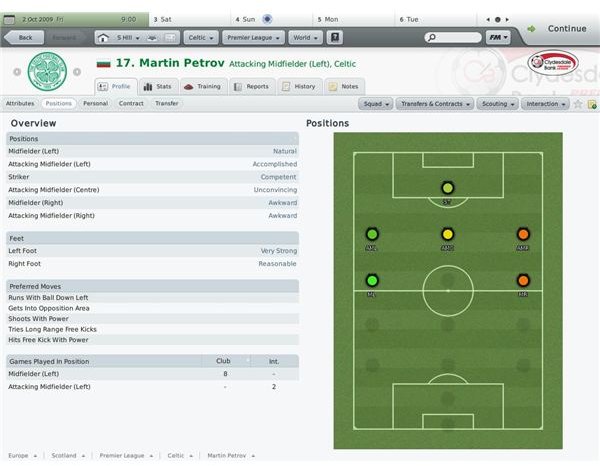 Once you have the list of players you want to keep make sure they fit the role you want to play them in by checking their Attributes and Positions screens. You can retrain players to play new positions but they will always be best when they are described as Natural at a specific position, like in the screenshot which shows Martin Petrov is a natural left midfielder. He is also ideal as a Winger because his Crossing, Pace, Acceleration, Off the Ball, Stamina and Natural Fitness attributes are all high.
Patience is a virtue
When building your ideal squad in Football Manager 2010 patience is undoubtedly a virtue. It takes time to identify and pursue the talent you need and there are some players that you'll be unable to sign unless you cheat. If you make too many changes in personnel and your new squad doesn't get time to gel before the season kicks off you can find yourself in real trouble. Even great players take time to get used to each other and you are unlikely to get top performances from new signings until they have settled in.
Even if you plan to get rid of some players in your side eventually it is not a good idea to come in and transfer list half the team. You have to be more patient than that and you have to make sure replacements are there before you ditch your existing playing staff.
Bargain Basement
There is something especially satisfying about seeking out a bargain player for a low fee. Whether he is an aging striker who ends up bagging you 30 goals a season or a young, up and coming midfield playmaker who you sell on for millions after a couple of seasons of good service, identifying and signing those bargains could well be the difference between failure and success.
You can use your scouting team to identify players worth signing and you can search for them yourself. I am currently working up a list of bargain players and great young kids with potential in FM 2010 so look out for that soon.
Free Transfers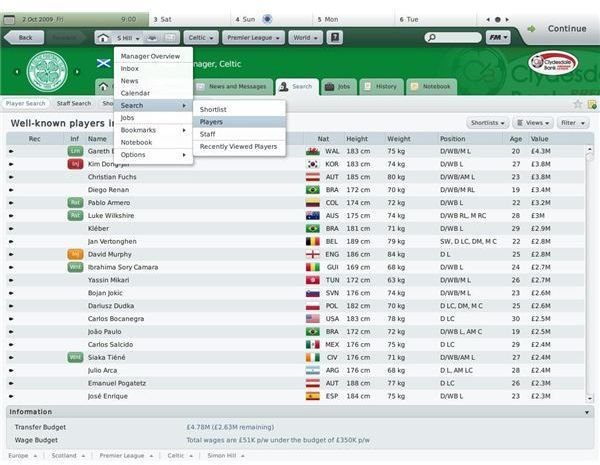 Everyone loves a bargain and your first port of call, even if you have a transfer budget, should be players who are available for free. You can find them by going to the drop down menu which bears your name at the top left and choosing Search and then Players (see screenshot). There is a Filter tab on the far right of this screen which allows you to filter the list so you can search for free players. You should always keep the "Ask assistant to filter out unrealistic targets" box ticked.
If you can't be bothered searching the entire list, which will undoubtedly be filled with some poor quality players, then edit the filter and select minimum attribute ratings or other indicators of quality.
Making the Most of your Budget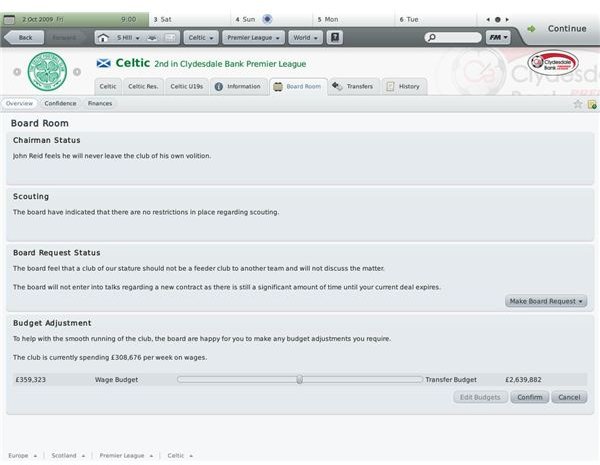 There are ways to get the maximum out of your budget in Football Manager 2010. You can go to the Board Room and select Edit Budgets at the bottom of the screen. This allows you to balance your potential wage bill with your transfer budget. If you only need one new player but you can't afford his wages then take them from the transfer budget, if on the other hand, you have loads of spare wages but no budget to spend, slide the bar the other way.
If you can't find any free players to sign then check out the players who have been Transfer Listed. They are frequently available for a lower fee than their true value and it is always worth starting out with a low bid when a player is transfer listed, especially if their Squad Status in the player Transfer tab says Not needed by club.
Spending Big
Many clubs do start with a decent transfer budget and you can go after the talent you really want. The player value that is listed is based on their contract, you will rarely actually get them for that price. Be prepared to spend well over the odds for top players. You should always go in strong with a tempting bid to avoid being drawn into protracted negotiations.
If the player you are attempting to sign is young then it can often be worthwhile adding a % of next fee clause. This means the club you are buying him from will get a cut of his next transfer fee and tends to assume the player in question is likely to develop into a real talent.
Out of Contract
It is not always possible to build the team you want in your first season in charge. As the year end approaches you should scour the player lists to find players with contracts that are about to expire. This is a great way of picking up older players for free and of getting your hands on younger players that the club is unwilling to sell (although they will cost you a tribunal set fee).
Loan Deals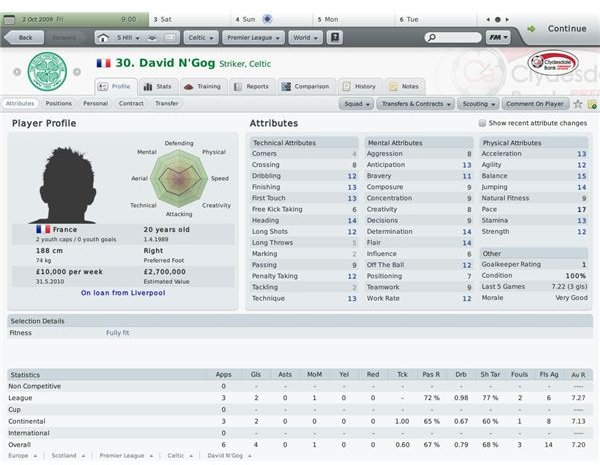 I'm a big fan of loan deals and highly recommend you use them to secure cover for your squad. Rather than rushing out and spending a fee on a player you are uncertain of and then being stuck with them for a long contract you should just get short term loan players in. Even if you are at a big club loan deals are well worth considering and you'll find some top talent available. Usually you'll be expected to pay a percentage of their wages and if they are a really good player you'll need to pay their wages plus a fee. This still frequently works out a lot cheaper and easier than signing a new player. You can also try building in an agreed fee for transfer in case you decide you want to buy them at the end of the loan deal.
When looking for players to loan don't limit yourself to players that are Listed for Loan. Any young player not getting a game for his first team is worth putting a loan bid in for. As you can see in the screenshot I took David N'Gog on loan from Liverpool and he has scored 4 goals in 6 matches for Celtic so far. The season long loan deal only cost me £600,000 and there is no way I would have been able to sign such a quality player for that amount of cash.
Cheating
The most obvious and common way of cheating in Football Manager 2010 is to create a new manager at a rich club and just buy all your dead wood for inflated fees. This allows you to get rid of your worst players and it gives you a transfer budget to play with. You can also take on the manager job at a club that owns a player you want and agree to sell him for a budget fee. It is cheating but if you're desperate you might consider it.
Satisfaction in FM 2010
The greatest satisfaction can only be derived by building your own squad from scratch, by being clever and inventive in the transfer market and by seeking out the best new talent. It may take you a couple of seasons to get there but bringing through a new batch of world talent is seriously rewarding. When that unknown player you signed at age 17, against the advice of your assistant manager, scores his first hat trick for you in the Champions League you'll be grinning from ear to ear.
This post is part of the series: Football Manager 2010
A series of guides for the greatest soccer management game ever released, Football Manager 2010.