Winning with Liverpool in FIFA09 - All the Secrets of FIFA 09 Tactics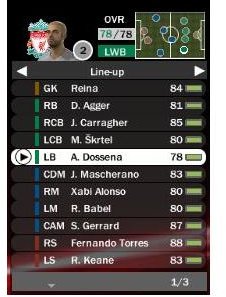 Introduction
In the FIFA 2009 game Liverpool are a solid team capable of beating every opponent. However it is important to use the right tactics and style otherwise you will be crushed by the likes of Barcelona and Manchester United.
The Squad
Liverpool are a good team and they have several options for different positions. Well, maybe not as many as Manchester United, but definitely quite a few. Reina of course is the automatic choice between the posts – especially as Dudek is no longer there. Carragher and Agger are solid Center Backs. The full backs can be a problem, as both are rated somewhat low. This invites the option of substituting at least one of them (Arbeloa) for Skrtel. And as Skrtel is not good at Full Back, you should move Agger to the flank and play Skrtel as a CB.
In attack, there should also not be many considerations. Fernando Torres is arguably the team's best player (and one of the better strikers in the game) and Robbie Keane is better that Kuyt.
The Liverpool midfield is the place to experiment. Remember, the unique Fifa 09 Liverpool formation includes one Defensive Midfielder (Mascherano) and one Attacking Midfielder. Steven Gerrard is the default choice for this position, though another interesting option is present (see further). Riera should be substituted at Left Midfield for Babbel, especially if you want to add firepower. Kuyt is not bad as Right Midfielder, but you should probably free the place for Xabi Alonso or Yossi Benayoun. The latter has good technique, but little strength and will be pushed around by stronger defenders. However, there is also the possibility of playing Steven Gerrard as RM, putting either Benayoun or Robbie Keane as AM (in the latter case Kuyt will fill Keane's striker position). If you decide to attack via the flanks this is definitely a viable option.
Overall, I would recommend this squad:
Reina – Agger, Carragher, Skrtel, Dossena – Mascherano, Xavi Alosno, Babbel, Gerrard – Torres, Keane
Tactics
When playing Liverpool in Fifa 09, the tactics are simple. Liverpool should attack via the flanks. Also, use the counterattack option, as Fernando Torres can beat many defenders to reach those long passes. 3rd man attack should not be used unless you are in desperate need of goal, as Mascherano is a vital component of the team's defensive unit. Without him, it can break up very quickly. Furthermore, the defense has to be given constant attention during play as it is Liverpool's weakest point. Do NOT try to play the offside trap and if you are pressing – do it for short periods of time. I would recommend zone defense as the best way to counter the lack of quality at the back.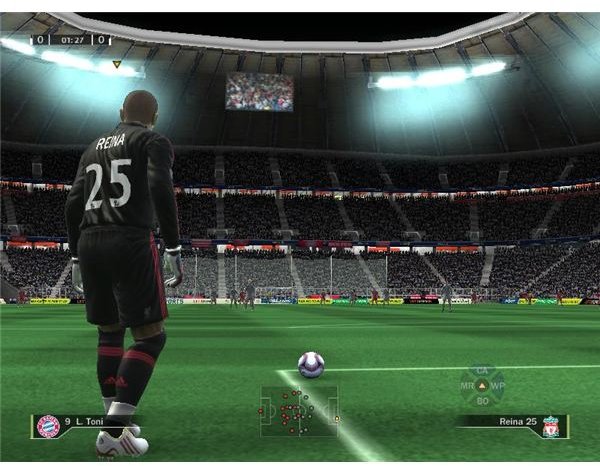 Mentality
Liverpool should be playing with an offensive mentality. There is no chance you can sit back and defend for 90 minutes. The defenders are not good enough and conceding a goal when pushed constantly into your penalty area is inevitable. Thus you need to control the game flow by yourself. Furthermore, you have to create many attacking opportunities, aiming to play the game as much as possible in the opponents half. Be sure to watch for counterattack and long passes from the opposition – you might have to use goalie charge to cut those passes out.
Summary
In summary, Liverpool is definitely a good team in FIFA 09. You can beat every opponent – but against a strong opposition tactics become a crucial issue. Offensive mentality and attack via the flanks using quick technical wingers is the key to success. Not a Liverpool fan? Learn how to play AGAINST Liverpool in one of the next articles.
This post is part of the series: Know Your Team in FIFA 2009
An in depth guide to the various squads and their tactics in FIFA 2009.