FIFA 11: Demo Impressions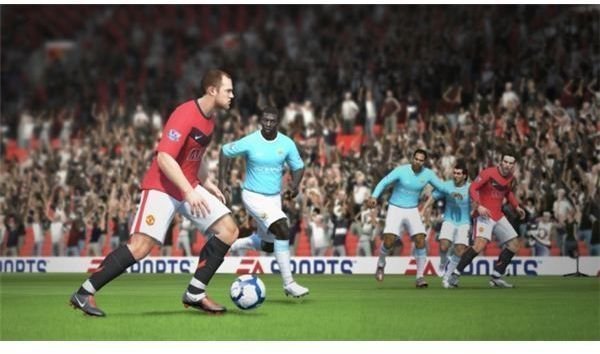 FIFA 11: Demo Preview & Impressions
On September 15th 2010, EA decided to throw its annual franchise into the proverbial bullpen, releasing the highly anticipated FIFA 11 demo. With Seabass & Konami providing soccer fans with a new PES 2011 demo on the same day, people were no doubt spoiled by the mouth watering prospect of two new annual soccer releases becoming playable in their own homes, with a full release arriving at an almost alarming rate.
In this article, we will analyse the FIFA 11 demo and give some insightful impressions about it, detailing the differences in gameplay between this & last year's attempt as well as positing whether FIFA 11 is worth the purchase based upon this teasing offering. Furthermore, expect some comparative analysis between this FIFA 11 demo and the re-imagined PES 2011 demo, given their respective release schedule and competitive market battle.
Teams & Stadia In The FIFA 11 Demo
Firstly, its worth pointing out the teams found in the FIFA 11 demo, with a surprisingly healthy 6 different European choices available. Those teams selected include Bayer Leverkusen, Real Madrid, Juventus, Barcelona, Chelsea & Olympique Lyonnais. A bounty of options insofar as team choice, especially for a FIFA 11 demo, showcasing the consistent & fantastically gratuitous dirge of licenses that FIFA and EA often dole out in their sports games.
The Santiago Bernabeu, Real Madrid's eponymous cauldron, is the stadium of choice in the demo. Although after playing 10 games, the Emirates Stadium will be unlocked for use in the demo, representing Arsenal's new home in London. Also, both PS3 and Xbox 360 versions of the demo allow users to gain access to Arsenal as a selectable team, by winning 5 matches. Another way of unlocking these Arsenal based choices can be found on facebook with the FIFA Superstars game.
FIFA 11 Demo: Gameplay and Modes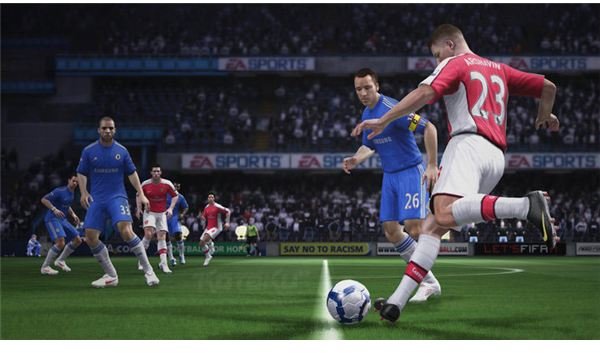 In the demo, players are teased with only a small fraction of the overall experience, with Exhibition mode being the only playable choice. Add to this that only 2x3 minute halves are played and a paltry 6 minute match is available to players. This is in comparison to PES 2011's 10 minute halves in their demo and you can see the lack of inherent dynamics and contextual storylines within a single game coming out of this FIFA 11 demo as opposed to its Konami published rival.
As far as gameplay goes, FIFA 11 replicates the arcade style of its predecessors, focusing on some extra-realistic dribbling and awkward animations. With PES 2011 touting over 1000 new animations and new physics etcetera, it seems redactive for FIFA 11 to not try and change its core gameplay elements. There are improvements with its mechanics though, just not as radical as perhaps the 360 passing of its counterpart, with things such as PES style-statistics for individual players & more realistic facial likeness also being added.
FIFA 11 Demo or PES 2011 Demo?
The ability to select one player, choosing the goalkeeper in particular, is a nice touch to the demo and especially poignant in showcasing the new Be A Goalkeeper mode. It takes a fair amount of balance between practice or skill and the new mode will likely be a major talking point in the actual release.
With such a radical overhaul being found in the rival series, FIFA 11 seems to be stuck in the same place the Pro Evolution series was a couple of years ago, at the advent of this generation of consoles. In that melee, PES was ousted as the #1 franchise by FIFA and its ever improving features, leaving the PES series close to a niche product. This time, it seems the FIFA 11 demo has relinquished the ascendency to PES 2011, with its rival showcasing something often found missing in FIFA titles - realism.
This post is part of the series: FIFA Reviews & Previews
A collection of reviews for various FIFA games.