2010 FIFA World Cup Release Date and Preview for Xbox 360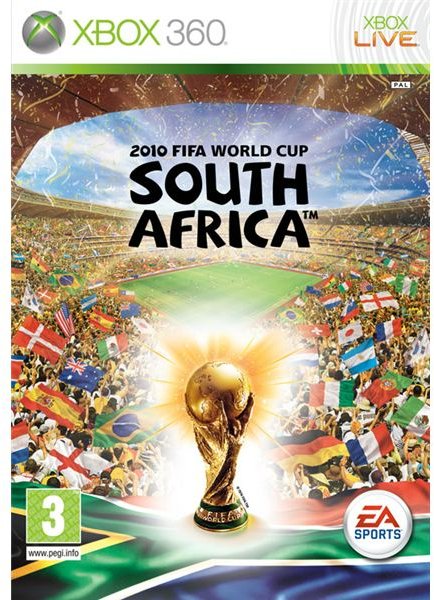 2010 FIFA World Cup South Africa Preview and Release Date
2010 FIFA World Cup is a multi-platform release from juggernaut developer EA Sports carrying on their own tradition of releasing World Cup tie-ins every four years. Being staggered across the end of April, the 27th of the month in North America and the 30th for PAL regions, its release is likely to help eager soccer fans ready for the prestigious competition the game takes its name from. With a demo already out on Xbox 360 and Playstation 3, it should be a definite segue for any speculative customer to this franchise, even if you prefer the lofty attributes of the Pro Evolution series.
Taking a leaf from the highly successful FIFA series, 2010 FIFA World Cup South Africa gives the player the gameplay aspects of the more reputable and time intensive games, with some additional perks and improvements to boot. A crucial part of EA Sports games is the licences and this World Cup game doesn't interrupt the ongoing ritual. With 199 separate countries represented and a whole host officialdom, whether through the real life stadiums or photo-realistic player faces, you're going to be basking in the World Cup atmosphere.
Captain Your Country in 2010 FIFA World Cup Game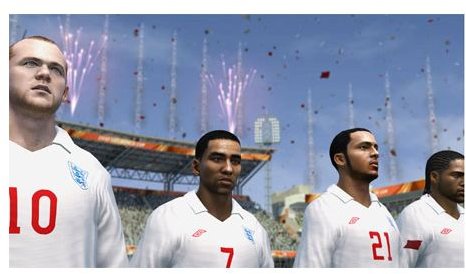 Not only is there the default exhibition and World Cup modes but the game offers a couple of other features setting it apart from an average soccer game. The "Captain Your Country" mode allows the player to take control of one player on the field, much like the FIFA 10 Be A Pro mode or Be A Legend in perennial rival Pro Evolution Soccer, battling it out as one man and trying to capture the prestigious tournament winners medal while captaining your team. Adding in the ability to play with upto 3 other players gives some further satisfaction along with being able to import the Virtual Pro created from FIFA 10.
Qualifying and Online World Cup Modes in 2010 FIFA World Cup South Africa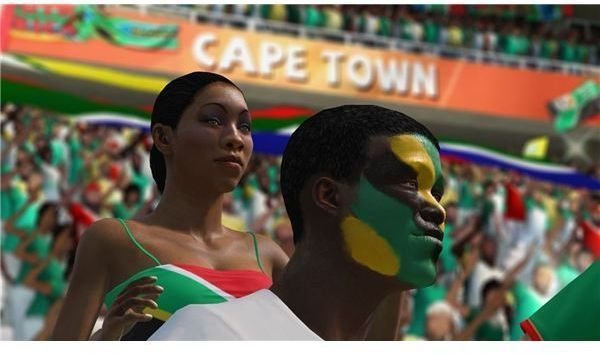 Another game specific mode is the "Story of Qualifying" option, giving players the chance to recreate historical moments from both qualifying and the 2006 World Cup finals. Supposedly this mode will be updated to include moments from the 2010 finals as they progress. With the ability to change the entire course of the tournament or reinforce you're support with enthralling victories over losing sides in the cup.
With an extensive online plateau, the ability for straight up player-versus-player and an all encompassing "Online World Cup", the 2010 FIFA World Cup game seems to have enough longevity for you're nationalistic tendencies to be quenched. The game also features online leaderboards and a league system for the 199 different nations represented (no doubt countries like Spain, Germany, Brazil and England will be high up on the most played list).
Penalties in 2010 FIFA World Cup Game
In addition to this plethora of World Cup related gaming, a modified penalty taking system has given licence to the "Penalty Shootout" mode, with players squaring off in their own custom made penalty madness. Trying to capture the tension of a real life shootout may be difficult in a game, but the addition of this feature is great for some local multiplayer fun, even if playing an actual exhibition would be preferable first.
As far as the game mechanics and AI routines go, there isn't much difference between 2010 FIFA World Cup South Africa and any previous FIFA since around 2007. The passing feels smooth, the movement and animation is good while scoring is satisfying while still retaining some difficulty. Also of note is the seemingly improved facial features of many players and the insipid use of manager portraits and faces as well.
Preview of 2010 World Cup South Africa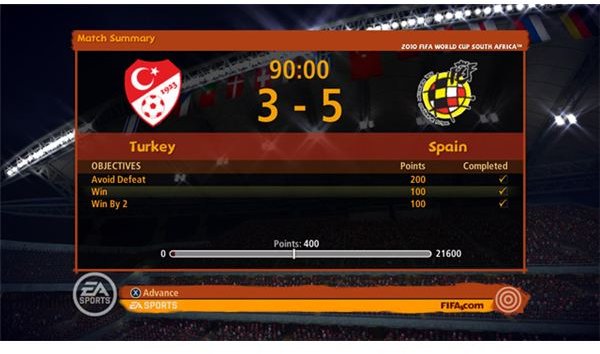 This nod towards realism is appreciative, especially given Pro Evolution Soccer's attempts at having balding fat men with no resemblance to their real life counterparts jump up and down on the sidelines. I will say however, that the games depiction of these famous managers (the demo features Spain's Vincent Del Bosque and Italy's Marcello Lippi) is almost too proud of itself, constantly showing these managers as they ohh and ahh at the action.
I guess all of this procrastination can be forgiven, only if things like Gerard Pique and Lisandro Lopez's facial hair are represented in a befitting manner, hopefully EA Canada have picked up on their respective grizzly aspirations.
Release Date and Preview of 2010 World Cup South Africa Game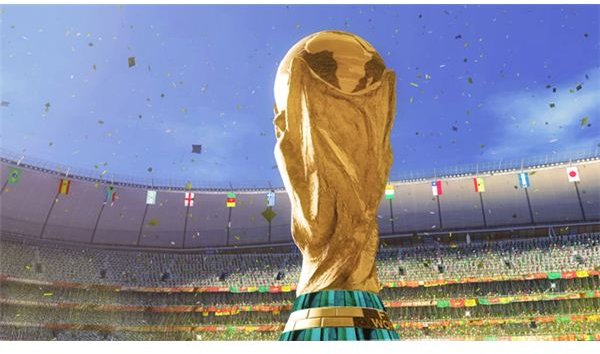 With the release date upon us and just over a month to go before the first whistle is blown in South Africa, EA have provided us with another installment into their tournament based soccer games, both the World Cup and European Championships being previously turned into something virtual. 2010 FIFA World Cup South Africa may have a bewildering number of represented nations, with some solid FIFA 10 styled gameplay also, but the lack of depth or longevity may become a problem after the festivities of the summer tournament are over.
The dilemma becomes simple, do you wait for a price reduction indelibly after the event is done, or do you fork out full price for a summer fling with a more refined and international team focused FIFA game? I guess there is at least a month before you're truly pushed into a decision. Either way, the demo provides a great entry into the game, with Italy versus Spain an almost speculative prediction for the World Cup final. However with games like Splinter Cell, Super Street Fighter IV and Alan Wake, perhaps even soccer fans might pass this one by, especially with a new FIFA update most probably being shipped out by the end of 2010.
This post is part of the series: FIFA Reviews & Previews
A collection of reviews for various FIFA games.