PES 2010 Guide Part 1: Getting Started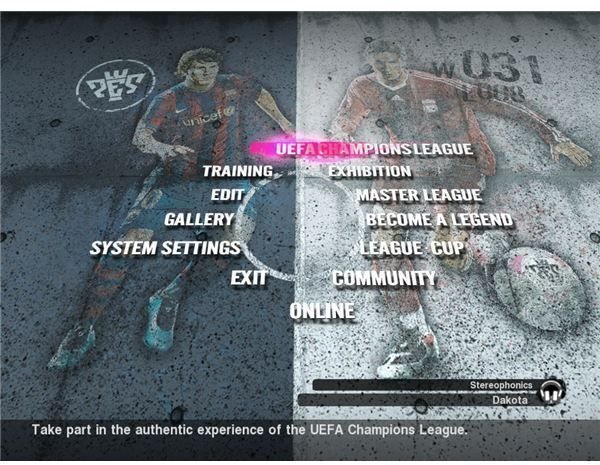 PES 2010 Guide
Pro Evolution Soccer (often called Pro Evo or PES as shorthand) is a widely acclaimed and regarded franchise known for its meticulous statistician approach to the soccer genre and impervious realism.
This overwhelming smorgasbord of data can be daunting for the reverent newcomer. Hopefully this series of short guides to some of the games intricacies can help overcome this entry level frustration or could even be used to further solidify the existing players neat skills.
First up for any new player is familiarizing themselves with the game's modes, features and gameplay. PES 2010 comes with several modes, including the bog-standard one off exhibition, a league/cup simulation or the general online versus capabilities (with both Ranked and Player matches available to the multiplayer veteran).
The Modes of Pro Evo 2010
The Pro Evolution series diverges greatly from the basic tenants of most soccer related titles, not only does the Be A Legend mode and the time consuming edit section provide solid re-playability and player input, but other add-ons and features including fully licensed Champions League and Europa League competitions with community created leagues and cup features give the game its ability to provide a pertinent and often engaging soccer experience.
The Edit mode satiates my personal need for editing and up to date transfers, statistics and more. With the ability to edit players, create new ones, transfer them between clubs, edit kits, badges and create graphics with the built in illustrator package, the game lets you wile away many a night trying to find the perfect balance between Andrei Arshavin's response, acceleration and dribble speed attributes.
The attributes themselves, of which there are many, can be set anywhere between 1-99, with 90+ being world class in that specific area. Take a look in the edit mode and get accustomed to how Konami have decided to rate players with their respective attributes (also taking into account the special player cards which give them certain AI routines while playing).
Then you can either decide to modify almost everyone based on your own subjective views, Michael Carrick just isn't that good…, or you can leave it as is and understand the numbers by viewing them in the edit section before venturing forward.
Be A Legend in PES2010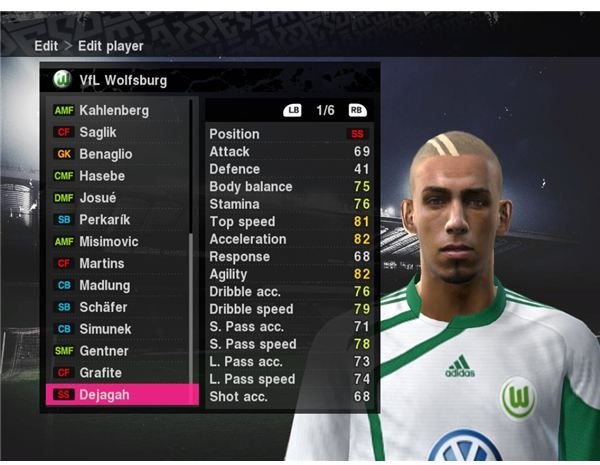 Be A Legend lets the player create an entirely fictional entrant into football canon, wherein you sign for a team and progress through the soccer world for an entire career. Playing as one player may not necessarily be an appealing avenue to take, however the mode provides some decent options and its always fun seeing yourself play for the team you support.
The bulk of PES2010 resident charms is in the remarkable Master League mode, which lets the player choose a club team and work their way through a league structure to ultimately claim not only the domestic league and cup titles, but the mantle of UEFA Champions League winners.
Being able to develop players attributes, culture youth team products and invest in new signings, the Master League is a great way to sim out a few years into the future of your chosen team, with you at the helm of course.
As far as team selection goes, the brevity of teams to pick isn't as reputable or fleshed out as PES2010's perennial rival FIFA10, but there is enough of a choice to look into when on the team selection screen. With the top tier of England, Spain, France and Italy all represented, along with dozens of other European and even South American teams, the clubs are well apportioned and a decent league game can still be played through.
With the huge gamut of national teams, added to the future editing prospect from the collection of falsified placeholder teams, there is plenty room left in PES2010 for the astute soccer fan.
Getting Better At PES 2010
To grow accustomed to the game, the player should look towards playing several exhibition matches versus the AI and perhaps one or two league/cup competitions from the main menu screen, maintaining a decent scoring ratio and hopefully winning the majority of games. With 5 difficulty settings, ranging from beginner to top player, it would be advised to move up only when you out-competing the AI with both possession and the number of chances created.
In order to venture forth into the deeper modes, such as the daunting Master League (at the higher difficulties) or online competitive play, we need to assess some of the key skills needed to accomplish this. In the next part of this PES 2010 guide, we will be looking into the structured and laborious world of tactics in PES2010.
This post is part of the series: PES 2010 Guide Series
A series of articles designed to guide players through the Pro Evolution Soccer 2010 edition and give them a few tips & tricks to help them beat both human and AI opponents alike.