PES 2010 Guide Part 2: Tactics and Formation Settings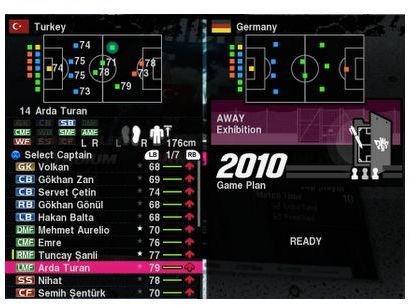 PES 2010 Guide Part 2
Pro Evolution Soccer (often called Pro Evo or PES as shorthand) is a widely acclaimed and regarded franchise known for its meticulous statistician approach to the soccer genre and impervious realism. This overwhelming smorgasbord of data can be daunting for the reverent newcomer. Hopefully this series of short guides to some of the games intricacies can help overcome this entry level frustration or could even be used to further solidify the existing players neat skills.
In the first guide, we looked into the different modes, the selection of teams and how daunting the attributes and edit modes can be. Now we turn our attentions to the indomitable tactics management that PES2010 almost forces you to master.
PES 2010 Tactics and Formation Settings
The easiest and most digestible facet of the tactics screen (or Game Plan as referred to in game) is the Lineup subheading. This gives you a basic team selection option, showing the players positions, names, height, stronger foot, overall rating, current stamina and their form rating.
The overall rating is a good indicator of a players skill, however to get a full view of their attributes, clicking the bumpers shows a more detailed interpretation of each player, with their abilities and individual player cards also.
The form arrow is important also, ranging from red to purple, they give an indication of a players stat boosts in each new game. For instance a bright red arrow will normally give the player roughly a 12% increase to their default attributes, making them either a great impact substitute or the first name on the team sheet, whereas a purple arrow will decrease the abilities of said player.
Player Cards in PES2010
The decision of who to play could be dictated via the Set Formation screen, which contains various options on changing your players mentality and the marking settings. Not only can you set the formation, whether you choose 4-4-2, 5-3-2, 3-5-2 or 4-3-3, but gives other options for more personalised settings.
For instance, the Edit Position allows you to move a single player to either join in the attack or shore up the defensive posture, while Mark Settings give you the option to man mark certain danger men on the opposition that you want to be stopped.
The Player Index subheading allows the player to choose the mentality of a certain player, a defender may need to be defence minded or a midfielder needs to be balanced, while also giving you the option to turn the individual player cards on and off depending on whether you want to use them.
As an example, Andres Iniesta of Barcelona has the Talisman player card, allowing him to orchestrate the entire attacking style of his team with movement and passing. This can be switched on and off both depending on player preference and whether he is playing in the position required for this card to be active.
Set Piece and Team Style in PES 2010
Set Piece Settings in PES 2010 gives the option to select a free kick, corner and penalty taker while also being able to choose which players will go forward for corners and attacks. It is advisable to put your 2 tallest defenders forward for corners et al, due to their height and the probability that they are the best headers of the ball in your team.
The Tactics subheading allows you to change the overall Team Style and allow for on the fly changing of strategies during a game. I would personally advise pressure, counter-attack and all-out attack be mapped to three of the four buttons available, giving you the ability to chase a game if the time is running down or to steadily counter attack until the game begins to stagnate.
PES 2010 Guide; Tactics
Unlike FIFA 10,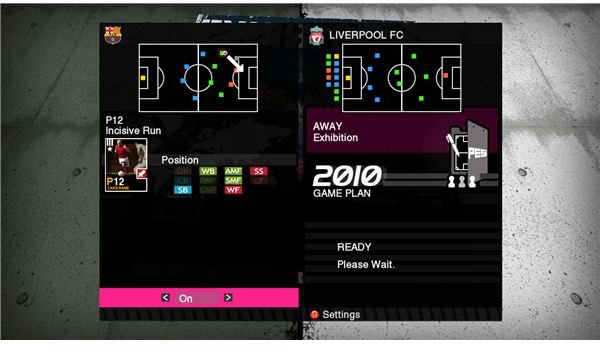 The Team Style option in PES 2010 has a dozen or so options that can impact the overall shape and play for your team. A good start would be only shifting between the extremities of 40-60 within the options. This conservative approach will help you get an understanding of a balanced setup and then the player can re-adjust accordingly if any area of his game is lacking.
Each option comes with a small description and mini animation on the formation part of the screen. This should be enough to help you assess what it is the options are doing and whether you need them to be heavily effecting your overall strategy.
Data Management lets you copy and save the data you've adjusted and gives you the option to paste lineup and tactics settings into an online session or to other teams that you want to play in a similar fashion. Assisted Settings lets you select certain area where the AI will automatically make the decisions so don't have to, although I would argue this hampers the experience and should be avoided.
Onward and Upwards…
Hopefully we have a decent grasp of the Game Plan screen and can choose a relatively decent team of players to take into a game. Now we need to find out how to work around some of the intricacies of the gameplay and how to make that AI pay for trying to score against us. The next part of this guide will focus on the attack and how to score goals, look dangerous, create chances and end up winning matches.
This post is part of the series: PES 2010 Guide Series
A series of articles designed to guide players through the Pro Evolution Soccer 2010 edition and give them a few tips & tricks to help them beat both human and AI opponents alike.