Pro Evolution Soccer (PES) 2010 Guide to Attacking (Part 3)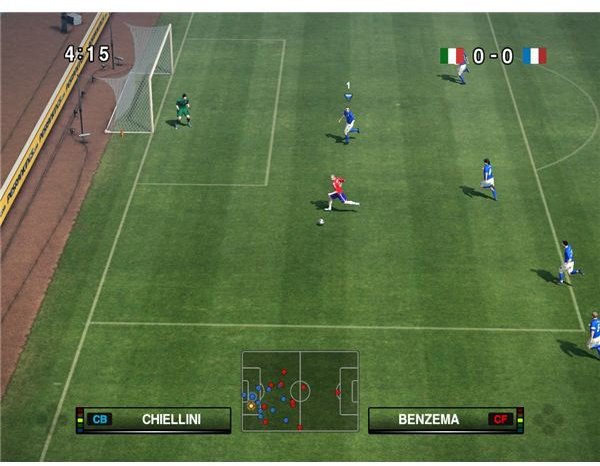 Pro Evolution Soccer (often called Pro Evo or PES as shorthand) is a widely acclaimed and regarded franchise known for its meticulous statistician approach to the soccer genre and impervious realism. This overwhelming smorgasbord of data can be daunting for the reverent newcomer. Hopefully this series of short guides to some of the games intricacies can help overcome this entry level frustration or could even be used to further solidify the existing players neat skills.
You can't win a soccer match without scoring goals, its an often bludgeoning fact, and to score them you need several things going in your favour. PES 2010 isn't the easiest game to score on, at least initially, but here are some insider tips to help you with the overall PES2010 attacking and possession play that is required to beat the opposition.
Wingplay in PES2010
Firstly, when focusing on quick wingers and providing a formation with enough width to give them an attacking option, your wingers will need to either provide a solid early cross or take on their defender and reach the byline. The individual player skill cards mentioned in the earlier parts of this guide become necessary for both of these actions. A player with the early cross skill card can easily provide excellent crosses from deep for your taller strikers to get their head onto and hopefully score from.
With that said, a lightning quick (talking attributes for speed, acceleration and dribble speed over 90 i.e., Aaron Lennon) winger will be more inclined to get past their man and either cross low into the box or take a wide angled shot themselves. As mentioned here, there are many facets to the ball control and skills in PES2010, however the most effective and damaging way to get past a marker is quite simple.
Pro Evo and Feinting
The feint is one of the easiest to accomplish and stunningly destructive methods to take on a full-back or even central defenders when one-on-one with them. It is advisable to use this method when harangued by a full-back with a pacey winger on the ball however. Enact the feint by loading up a shot or cross with either the X or B buttons (Square or Circle on PS3) then pressing the A (X on PS3, confusing much?) button to cancel the action and perform the trick.
Hopefully the defender, if he is close enough to you, will have some trouble with that feint and decide to go for a slide tackle. When this happens, a space opens for your hopefully fast winger to take advantage of. From there crossing, passing or shooting are all viable options and depending on the wingers statistics for each of these skills you may adjust what to do accordingly.
Incisive PES 2010 Attacking
This feint followed by an incisive run then cross or shot is a very easy way to get chances on goal, scoring them is the hard part. Its hard to judge when to let go of the button to shoot, especially given the quick loading of the power bar and the in-game attributes of each player changing many variables, not to mention the way the player is positioned, the weather conditions and what boots he's wearing.
As a rule, for most decent shots around and inside the box, a half full power gauge is often the best remedy, regardless of the shooting prowess held by the player taking the shot. You can enforce some change in the direction or curl of the shot by moving the analogue stick, for instance moving it down produces a grass cutter, which I would recommend you try as its quite effective at beating the keeper.
PES 2010 Scoring; The Bottom Line
To achieve some semblance of attractive football or soccer, possession play is often integral. Learning how to manual pass down the line (with the right analog stick) to your fast wingers or how to place an extravagant through ball (Y on 360; Triangle on PS3) to your strikers between two defenders is part of winning and good attacking also. Trying these methods after stringing some neat passing segments of gameplay together should be experimented with, especially if your crossing or feint tactics already put you up in the games your playing.
There are certainly many more ways to find goals and defeat the AI or even real humans and finding your own means is definitely advantageous in the long run. Being able to conquer Top Player set AI with more than just a few well placed crosses can be a nourishing experience, although beating them by playing crosses into your big men upfront isn't bad either.
Scoring is all Pro Evolution Soccer 2010 or this Pro Evo 2010 guide has to offer, next up we'll look into the dalliance with defending that could save your blushes when playing against the Chelsea and Barcelona's of this gameworld.
This post is part of the series: PES 2010 Guide Series
A series of articles designed to guide players through the Pro Evolution Soccer 2010 edition and give them a few tips & tricks to help them beat both human and AI opponents alike.