PES 2010 Guide Part 5: Competitive Play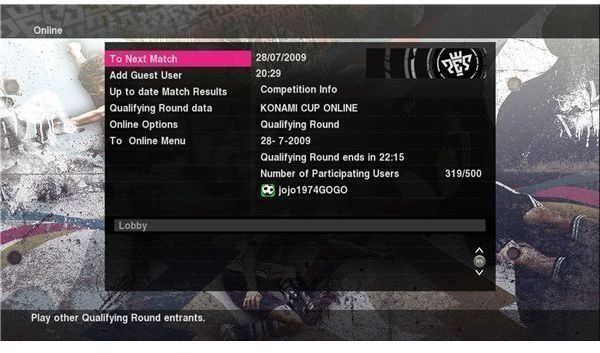 Part 5
Pro Evolution Soccer (often called Pro Evo or PES as shorthand) is a widely acclaimed and regarded franchise known for its meticulous statistician approach to the soccer genre and impervious realism. This overwhelming smorgasbord of data can be daunting for the reverent newcomer. Hopefully this series of short guides to some of the games intricacies can help overcome this entry level frustration or could even be used to further solidify the existing players neat skills.
After travelling to the bowels of PES2010 and disseminating the modes, tactics, attack and defence strategies as well as some advanced moves and play styles, this guide takes a final sprint towards the crux of PES 2010 and its bustling community. In the last part of this Pro Evolution Soccer 2010 guide series we will be looking at the competitive side of PES 2010 and its multiplayer aspects.
Online Tips
Before I continue to describe the online aspects of the game, I would like to point out my personal affection for the normal 2-4 player exhibition mode, often being able to spawn some memorable moments and games with friends. With soccer fan acquaintances, the game can become quite marvellous when playing against one another, even if the skill set changes somewhat from your average PES2010 game against the AI.
If you have the capabilities, I suggest playing with friends against each other, to further hone your player vs player skills. With the added ability to play as one player on a single team, doing a offline multiplayer with more than just one person can be enjoyable also, while giving you some Be A Legend single player control practice.
Multiplayer Aspects
Now onto the online competitive play and Konami's reticent distaste for providing something clutter free. After being bombarded by several screens notifying you of updates and server side changes et al, the online menu will appear, showing a set of servers, rooms and players that you can enter into matches with.
The more people on the server, as shown on the right of the screen, the better your ability to find a game will be. Also take note of the abbreviations, EN will invariably mean English language players, FR will equate to French language etc.
All recent games in the Pro Evolution series have included both ranked and player matches, wherein the ranked games have a ranking system based on your results and the convincing nature of them. The player match area isn't as densely populated as the ranked side of the online mode, however it's a good place to start, with either people on your friends list or even random PES enthusiasts.
Game Room
When joining a game room, you will find the other player with their respective connectivity rating (green to red flashing icon) and whether they are reputable or like to quit if the going gets too tough (deflated or inflated football icon). Going onto the team select and tactics screen thereafter, be aware of the time limit in the bottom right of screen, which will put a limit on some of the more surreptitious tactics fiddler's in the world of PES2010.
Getting a feel for how real humans work around the AI's sometimes inherent deficiencies and making strategies to combat them should be the immediate focus of online play. Also, be aware of the almost destructive selection of either Brazil, Spain, Barcelona or Real Madrid in the game modes due to their sumptuous squads.
Team Selection in PES 2010 Multiplayer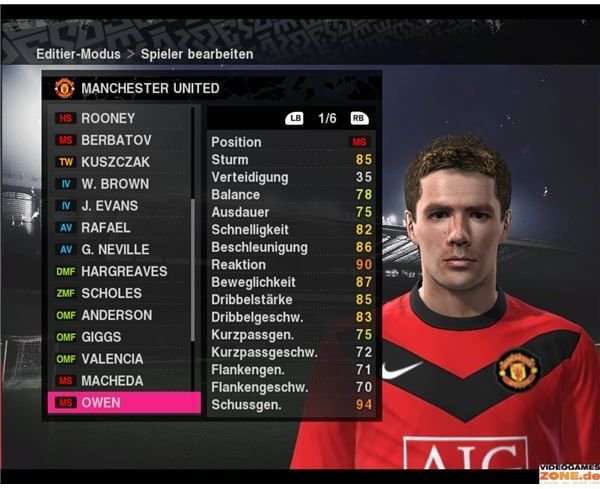 Although the obvious counter to this constant bias of online players to choose this upper tier teams is to pick a team of equivalent skill (shown by the polygon in the team select screen). A wide proportion of joy in PES2010 can be found unearthing teams that you perform well with or suit your play. For instance, instead of forcing yourself into playing as Manchester United, Arsenal or Barcelona, it is appreciable to attempt the lesser teams and get a working rigidity to your level of play.
Personally, I have a great symbiosis with the Scottish team Aberdeen, even though they have mediocre statistics in comparison to the behemoths of the soccer world. I have this affinity due to their near default tactics suiting my strong defensive work and searing wing play. With their tall, strong defence and quick, technical forwards they make for a hard team to break down, even for the better teams on the game.
Conclusion
As you can import your Master League team into the online mode, make a conscious decision whether to load the transfer data and formation settings into the games, so that you can utilise your dynasty while playing these same Inter Milan or Barcelona dream teams that people seem to always create.
In this guide series, we've come through understanding the different things PES 2010 has to offer, learning how to perform well against both the AI and now human players. For a few closing comments I'll reiterate some my personal inclinations in giving readers a solid PES base for the future. Keeping possession is key to winning soccer matches, as is knowing when to pressure an opponent.
Furthermore, making use of tall and powerful strikers is key if you like playing down the wings and getting crosses into them. Knowing thyself is often the key ingredient in performing against other humans and AI alike. Becoming accustomed to your own play style and picking or creating a team worthy of competing with that style will help you become far better at PES 2010. Hopefully this PES 2010 guide series has helped at least a small amount also…
This post is part of the series: PES 2010 Guide Series
A series of articles designed to guide players through the Pro Evolution Soccer 2010 edition and give them a few tips & tricks to help them beat both human and AI opponents alike.