Winning FIFA 09 with Your Favorite Team - Manchester United Tactics - by John Sinitsky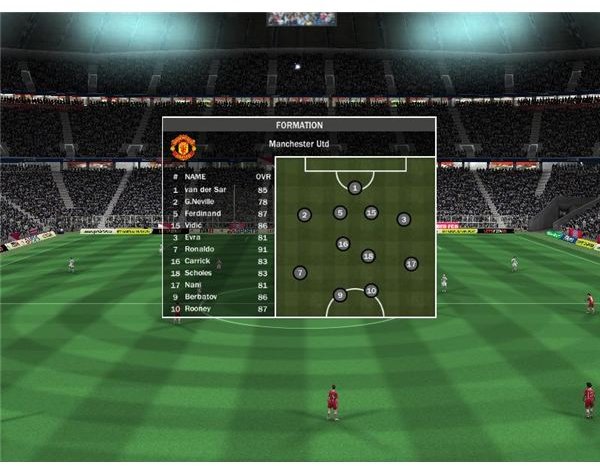 Introduction
You can really pick a style with Manchester United – and implement it on the field. The only thing you need to worry about is a balance between the squad and the tactics. For example, putting Evra in midfield and going for offensive mentality is not so smart to say the least… Playing Crisitano Ronaldo on the flank when you are defending with counterattacks is also not a good option, as you lose Ronaldo's creativity and technique.
The Mentality
As was already mentioned, Manchester United is a very versatile team. Generally, it is offense-minded, so using offensive mentality is a good option. Especially with such potent Center Backs as Vidic and Ferdinand. But frankly – there is not much need for this, as a balanced game favors MU against almost any opponent. Only those teams that have 5-man midfields can disrupt Man United's control of midfield. Defensive mentality is also an option – but not for long periods of time, since you don't want your opponent to control the game. Moreover, the midfield (Carrick, Scholes, Anderson) is generally offensive minded and will not help your defense too much.
Offensive Tactics
There are so many offensive options that exist for Manchester United! You can decide to attack via the flanks (if you are using Giggs, Nani or Crisitano Ronaldo) or draw many players towards opponent penalty area by using the "Box" offensive tactic together with 3rd man offense (Carrick, Hargreaves and Scholes all have an excellent long range shot…)
If you decided to "sit back" and want counterattacking options – it is easy as well. Use Rooney and Tevez or Ronaldo for quick breaks. Crisitano can beat several defenders all by himself – so that is definitely a viable option.
Defensive Tactics
Manchester players are quick and strong. So you CAN afford to use pressing and even offside trap against your opponents. Combined with offensive mentality, this is an "All out Attack" – watch out for good defensive teams (Bayern Munich, Porto) and quick technical forwards (Messi, Eto, Torres, Drogba).
Set pieces
As Manchester United players (especially wingers and forwards) are technically superior to most opponents you will definitely have several free kicks in front of the penalty area. Crisitano Ronaldo is natural free kick taker. Practice a bit and you will score many goals, even from 30-meter range. When Nani is out, Roonie is the default corner taker. That is not so good, as you are losing this excellent forward who is needed in the box. I would propose taking corners with Giggs or Carrick/Scholes.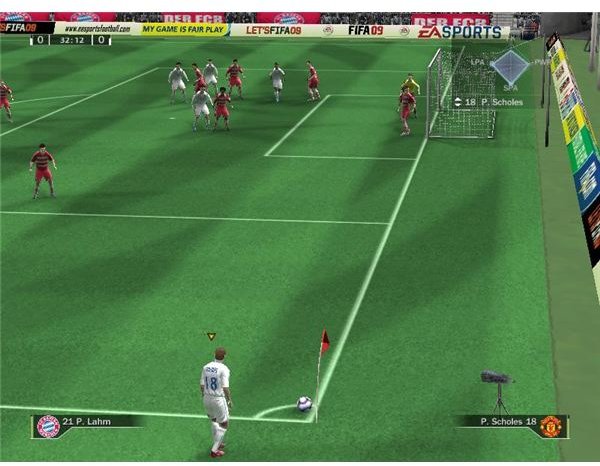 Summary
Really, Manchester United is one of the best (if not THE best) teams in FIFA09. Using the right tactics and squad, then changing it up during the game, should really give you an edge over almost every team. But be sure to know what your opponents will be using against you – read "How to play against Manchester United".
This post is part of the series: Know Your Team in FIFA 2009
An in depth guide to the various squads and their tactics in FIFA 2009.