Win in FIFA09 with your favorite team - Real Madrid Squad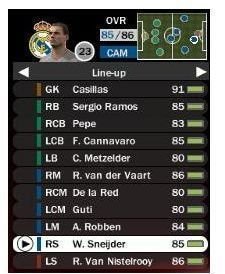 Introduction
In FIFA Real are in fact an excellent team – but a fairly limited one. They have good rated players – but they all seem to lose levels when assigned certain positions. Also, the right tactics are not so obvious – especially against stronger teams like arch-rivals Barcelona and Manchester United. The key is using the right squad - you have many formidable players at your disposal - learn to use them correctly!
The Squad
Although Real Madrid have many superstar players in their squad – they cannot all be played at the same time – as their preferred positions are the same. This is felt especially in midfield, where you have 6-7 very potent players – but can only use 4 of them.
Goalkeeper and Defense
Iker Cassillas, of course, is the only possible goalie – he will definitely save a lot of shots. In defense Sergio Ramos, Cannavaro and Pepe should not be touched either as they provide your best defense. Heinze can be substituted for Metzelder, if you wish to add solid defense to your full back position. In this case, it is advisable to switch places between Pepe and Cannavaro to achieve a more balanced defense.
Midfield
As already said, you have more good players than you can put on the field. Diarra is the best Defensive Midfielder, but he can be substituted for De la Red, or even Guti if you prefer. Robben is the LM – but can be sent to the Right Midfield position as well. In this case, Guti can play in his native Left Midfield position and Van der Vaart – as LCM (which is actually AM). Using Sneider should NOT be overlooked. In this case you can send either Robben or Guti to the bench and put either of the two attacking midfielders (Van Der Vaart or Sneider) as LCM and the other one – as Right Midfielder. This will also keep them close to one another – making the right your attacking stronghold. But if you are not superstitious, there is another option - which most Real fans would hate – use Sneider to substitute Raul…
Attack
Both Sneider and Van der Vaart are better in this Right Striker position (which is behind Van Nistelrooy). The latter is almost a must in your squad, because his headers are really deadly. However, if you prefer a more technical game – you can use Raul as the forward striker.
Summary
Overall, here is the recommended squad:
Cassilas – Sergio Ramos, Peper,Canavarro, Metzelder – Van Der Vaart, De La Red, Guti, Robben – Sneider, Van Nistelrooy
But as already said, you can experiment with other options – just be sure you practice long enough to take advantage of your Real Madrid team. And, of course, do not forget the right tactics – the topic of the following article.
This post is part of the series: Know Your Team in FIFA 2009
An in depth guide to the various squads and their tactics in FIFA 2009.