Learn to Play With Your Favorite Team in FIFA09 - Mancheser United - Squad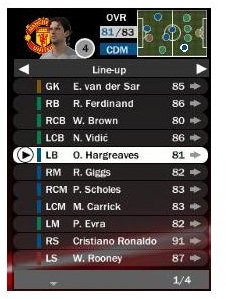 Introduction
Each team in the award winning football game from EA Sports, FIFA 09, has been given special attention to ensure the resemblance of it's playing style to the real life counterpart. Getting the most out of your team relies on using the formations, tactics, and mentality that play to your team's unique strength. Manchester United is a great team – both in reality and in FIFA09. They actually have several player options for most positions. There are so many options that assembling the Manchester United Squad requires a whole article. This squad's depth invites conducting substitutions during the game – switching from offensive (natural for MU) to a more defensive approach.
Goalkeeper and Defense
Both CB positions are pretty well occupied with Ferdinand and Vidic. The fullbacks, however, are somewhat problematic. Gary Neville, though captain is the Achilles heel of MU. If you are not too sentimental about it, I would propose substituting Neville. There are several options. You can use Hargreaves or Brown. If you opt for the latter, you should also consider playing Brown in CB position, and sending Ferdinand to the flank. This can be especially useful if you want to keep your lead in the later stages of the game. But, frankly - I am sentimental and I love Gary. He is a part of my squad in every game. At LB Evra is the best option, however, once again it may be an interesting idea sending Evra forward (to LM position) and putting Hargreaves at LB.
Midfield
In the right flank, you seem to have no option but Cristiano Ronaldo, right? Wrong! There is, of course, the default deployment. But there is an interesting possibility of putting Cristiano as Striker! And in this case, you can play both Nani and Giggs (one on the right and one one the left flank). Of those two, Left Winger Nani is more offensive player with Giggs/Evra providing more cautious approachs. In Central Midfield I would substitute Scholes for Hargreaves, and then put Hargreaves on the RCM as the position is more defensive (and Hargreaves is a Defensive Midfielder, after all) and Carrick at LCM. That is, of course if you don't use Oliver Hargreaves to strengthen you defense…
Attack
There are plenty of choices here as well. Roonie-Berbatov can be played together. Roonie has the speed and technique, Berbatov is an excellent header-scorer. Especially if you have Giggs playing those deadly crosses. But many players prefer Tevez, as he is quicker and more technical than Berbatov. If you prefer a short passing game to crosses into the opponents' penalty area – this is definitely an option. And another possibility, as already mentioned, is sending Cristiano Ronaldo to play at Striker position side-by-side with Wayne Roonie – the pair is, undoubtfully the most deadly front line in the FIFA 09 game.
Man United Possible LineUps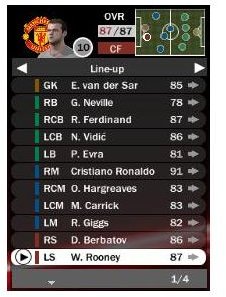 Summary and More
In summary, here are 3 possible lineups.
Balanced: Van Der Saar – Neville, Ferdinand, Vidic, Evra – Ronaldo, Hargreaves, Carrick, Giggs – Berbatov, Roonie
Defensive counterattacking: Van Der Saar – Ferdinand, Brown, Vidic, Hargreaves – Giggs , Carrick, Scholes, Evra – Ronaldo, Roonie
Attacking with short passes: Van Der Saar – Hargreaves, Ferdinand, Vidic, Evra – Ronaldo, Carrick, Scholes, Nani – Tevez, Roonie
Anyway, you should feel free to experiment, trying other options. And remember, each squad will demand from you a certain style of play and using the right tactics. This is the topic of the next article!
Not a Manchester United fan? Learn how to beat MU in this article!
This post is part of the series: Know Your Team in FIFA 2009
An in depth guide to the various squads and their tactics in FIFA 2009.