The Complete Guide to Teams Tactics in FIFA09 - Barcelona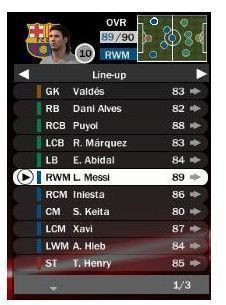 Introduction
In FIFA 2009 Barcelona is one of the best teams – especially if you are for attacking football. The midfield and the offensive players are great and although defense invites certain concern – there are quite a few teams that can match Barca's quality – just like in reality.
The Squad
Well, Barcelona starting squad is pretty potent. However, several substitutions are possible. Valdes is the only choice for a goalie. In defense Puyol and Abidal are not to be substituted. You can try to substitute Dani Alves for Marques to add some defensive strength to your team. However, if you do so, I would propose using Milito on the flank ad Marques as Center Back. In general, defense is the weakness of Barca. That's why you should take the game into center field as soon as possible
Midfield is the heart of Barcelona play. Messi combined with Iniesta on the right can break almost every defence. Tierry Henry is good for breakaway runs, assisting Samuel Eto'o. Another option (that should be definitely tried if you want to add even more technique to your midfield) is putting in Alexander Hleb. In this case it might be logical to substitute Eto'o with Henry, as heading of the latter is better. There are some players who put Lionel Messi as a striker, playing with both Henry and Hleb. I would not recommend that but in the cases where you decide to defend and counterattack. But hey, Barcelona is NOT a defensive team. Another thing to consider is substituting Keita for Toure.
Summarizing that's how your squad should look like:
Valdes – Dani Alves, Pyuol, Marques, Abidal – Messi, Iniesta, Toure, Xavi, Hleb (Henry) – Henry (Eto'o)
Tactics
Frankly, as Barcelona is a great team which is capable of beating every opponent, this should more concentrate on what NOT to do when you are playing with Barca.
First of all – defensive tactics. It is easy. DO NOTHING. Don't try to catch your opponents offside, cover zones etc. Just play normal. The only considerable option is pressing. But remember, it is good when the ball is in the opponent's half – when the play goes close to your penalty box it might be problematic, as forwards will probably beat your defenders.
Offensively, I would not recommend using 3rd man as this will leave your somewhat weak defense even more exposed. Using Wing Play is also not needed – you already have 2-3 players on each flank, why draw an only forward there? Box play is an option – but also not recommended. Barcelona players are good in one-on-ones with their incredible technique (Messi, Iniesta, Eto), so on "open" game is much more preferred. Counter Attacks are possible – but only when you decide to go backwards defending the lead, as your strength is really with the Wingers and not Striker.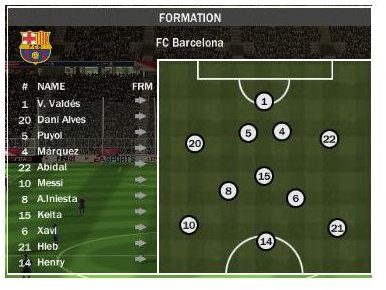 Mentality
Once again – you do not need to worry that much. Yes, offensive mentality is definitely and option. Just watch out for those breaks which will leave your relatively slow center back behind, especially if your are using the pressing defensive tactics option. DO NOT use defensive mentality for more that 10-15 minutes of the game. Barcelona has no potent tools to defend for long periods of time – you will probably concede a goal. Instead, try to score more goals than your opponent – that is Barca motto in real football – so it should be carried over to FIFA 09!
Summary
In summary, Barcelona is one of the best teams in FIFA 2009. You can beat every opponent and many times pretty easily. However, when playing against an equal team such as Manchester United, Real Madrid or Chelsea, you should think about switching tactics and mentality throughout the game, to keep your opponent distracted. Not a Barcelona fan? Learn to play against Barcelona in one of the next articles!
This post is part of the series: Know Your Team in FIFA 2009
An in depth guide to the various squads and their tactics in FIFA 2009.