Get the Most of Your Team in FIFA09 - Real Madrid Tactics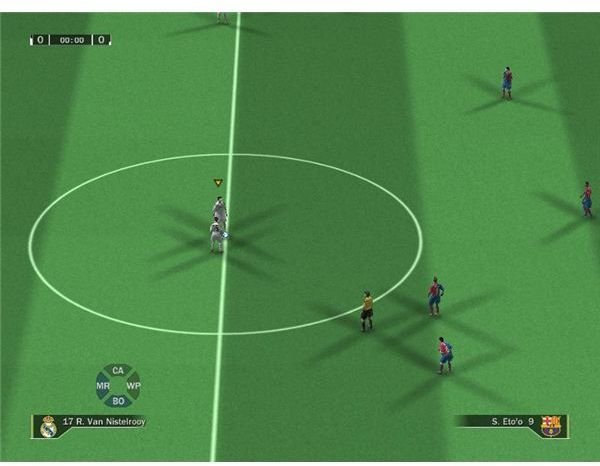 Introduction
As was mentioned in the Real Madrid squad article, this Spanish team is very potent. It must be noted, that unlike Manchester United or even Bayern Munich, there aren't so many tactical options. A problem? Not necessarily. On the contrary, this means that you should only master a certain way of playing and utilize it to perfection in order to beat every opponent with Real Madrid.
Defensive Tactics
When playing Real in Fifa 09 you should remember that you have a very balanced team. The defenders (Cannavaro, Pepe, Metzelder) are actually pretty potent, but somewhat slow – especially when dealing with quick attackers. You can try to put extra pressure on the opponent by using Pressure tactics, but do NOT go for the offside trap – or at least remember not to stick with it for more than 20-30 minutes, as the opponent will get accustomed to your tricks and beat you with quick short passes.
Offensive Tactics
When playing with Real, offensively you should try and overload the opponent by applying the Box tactics - along with 3rd man, if you wish. This will bring all your midfield firepower (Robben, Van Der Vaart, Guti, Sneider) from the flanks to the center. Your opponent will have problems even clearing the ball from his penalty area, let alone launching an attack. But remember that you are rather exposed at the back, especially if you are using the 3rd man offensive tactic. Using Wing Play will not provide much, as you probably want your attackers (particularly Van Nistelrooy) in the penalty box for crosses. Counterattacks are an option – but not the best choice, as you will lose the precious aid of superb midfielders while on attack and neither Raul nor Van Nistelrooy are quick and technical enough to overcome really good defenders on their own.
Mentality
Real should be playing with a balanced mentality. Going too offensive can be very dangerous, as the defenders are slow, and drawing all the team back will prevent you from consistently launching attacking overload (which should be your main offensive weapon).
Kick Takers
Good midfielders are often good kick-takers. And you have plenty of those – Van der Vaart, Sneider, Robben are all possible choices. It must be noted that none of them is as deadly as Gerrard or Cristiano Ronaldo, but instead you have at least 3 dangerous options. This means you can create a "power play situation" in almost any part of the field – for instance by bringing the Right Midfielder to take the left side corners.
Summary
In summary, nothing should prevent you from choosing Real Madrid as your favorite team in Fifa 09. You must play several matches to get accustomed to the best tactics (box offense) – and find the best squad for your style of play. Once you have mastered that - you can beat every opponent. Not a Real Madrid fan? Learn how to play AGAINST Real in one of the next articles.
This post is part of the series: Know Your Team in FIFA 2009
An in depth guide to the various squads and their tactics in FIFA 2009.