The Ultimate Tactics Guide to Fifa09 - Winning with Chelsea - by John Sinitsky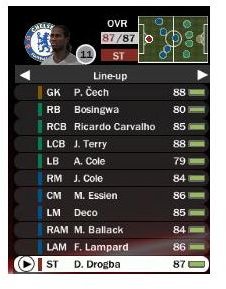 The Squad
Contrary to many FIFA09 teams, Chelsea's default starting lineup is excellent. Peter Cech is the only option as a goalkeeper. In defense, you can substitute Ashley Cole for Alex – this will make you back line more solid – but you will lose the formidable Cole's abilities on the attacks. The same is right for Bosingwa on the other flank. Malouda is an option to use instead of either Cole, Deco or Ballack on one of the flanks in midfield – but he is not better than any of the three. Again, this is only good to improve your defensive play. Of the attacking midfielders, Deco is the best option to use on the flank. Anelka is a backup for Droghba – but should be only used in the final stages of the game, substituting the tired lone striker. So, as it was already said – the best option is to use your initial Chelsea lineup:
Cech – Bosingwa, Ricardo Carvalho, Terry, A.Cole – J.Cole, Essien, Deco, Ballack, Lampard - Droghba
Formation
Chelsea's default formation is 4-5-1, with 2 attacking midfielders (Ballack, Lampard) supporting the striker and 3 "back" midfielders (Cole, Essien, Deco) providing depth and wing play. Note that there is no defensive midfielder – so you can be pretty exposed at the back. However, both Ricardo Carvalho and John Terry are good center backs, so no worries here.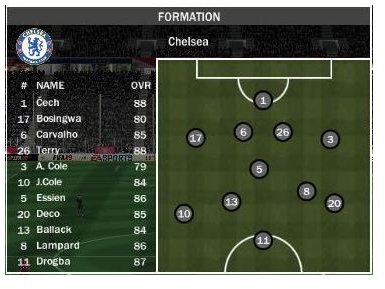 Tactics
Chelsea's main problem is scoring. With only one striker (even Droghba) there is never enough firepower and presence in the opponent's penalty box. To drive more players to the opponent's goal, use Box tactics. Wing play tactics are not a good option as it will send the only forward to the sideline. The formation provides wing play by itself – so no need to double that. Counter attack may work with two attacking midfielders helping, as might 3rd man offense.
Defensively you can try to press – the excellent star-loaded midfield is a definite plus here. Also, your defense is quite capable of catching some forwards offside, using Offside Trap. But beware of quick players – such as Eto'o and Roonie.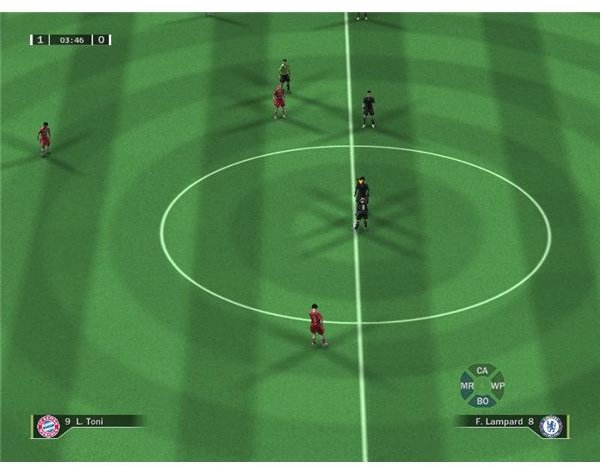 Mentality
Once again – as you want to add attacking power to your game, offensive mentality is a definite choice. The only thing you need to be aware of are the counterattacks. Use your goalkeeper to charge long passes that will be sent to your half of the field.
On the other hand, playing 4-5-1 combined with defensive mentality can be very beneficial in terms of holding the result and preventing your opponent form scoring. So, if you are a goal or 2 ahead with not much time left – do not hesitate to use this option.
Summary
In summary, Chelsea is definitely one of the best teams in FIFA 09. You can beat many good teams, guided by either your friends or computer. Remember to use Box offense to add firepower in conjunction with Offensive Mentality and defend with pressing tactics. Yet, even Chelsea is not without weaknesses. Learn to play AGAINST Chelsea in one of the next articles.
This post is part of the series: Know Your Team in FIFA 2009
An in depth guide to the various squads and their tactics in FIFA 2009.