Advanced FIFA 09 - How to Beat Manchester United in FIFA 2009 - by John Sinitsky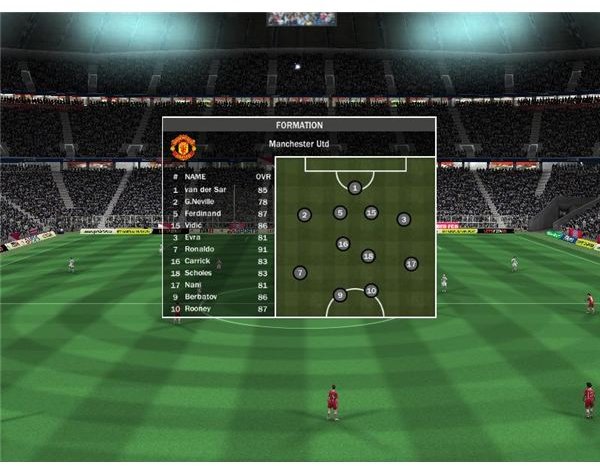 Introduction
FIFA 09 is continues the series of great football simulators produced by EA Sports. Every team was designed to emulate it's real life playing style. Manchester United is one of the best teams on a real pitch, and thus in the FIFA 09 game. But it still can be beaten – all you need is to use the right tactics to neutralize dangerous players and score a goal or two. And a bit of luck, of course…
Formation
It is advisable to play with your team's default formation, as it probably utilizes the unique abilities of your players, providing the best possible attacking and defensive options. However, it has been observed in FIFA 09 that mighty Manchester United can have a somewhat tough time overcoming a strong midfield. So 4-5-1 is definitely an option here as controlling the midfield is almost a must to win against MU – as well as counterattacks, which are also a major part of this formation (via flanks).
Defense Against Man U
When playing against Man United, you should always remember one name – Cristiano Ronaldo. This man, employed on the Manchester United right flank (your left), can dribble with unbelievable technique – NEVER try to use a sliding tackle on Ronaldo as he will automatically "jump" over your defender, retaining the ball and beating your player. You should probably bring back your Left Midfielder to help your Left Back, otherwise one of the Center backs will have to cover Ronaldo – meaning some part of your penalty area is uncovered.
Wayne Roonie and Tevez (if used) are quite skillful and you have to counter them by "overpowering" with strong Center Backs or defensive midfielders. Berbatov is less effective and won't need special marking, but watch for his headers off the set pieces. Carrick and Scholes both have a devastating long range shot – do NOT let them remain open anywhere near your penalty area. Overall, MU are very strong offensively, and can score many goals if not opposed properly.
Offense
Well, scoring against Manchester United is in fact noy so difficult – relative to their overall level, of course. Their Achilles' heel is the defensive Right back. Garry Neville is no longer quick or strong enough to cover a potent Left Midfielder. You can beat him with speed by running towards the goal line and delivering a cross, or dribble past him towards the goal from the right corner (your left) of the penalty area. On the other flank, Patice Evra is usually a far more effective defender – but he often comes forward and MU can thus be caught off-guard here as well. Scoring from a long range shot is also a possibility.
Mentality and Tactics
Manchester United is an balanced team with a lot of firepower upfront. They will attack a lot – using either the offensive or neutral mentality. Hence, your choice is pretty straightforward. You can try to defend against them and score a goal or two on the break (in this case your team has to have great CB's and probably defensive-oriented midfielders). Another option is to "overscore" MU, using offensive mentality and tactics. It can work sometimes – and sometimes you will lose by 3 goals or more, especially against experienced opposition, that will send long balls to Roonie… Are you ready for this gamble? The choice comes down to your team's strenghts.
Summary
Manchester United is one of the toughest teams to play against in FIFA 09 – just like in real football. Their front line is excellent, their defense is tough and Cristiano Ronaldo is formidable. Yet they can be beaten – just remember to attack through the left flank and defend well.
This post is part of the series: Beat Any Team in FIFA 2009
A guide covering how to play and beat any of the various teams in FIFA 2009.