Beat Every Opponent in FIFA 09 – How to Play Against Bayern Munich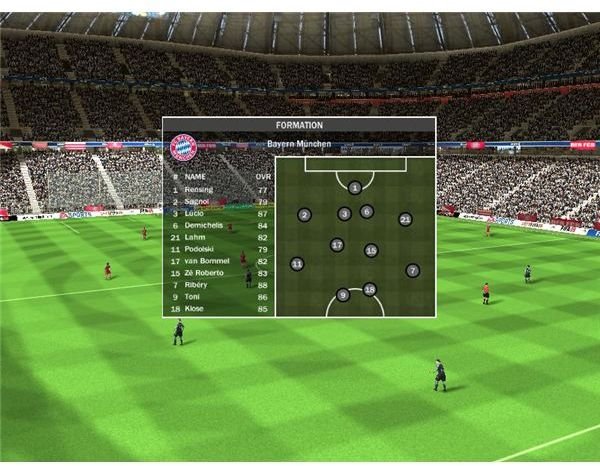 Introduction
Fifa09 is a great football game produced by EA sports. Every team was designed to resemble it's real-life playing style, strength and weaknesses. And Bayern Munich has numerous of those. All you need to do is utilize them – and counter Bayern strengths, preventing them from scoring goals.
Formation
I would definitely propose to stick with your team's unique formation, as it is especially designed to suit your players. If you have decided to switch for something different however, 3 forwards can definitely be a problem for Bayern. Their Center Backs (Demichelis and Lucio) are pretty potent, but both Fullbacks (Lahm and Oddo) are rather offense-oriented and can be beaten.
Defense
When playing against Bayern, you should know that their attacks will mostly come from the left flank (your right) – with Ribery and Lahm employed there it is very logical to do so. The left flank (Shweinsteiger and Oddo) is far less dangerous. In the midfield, Ze Roberto is very technical, but Van Bommel has only strength – use sliding tackles to strip him of the ball. Neither Toni nor Podolski should pose a threat for your defenders in terms of speed, but Toni is very strong and can win the ball from your midfielders, as well as score headers from corners or crosses. Using a tall, strong CB is almost a must when countering Bayern. Another tactics Bayern will almost surely utilize is "Counter Attacks". Be prepared to take control of your goalie and use goalie charge to "counter the counter".
Offense
Scoring against Bayern Munich is FIFA 09 (as well as in real football) is not an easy task at all. The defense is tight, and by using the defensive mentality it can be even tougher to overcome, with practically all players defending (maybe all but Luca Toni) in front of the ball. Alot of patience is needed. You will probably need to bring your fullback forward to try and form a defense for the wings. A defensive (or back), midfielder can also come forward, (3rd Man tactics) trying to score from a long range shot (the BM goalie Rensing is not that good). Technically superior front line players (such as Roonie) can also pose a problem for Bayern's strong but not-so-quick defenders. Cristiano Ronaldo for example, is a real nightmare on the right flank, constantly beating Lahm – and sometimes both Lahm and Ribery – and urging one of the Center backs to cover him, freeing space in the middle of the penalty area.
Mentality
Since Bayern will probably use Defensive Mentality with counter attacks, playing balanced mentality should be your first choice. Attacking mentality maybe creates a pressure in the Bayern part of the field – but they are pretty good at handling it – and it also a can lead to quick breaks, exactly the thing BM is looking for.
Summary
Bayern Munich is a tough opponent in Fifa09. But every team has its weaknesses. Bayern players are strong, but not very technical and will probably rely on counter-attacks. Press them to their goal and try to score from long shots – but watch out for the quick breaks by Ribery and Toni.
This post is part of the series: Beat Any Team in FIFA 2009
A guide covering how to play and beat any of the various teams in FIFA 2009.