The Secrets of FIFA 09 - Win Against Liverpool in Fifa 2009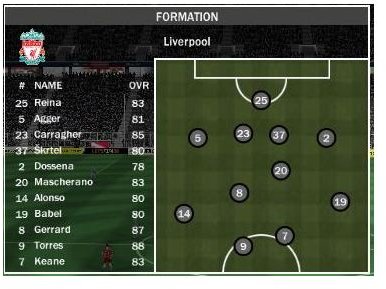 Introduction
FIFA 09 is a great game – a real joy to every football fan. Every team has a unique style with strengths and weaknesses. These strengths and weaknesses are designed to emulate the real-world playing style. To overcome Liverpool in Fifa 09 you have to take advantage of their drawbacks, and there are quite a few. They have a slow defense, a relatively toothless miedfield, and only one really dangerous striker.
Formation
It is always advisable to use your default team formation because it is especially designed to suit your players. However, if you wish to experiment a little you can definitely go for a center-packed formation. Liverpool's strength is on the flanks and counter attacks so forget about a 3-center-back formation, it will lead to a disaster.
Defense
Defending against Liverpool is in fact not very hard. You should watch for counterattacks, especially long passes towards the very quick Fernando Torres, who will probably outrun your defenders. Another Liverpool offensive weapon is crossing the ball to the penalty area from the wings so, be sure to cover the flanks, especially if Babbel and Benayoun are deployed there. Kuyt and Xavi Alonso can be used by your opponent on the flank to provide more firepower in the penalty area but neither is a serious threat. Mascherano may come forward to support the attack so watch out for his long-range shots. Remember NOT to foul your opponent close to the penalty area, Gerrard free kicks are deadly.
Offense
As was already said, Liverpool are NOT a great defensive team. If you succeed in causing them to play much of the time in their half (ideally around the penalty area) you will sooner or later score. Bring your midfielders towards the penalty area, patiently pass the ball around and you will find the opportunity. Also, ALL their defensive players (Arbeloa, Carragher, Agger, Dossena and frequently used Skrtel) are pretty slow, and can be beaten by your attackers. That's why Liverpool use a diamond-style midfield with Mascherano covering much of the area. However, as was already mentioned, when Mascherano moves forward to help the attackers you can utilize that for quick counterattack. Generally, patience and overload is the key against Liverpool. Sooner or later they will "break down".
Mentality
Picking the mentality against Liverpool is a bit problematic. On one side, you should push them towards their penalty area, attacking with many players. On the other hand, it may lead to a long passing game to Fernando Torres, who you will not catch with your center backs and will probably score against your goalie. So I would propose a balanced mentality, with occasional switches to offensive deployment.
Tactics
Defensively, you can try to implement the Offside Trap, but do not use it for too long, as the opponent will adjust and use Fernando Torres to beat you. Offensively, you should definitely consider using 3rd man to bring your midfielders forward. Box overload is not advisable as it will aid Liverpool in packing the defense around their penalty area. Wing Play, on the contrary might be a good choice, as it "widens" the game, which can pose a real problem for the Liverpool defenders.
Summary
Liverpool are a good team in FIFA 09 but not the best. They can certainly be beaten by using the flanks, quick forwards and patient attacks. Prevent Liverpool from scoring by defending the wings, avoiding fouls near the penalty area and covering Fernando Torres.
This post is part of the series: Beat Any Team in FIFA 2009
A guide covering how to play and beat any of the various teams in FIFA 2009.