FIFA 09 Advanced Tactics - Learn To Win Against Chelsea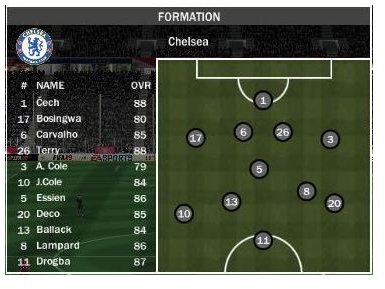 Introduction
As in real life, Chelsea is a very potent team in FIFA 09 – arguably the best football simulator up-to-date. The team was designed (along with many other teams in the award-winning EA Sports game) to reflect its style of play – excellent winger with Didier Droghba up front, supported by dangerous attacking midfielders – Lampard and Ballack. The key when playing against Chelsea is to use there offensive-minded fullbacks (Ashley Cole and Bosingwa) and score with quick play off the flanks.
Formation
It is always advisable to play with your teams default formation – it probably suits your players the most. Opting for 3-back strategy is a VERY dangerous option against Chelsea, as their attacks will utilize the free flanks. 4-4-2 it probably the best option. If you want to shut down Chelsea offensive efforts – flat midfield should be used. If you want to attack through the middle – Diamond formation is a possibility.
Defense
Chelsea is not a very dangerous team offensively. You still need to be worried about the wingers – Joe Cole, Deco and substitute Malouda are all dangerous – especially Cole, who has great long range shot ability. Besides that – watch out for Droghba headers, Ballack passes and Lampard long range shots. Essien will come forward many times to support the attackers – this is your chance for launching a counterattack, especially if full backs had also moved forward.
Offense
There is one recipe to score against Chelsea – attacking via flanks. Center backs are relatively slow (can be used for counterattacks) but pretty strong and will win most challenges. But fullbacks are very offensive-minded – thus you can create an opportunity on the wing – but do not try to cross the ball (Terry and Ricardo Carvahlo are excellent headers) – look for a low pass instead.
Mentality
Offensive mentality can prove disastrous against Chelsea. Their wingers and striker Droghba are very quick and will cause you serious problems on quick breaks. You can use defensive mentality or a balanced one – both are good for controlling the tempo of the game.
Tactics
Defensively you need not to worry. The default disposition is quite fine. You can occasionally use Flat back along with Offside Trap – but not for too long as Droghba has good speed and technique to beat your defenders. Prevent Chelsea from building a long lasting attacks – or allow them just that and score on the break. Offensively, it is very important to open up the game using Wing play – empty areas can result in center backs movement to cover, creating opportunities in the penalty box.
Summary
Chelsea is a tough opponent in FIFA 09 – but no more than that. Use flanks to score against them and defend stubbornly to prevent them from scoring – those are the keys to your success against Chelsea.
This post is part of the series: Beat Any Team in FIFA 2009
A guide covering how to play and beat any of the various teams in FIFA 2009.