99 Prayer Guide: The Runescape Prayer Guide to Get 99 Prayer Fast - ARCHIVED

Editor's Note: This is an older article, originally published in Jan, 2009. It has not been updated and contains outdated references. All the articles in this series have been archived and the comments have been closed.
Runescape 99 Prayer Guide
The Runescape prayer skill can used in almost every situation in the game, especially when you are either in danger, in a risky area training, fighting in a mini-games, or if you are fighting other players in pvp worlds and in Bounty Hunter, in order to get some good drops. Prayer is used to protect many things, including health, items, and even boosting skills.
Having certain levels of Prayer can really make you more powerful, both with attacks and defense. However, training to 99 prayer in Runescape can take a very long time. In fact, having 99 prayer is actually very rare, since it can cost well over 100 million GP, or more, and take several months to obtain, depending on the strategy you use to get to 99 prayer.
In order to shorten the time it takes to take get 99 prayer and also make the amount of money needed to get to 99 less of a burden, this guide to 99 prayer will show you how to get 99 prayer fast, while also saving money.
BenefitS

There are many benefits to following this Runescape 99 prayer guide and obtaining 99 prayer. Here are three biggest benefits of having 99 prayer, while playing Runescape:
1.) Longer Prayer in Battle
When you are fighting in PvP worlds, one of the biggest advantages is having a higher prayer level over your opponent, so your prayer lasts longer. If you have 99 prayer and your opponent only has 70 prayer, than you will be able to use at least 29 more prayer points against your opponent, or more, depending if you are a member and decide to use prayer potions. This could mean you have the advantage of using multiple prayers at once, which would cause you to run out of prayer around the same time as your opponent, or you could use one defensive prayer and be able to protect yourself much longer than your opponent.
2.) Easier Battles Against Monsters
Whether you are simply training or you've set out to fight a larger monster such as Karee, the monster featured in the Armadyl Hilt Guide which could make you rich with only one good drop; having 99 prayer will make your battles much easier. As soon as you reach level 65 prayer, you should definitely complete the Knight's Ransom Quest to use Chivalry. At level 70 prayer, you will be able to take advantage of Piety if you have already completed the quest.
3.) One of the Rarest 99 Skill Capes
With 99 prayer, not only will you be able to out-perform your opponents, but you will also look much better wearing one of the rarest 99 skill capes in Runescape. Since there is a large cost to getting 99 prayer, not many people are able to ever reach it. You will even be able to place the 99 prayer cape in your house while training to 99 Construction.
The Best Way to Get 99 Prayer Fast

Trying to get 99 prayer in Runescape is one of the most expensive skills to obtain the skill cape. In order to save money, you need to think carefully and try to get the most prayer experience for the money you are going to have to invest into getting 99 prayer. The best way to get 99 prayer fast is by using dragon bones.
Dragon bones are the best bones to train to 99 prayer because they give the most experience for each bone used; however, these bones are expensive, as they cost over 1,000 gp per bone. This is what makes the skill very expensive, unless you waste your time on cheaper big bones, which you will still loose you a good amount of money and only take you longer to reach 99 prayer.
Since it can cost around 100 million GP+ to train all the way to 99 prayer, many people never end up making it to 99 prayer. Usually, Runescape players only train to their needed level for their desired task, for example 55 prayer for a quest or 70 for Piety, which is mostly used in the PvP Pking Guide, the Armadyl Hilt Guide, and other battle situations. People never really go beyond level 70 prayer, as they would rather spend the time and money training other skills.
Tips to Train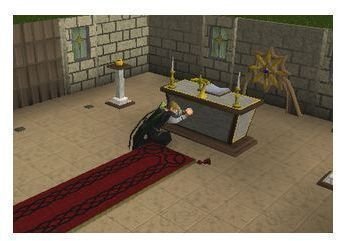 To make training to 99 prayer faster and less expensive, everyone training to 99 prayer should consider using their bones with an altar constructed in their own or a friend's house. If you can find one, the best altar to get 99 prayer is the Gilded Altar, which is white and has two insense burners placed on each side of the alter.
When you use the bones on the altar and the insense burners are lit, you will get bonus experience for every bone! This is one of the best tips everyone should remember from this Runescape 99 prayer guide, since a person can save money and get to 99 prayer fast. These altars can be found in other players houses when created using the Runescape construction skill. Usually, you can go to a house party world and find one. They are usually advertised around the portals by other players and all you do is add the person to your friends list and enter their house.
In order to travel to the houses faster and train to 99 prayer fast, you can bring teleport runes with you. The best way is to use Falador teleports and house teleports, since you will easily be able to teleport to your house, exit the portal and re-enter the portal into the house with the alter you were using. Once you are done using the bones on the alter, you simply teleport to Falador, run to the bank to get more bones, and teleport back to your house to repeat the process. Doing this will significantly reduce the amount of time it takes to get to and from the alter, ultimately making the process of getting 99 prayer faster.
Ways to get Money for 99 Prayer
There are many ways to make Runescape GP fast. Here are a few ways that I've personally used to make Runescape GP fast, in order to reinvest the money into training skills to level 99, including working my way up to 99 prayer fast.
1.) Hunting Dragon Implings

Hunting can be a very profitable skill, as long as you are a high enough level to catch animals and monsters that are actually worth your time and effort. The best way to get fast Runescape GP hunting is by catching Dragon Implings, which are currently worth around 300k each!
If you need some help with learning hunting and making money from catching Dragon Implings, head over to the Dragon Impling Guide to learn all there is to know about catching Dragon Implings to make fast Runescape GP.
2.) Making Potions with Herblore
Depending on your herblore level, you can use herblore to make potions and actually make fast Runescape GP every hour making potions. Of course you may need to spend some time running around Runescape in order to find some ingredients and you may need to purchase some ingredients, as well, but putting all the ingredients together and making potions can definitely make you some Runescape GP fast.
Head over to the 99 Herblore Guide to learn how you can make money using the Runescape herblore skill.
3.) Rune Running for Fast Runescape GP

Rune running is one of the best ways to make fast Runescape GP, simply because you do not need to have any requirements met to run runes and you can make thousands of Runescape GP per hour. All you need to do is buy Rune Essence or Pure essence and run them to alters, where people will then trade you runes for your essence, so they can train Runecrafting much easier.
If you want to learn the best ways to make money from rune running, head over to the Runescape Rune Running Money Making Guide for a full explanation on how to make money from running runes.
If you are more into getting runecrafting levels and making money yourself, head over to the 99 Runecrafting Guide to learn how you can get 99 runecrafting fast and make millions of Runescape GP.
Begin Your Journey Today!
Now that you know the benefits of having 99 prayer, how Dragon Bones are the best bones to use to train to 99 prayer fast, how using a Guilded Alter will boost your experience for every bone you use, and a couple ways to make some fast Runescape GP to train to 99 Prayer fast, you should now be able to set off on your journey to 99 prayer.
While you train to 99 prayer, always remember to take your time and always take breaks as soon as you become bored or sick of training 99 prayer. The worst thing to do is begin training to 99 prayer and quit, since you will loose your investment and you will never reach your goal of having that beautiful 99 prayer skill cape!
Hopefully this guide has helped you learn the best way to train to 99 prayer, as well as make fast Runescape GP.
Good luck on your journey training to 99 prayer!
This article has been placed in our archives.
This post is part of the series: Runescape's Prayer Skill
A guide to all things Prayer related in the free mmo game of Runescape.