RPG Maker VX: Custom Icons
Finding new icons of good quality for a RPG Maker VX project is no easy task. There are some icon sheet scattered here and there on the internet but they are more or less always the same limited icons (or color edits).
In this article, I will share some RPG Maker VX icons as well as providing a good resource for finding some more good quality art for RPG Maker games.
420 RPG Maker VX Custom Icons by Ails
Author: Ails
Link: Click here!
Ails, a talented pixel artist, has released 420 icons for RPG Maker VX free for use. This being said, it's always recommended the artists whenever using art which is borrowed from another artist.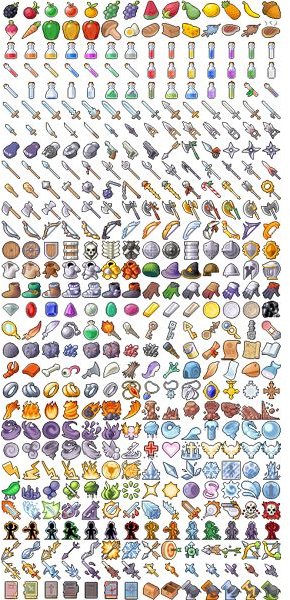 In order to save the icons to your computer, simply right click the image file and "Save Image as…" and choose where you'd like to download the file.
Sword Icons (RPG Maker VX: Custom Icons)
Author: Adarias
Link: Click here!
Adarias has crafted 16 unique swords which would fit nicely in just about any fantasy rpg maker game.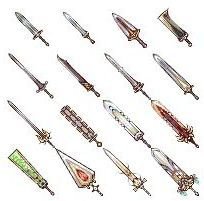 In order to use those icons, you'll need to launch photoshop, the Gimp (or the equivalent) and add the icons to the icons.png.
Some more Weapons Icons
Author: Larwick
Link: Click here!
Here's another great assortment of weapons which look really great. Those weapons will fit in nicely with the side view battle script for RPG Maker VX.

Finding more RPG Maker VX Custom Icons for your Game
Are 420 icons not enough for your game? Thankfully, there are plenty more icons where this came from.
Pixeljoint is a pixel art community with some of the most talented pixel artists in the world.
If you browse through the galleries, you'll find plenty of pixel art which could be used in your game. Remember that you can't use the art for commercial purposes (unless you have the permission from the artist) and that it is common courtesy to mention the creators of the art you've used in your game.
There's a much faster way to find what you're looking for on the website however.

In the search function, type in "RPG icons" or simply "icons" and click the search function. You will then have access to a wide variety of icons.
Note that it is also possible to find all sorts of art also useful for your RPG Maker VX game such as characters or even tiles.
More RPG Maker Custom Art
In case you're looking for more custom resources, I have written quite a few articles on that topic.
In this article, I explain how to modify the existing art in RPG Maker VX by using photoshop. This tutorial will come in especially handy in case you've never imported art with RPG Maker VX before. The process is more or less the same when it comes to icons.
If you have any questions or requests, please leave them in the comment sections.
This post is part of the series: RPG Maker VX: Custom Art
All sorts of custom art for RPG maker VX, from facesets to battlers.