PES 2011 Tips & Guide Part 2 - An Insight Into The PES 2011 Tactics Screen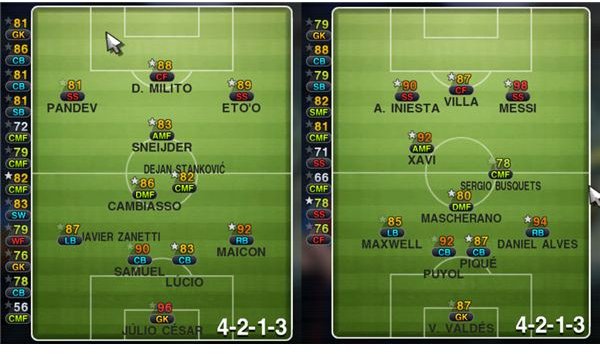 PES 2011 Tips For The New Tactics Screen
Plenty of PES 2011 tips are too broad or not focused enough to be truly helpful. This PES 2011 guide series tries to implicitly look into several areas with critical analysis and a depth often found to be lacking.
This particular article will look into the new PES 2011 tactics screen and give you tips on how to get the best out of both your players and the team itself.
With the new additions and reworked PES 2011 tactics screen fans will need to be accustomed with the new setup in order to successfully beat both AI and human opponents in the various returning and new modes in the game.
Probably the biggest new feature of the PES 2011 tactics screen is the ability to position players almost anywhere you want - on the HUD pitch representation. By clicking on the player ball, it can be moved around the faux-field or taken out and replaced by someone on the bench to the left hand side of the pitch. Now, this is where assigned position and specific coordinates come into play, with the higher fidelity on positioning.
PES 2011 Tactics - What Works Best For Which Situation
The various basic formations - 4-4-2, 4-4-3, 4-5-1 et al - will all serve their own purpose in specific game scenarios. For example, while playing with Barcelona, players will likely utilise a high defensive line while complementing the 4-4-3 formation with high pressure and player support options. While this may help with a team full of players like Xavi, Iniesta or Messi, lesser skilled teams such as Newcastle or Blackpool (in comparison to Barcelona at least) might want to pack the midfield or play "negatively" with a 5-4-1 or 4-5-1 setup.
By dragging-and-dropping the players into their positions, pressing either Square or X to select specific position, its easy to get the best formation for your team depending on their style. Furthermore, players can choose between several options that help with the team's playstyle, by changing the values of things such as player support, width and pressure among others. This can mould the team into your liking, with high defensive lines or deep sitting playmakers being easily placed on the new PES 2011 tactics screen.
PES 2011 Tips - Formation Setting Etcetera.,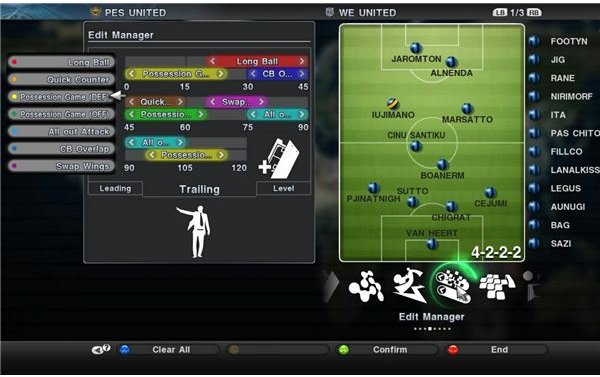 In addition to these new features and layout, the PES 2011 tactics screen has the coach mode options, allowing players to set up a non-playing algorithm for their team. For instance, you can set whether your team will begin to play long balls or go all-out attack after 60 minutes or have your wingers swap sides for 15 minute stints throughout the game. This is particularly helpful if you prefer to use the coach mode, which simulates games without your direct input, instead of playing the ambivalent AI yourself.
The PES 2011 tactics overhaul has taken the limits implicit to previous incarnations away. It has a free-form ability to position players and adds the new coach mode logic to boot. On top of this, the overall ratings for players has been improved and it is easier to assess independent and comparable abilities of every player. With the PES 2011 tactics screen detailed, it's time to move onto part 3 of this PES 2011 guide series, looking at a broad spectrum of gameplay tips involving attacking, defending and much more.
This post is part of the series: PES 2011 Guides
A series of articles focusing on different elements of PES 2011. In this five part series, readers will find out about the venerable Master League, how to cope in multiplayer, how to tackle, jockey & cross effectively as well as honing their skills in the tactics screen.