Choose the Right Football Manager FM Live Formations
FM Live Formations
Football Manager Live is the online home of high octane soccer management thrills, and with a huge skillset, huge game servers and highly competitive leagues, new managers to the game need an edge to level the playing field - quickly. It's an online version of the popular Football Manager PC game, with many of the same features - and many new ones!
This is a fast-paced game, with events in the various Football Manager Live gameworlds proceeding at a furious pace. Coming to the game yellow isn't advised, but with these useful FM Live formation tips you can dive straight in without touring the forums for hours beforehand.
Line-up with 4-5-1 in FM Live
Reflecting real life league football, the 4-5-1 formation seems to be favoured by Football Manager Live newbies, offering an opportunity for the team to retain possession for long periods of time. This formation is perfect for young or new teams, and is great for a new manager to use to get basic tactic skills and low-level achievements clocked up.
This lineup works especially well with a superior central defender (DC), central midfielder (MC), and striker (FC).
The Ultra-Defensive 4-6-0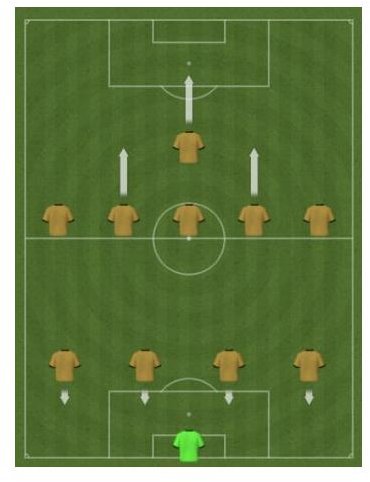 4-6-0 is an unusual formation that has been successful for a lot of Football Manager Live gamers, especially those with particularly talented players. In standard football tactics lingo, the series of numbers represents the number of players lined up on the pitch in each of the three skill zones – for instance 4-4-2 represents four defenders, four midfields and two strikers.
4-6-0 therefore is a formation featuring four defenders, six midfields and no strikers; yet it is renowned as a high-scoring lineup.
The reason for this is the use of skilled and pacey wingers, attacking midfielders and strikers placed in advanced midfield positions. Their position across the pitch allows for quick acquisition and retained possession of the ball, while their individual skills and physical ability aids the scoring of quick, skilled goals.
An excellent formation, with the right players.
Attacking Play with 4-3-3
Made popular in the modern game by former England manager Sven Goran Eriksson throughout his career, 4-3-3 is the most balanced formation available, pitting four defenders, three midfielders and three forwards against the opposition. It is also the most difficult to succeed with, depending on careful consideration and positioning on the pitch of the players in Football Manager Live, particularly the midfields and strikers.
This leads to interesting decision making - should the three midfielders be tight across the middle, and should there be two ball winners and one creative midfielder or vice versa? Similarly, should the forwards be strikers, wingers, attacking midfields?
Right Choice, Right Result
With the right choice comes the right result.
Bear in mind however that there are other elements governing the formations you use, whether you've designed your own masterful formation or you're using one of those suggested above – namely individual player skills (or lack of), dimensions (length and width) of the pitch and what tactic skills you and your opponent manager have unlocked so far. Player and manager skills can be assessed by scouting the opponent over a couple of games.
Remember - true tactical success comes from correctly judging and utilising the available players, playing to their strengths and exploiting the weaknesses of every opposition team you encounter.
This post is part of the series: Football Manager Tips & Tricks
A comprehensive collection of guides, tricks & tips for the Football Manager franchise.