Football Manager 2010 - Transfer Window Tips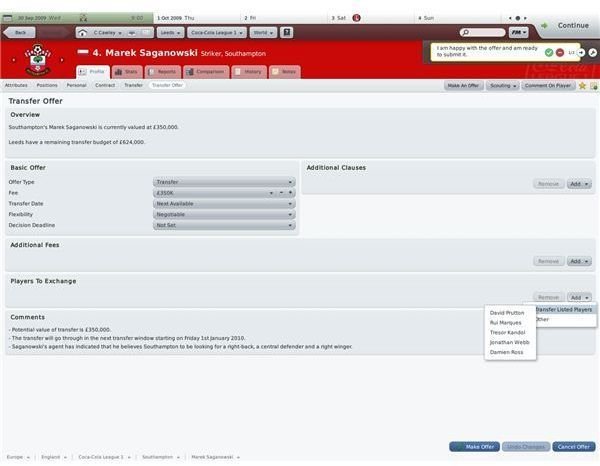 Gain an Advantage in the Transfer Window
The transfer window is a relatively modern phenomenon. In the past teams could buy and sell players at will throughout the season, but as more and more money has come into the game, particularly in European football, rules have been brought in to prevent teams from "buying their way out of trouble."
One such rule is the transfer deadline. This dictates that players cannot be bought or sold by teams between specific dates at the beginning and end of a season. In Football Manager 2010 this rule is strictly observed, as is the "transfer window" that runs in European football from the beginning to the end of January.
This is often a time of considerable activity in the transfer market, and is a great time to shore up any problems with your squad in the event of long term injury or to buy new players if your current squad isn't up to the task.
Transfer Window Timing
It is never a good idea to go into any transfer period without an idea of the type of player you want, if not his name. The Transfer screen in a player's Profile will display all clubs that currently have an interest in the player. Being aware of who else is interested and what financial muscle they might have to give them an advantage in signing the player is important.
As with real life, you might find that the majority of business in the transfer window takes place on the last day. If you're managing a big team in the English Premier League or one of the top tiers in Europe, it is wiser to keep tabs on your player and launch a bid in the final days than to go in for him on January 1st and then find other clubs are gazumping you by offering more.
You should also be aware of the "domino effect" of the transfer window.
If you have your eye on Player A and Team B signs Player B from Team C, and Player A and Player B are the same type of player likely to be fighting for the same place in your team, the chances are Player A might be favourable to a move.
Using the News screen you can keep on top of who is transferring where, and make your move at the right time.
Things to Note about the Transfer Window
The transfer deadline does not apply to loans – as such loan agreements can continue to be made until the separate deadline for these deals comes into force.
Similarly, the transfer deadline applies only to deals in which money or players of equal value, or part value plus money, are involved. As such teams can sign players that are out of contract or available for free throughout the season.
Finally, keep an eye on your new players when agreeing a contract – knowing how desperate you might be to sign a player might make them more prone than usual to asking for higher signing fees, bonuses and so forth. Make sure also that the contract end date is favourable to your club.
If you're looking for ideas then check out our Guide to the Best Young Players in Football Manager 2010 or our Guide to Bargain and Out of Contract Players in Football Manager 2010.
This post is part of the series: Football Manager Tips & Tricks
A comprehensive collection of guides, tricks & tips for the Football Manager franchise.