How to Run Games in Window Mode - e.g. Football Manager 2010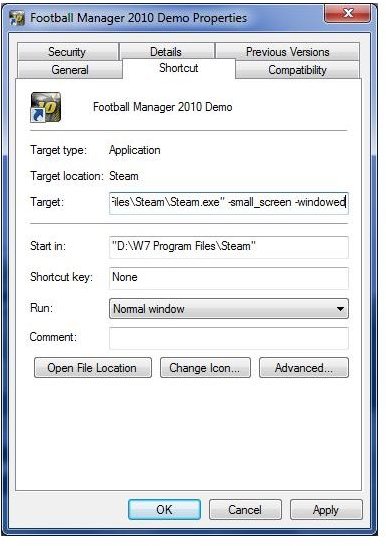 Want to Play in Windowed Mode?
"Windowed mode" is a great way to play games and flip between browser windows, image editors or whatever simultaneous task you wish to run – yet it is often far from easy to get your game into a separate window. More than likely your games run in fullscreen mode, taking over your Windows desktop.
For many games it is useful to be able to play in "windowed mode" – and with the majority of games it is simple to do.
This article uses the game Football Manager 2010 as an example; the methods used here can be used on many other games, however. Note that a windowed mode in FM 2010 may lead to some information being obfuscated by the smaller scale of the game window.
Add the "Windowed Mode" Command
In Football Manager 2010, if your screen resolution is below 1024 x 768 (and some higher resolutions depending on the video card and monitor) then you will find that the "windowed mode" item isn't available in your Preferences window. As such you will need to add a "command line switch" to the shortcut.
To do this, close all programs, and display your desktop. Find your FM 2010 shortcut (either on the desktop or the Start menu) and right-click – in the context menu select Properties.
On the Shortcut tab add the following to the Target:
-small_screen -windowed
(Notice the space before "-windowed")
Next, click OK – the game is ready to launch from the shortcut into "windowed mode!"
Windowed Mode Using Steam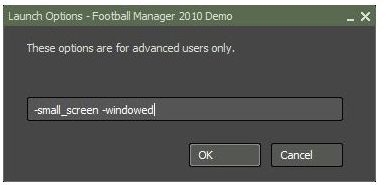 If you have installed Football Manager 2010 via Steam, you will need to add the command to a different location
In Steam, select the game and go to the Properties button.
On the General tab go to Set launch options… and at the insertion point enter:
-small_screen –windowed
(Notice the space before "-windowed")
Click OK to complete the change, and run Football Manager 2010 – you will now find that it runs in a window!
Configuring Windowed Mode in Other games
As a rule, a similar command can be issued to pretty much any game available on the market.
However you should do a Google search to check this – the standard method (show below) is different to the Football Manager 2010 method, and this may be the same for other games.
The usual process is right-click on your desktop or Start menu shortcut, choose Properties and on the Shortcut tab add "-window" (without quotes) to the end of the Target line.
Playing in "windowed mode" is also a great way to prevent your game from minimizing when playing on a dual-display setup when you want to switch to a task on your other monitor.
This post is part of the series: Football Manager Tips & Tricks
A comprehensive collection of guides, tricks & tips for the Football Manager franchise.