Introducing Rpg Maker VX
Making your own RPG with Enterbrain's RPG Maker VX can be a lot of fun but unfortunately it's not exactly user friendly and the support available is quite limited. This is why I have decided to write a series of articles explaining what you'll need to know in order to create the RPG of your dreams. Absolutely no prior knowledge is required to understand this article as I will explain how to do everything from the most basic things to the very advanced features.
If you still don't have your own copy, you may make your purchase at Enterbrain's official webpage here.
Creating your First Project
First of all, create a new project. The project will be your actual game.
In order to do this, click on File and then select New Project or quite simply press CTRL+N (hold down the CTRL and N key at the same time).
You will get the following window:

Choose a folder name and a title for your game. Make sure to choose a location which will be easy to locate on your computer as I've had trouble in the past finding my own little projects.
Once you're done with that, you're now good to create your first actual map.
Creating your First Map
All of the mapping options should now be available to you. Look at the bottom left corner of your screen:

This is where all of your different maps will be listed. For now, we'll just stick to one map but we'll add some more in the future.
Now look at the top left corner of your screen. This is where you have all of your available tilesets. The tilesets will be used to create your maps. Browse through the letters from A to E to get a better idea of what is available to you.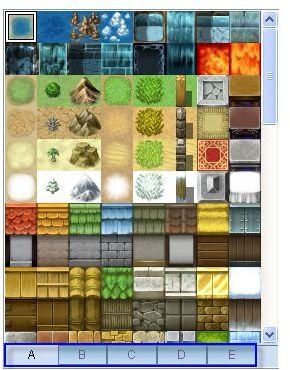 You might notice that the letter E doesn't have any tiles. This is because the Tileset E is used for importing your own custom tiles. We'll get back to that later.
Now, choose the Tileset A and select the grassy patch (the third one down from the top left corner) and scroll your mouse over to the main mapping window. Hold down the left button and try to map a small island. You should end up getting something which looks more or less like the map right below.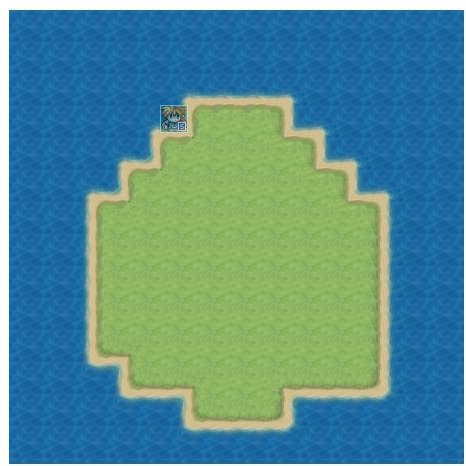 Note that there are four different ways to put down your tiles. Make sure to experiment with each one of them as each method has its own advantages. Now, look at the window at the very top.

Clicking on the pencil (A) (the one which is already selected) will allow you to place tiles one by one.
Clicking on the square (B) will allow you to create rectangle shaped areas by using the tile you currently have selected. Hold down the left button of your mouse and scroll around the map. You can choose whatever size you prefer.
Clicking on the circle (C) has the same effect as clicking on the square but this time around the pattern will be in the shape of the circle.
Clicking on the bucket (D) will allow you to fill a whole area with your selected tile.
You've now finished your first island! It looks pretty bland though. In my next tutorial, I will explain how to put in some details to make your maps a lot more interesting.
This post is part of the series: RPG Maker for Beginners
This series will explore the basic functions of RPG Maker VX. Examples and screenshots are provided to facilitate understanding.