Where to Find Gems in Runescape - Sapphires, Rubies, Emeralds, Diamonds, and More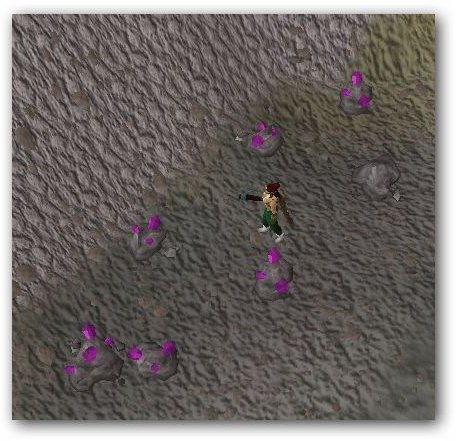 Mining Gem Rocks
The most reliable way to find gems on Runescape (other than buying them on the Grand Exchange, of course) is to mine gem rocks. Gem rocks can be found in Shilo Village and in the Lunar Mine, but you'll have to complete the associated quests in order to have access to them. Also, there is an additional mine with gem rocks under Shilo Village that can be accessed by those who have finished the hard portion of the Karamja Achievement diary.
Another special kind of gem rock can be found when playing the Tai Bwo Wannai Cleanup minigame. These rocks appear randomly, and each one can be mined thrice to receive three gems.
When mining gem rocks, it's possible to obtain one of the following gems: jade, opal, sapphire, emerald, ruby, diamond, or red topaz. If you're planning to cut the gems anyway, it's a good idea to take a chisel along with you when you mine gem rocks. This way, you can cut the gems while waiting for the gems to respawn. If you accidentally crush them, you can just drop the crushed gem to make room in your inventory for more.
Finding Random Gems While Mining Other Ores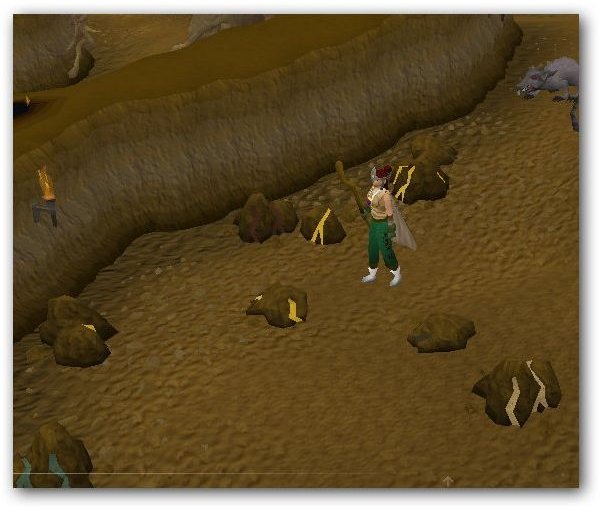 If you don't have access to gem rocks, you can still mine rocks containing other ores in the hopes of obtaining a gem. This is a far less reliable method since gems will only appear randomly when mining other types of rocks, but this random chance can be increased by wearing an Amulet of Glory. In fact, if you're serious about gem mining, investing in an Amulet of Glory is well worth the expense since it also speeds up the time it takes to mine gems at the specialized gem rocks.
One great place to try this method of finding gems is at the Coal Trucks near Seers' Village. Since the carts will hold at least 120 pieces of coal (more if you're wearing a Seers' Headband), you can spend a lot of time here mining in hopes of randomly finding gems without having to drop and waste the mined ore. However, if you don't mind dropping the ore and losing potential profit, you can pick any mining area that has a large number of rocks.
Just Pick Them Up!
As mentioned in the previous section, it's not that uncommon to find gems while mining for other ores. However, there are a lot of players who have no interest in the gems and only are after the ore from rocks they are mining. In these cases, players will often drop the gems when they find them in order to make more room in their inventory to hold more ore. So, if they're going to waste anyway, you might as well pick them up and put them to good use!
This activity happens more frequently in areas with higher level ores such as adamantite and runite. However, it's still not uncommon for dedicated coal miners to drop gems as well, especially the more commons ones such as sapphires, opals, and jade. Your best bet for finding gems this way is to go to a heavily populated mining area with a lot of rocks. Then, just keep a good eye out for sparklies laying on the ground.
Random Encounters and Other Methods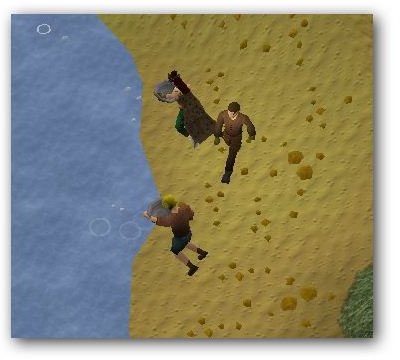 There are several other ways to find gems in Runescape, but most are very random. It's not uncommon to find gems as drops from a wide variety of monsters or to have the option to choose them as a gift received from a random event. Also, if you catch a casket when fishing with a big net, it's possible that the casket may contain a gem of some sort.
A slightly better trick that seems to yield gems much more frequently is to pan for gold at the Digsite Quest area. You don't need to have completed the quest in order to pan for gold. Simply bribe the Panning Guide with a cup of tea, and he'll give you a panning tray. Then you can pan at the nearby stream. Once you scoop up some water and mud, search the panning tray and you'll find a random item, which will often be a gem of some sort.
This post is part of the series: Runescape Mining Guide
The best mining locations and ways to increase your mining skills in Runescape.