NCAA Football '12 Guide to the Pac 12 Teams: Oregon, Stanford, Oregon State, USC, UCLA, Washington, and More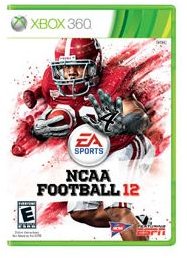 The Pac-12 was just one of the many conferences who experienced a bit of rearranging this last off season. The addition of Colorado and Utah, as well as a conference championship game, has left fans wondering just what has become of the conference they knew so well.
The first in our series of guides covering individual conferences in NCAA Football '12, this guide to the Pac-12 will cover each team, its strengths, weaknesses, and best players.
Whether you're trying to pick a team to play as or scouting an upcoming opponent, you'll find useful information on each of the 12 teams in the new Pacific 12 conference.
This guide refers to the default roster that ships with the game. Players will be referred to by number, but fans of individual teams should have no difficulty figuring out who individual players are.
Arizona State Sun Devils
The Arizona State Sun Devils have an overall rating of B+, with the same rating for both offense and defense. They run an Air Raid offense.
The stars of this team are mostly on the defensive side of the ball. CB #3 and MLB #7 both have an 89 overall rating, and opposing quarterbacks should keep an eye on where they appear on the field.
Offensively, the standouts are a solid offensive line, most of which have overall scores in the mid 80's, and QB #17, a pocket passer with throw power and accuracy in the high 80's-low 90's.
Arizona Wildcats
The Arizona Wildcats also have an overall rating of B+. Their offensive rating is also a B+ and their defensive score is a solid B. The Wildcats, like their in-state rivals, favor the Air Raid offense.
Arizona has a potent offensive connection with their highly-rated WR #82 and QB #8. This fabulous route runner (score of 98) and highly-accurate and powerful passer (89 in both categories) will shred unsuspecting defenses all day.
On defense, look out for highly rated ROLB #41 and CB #1.
California Golden Bears
The Golden Bears of the University of California score an overall rating of B. Their offensive and defensive capabilities are a B as well. Cal runs the Pro-style offense.
Cal's standout players are their two highly-ranked linebackers (MLB #3 and LOLB #30) and their powerful punter. On offense, WR #1 has the speed and agility to make an impact on any game.
Colorado Buffaloes
One of the new additions to the conference, the Colorado Buffaloes are a B on offense and a C+ defensively. These two rating combine into a B- overall score. The Buffaloes favor the Pro offense, a popular choice in the Pac-12.
Colorado's best player is their outstanding halfback (92 overall rating). He's fast, has great acceleration, is elusive, and makes use of his excellent vision.
On defense, the team's best player is FS #26, he's a sure tackler that excels in pursuit mode.
Oregon Ducks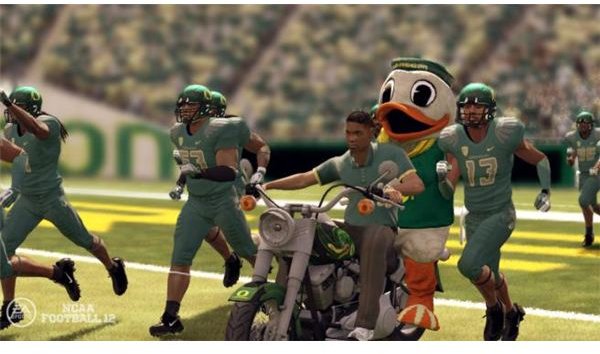 Ratings-wise, the Oregon Ducks tie for the most potent team in the conference. Their A+ rated offense and B+ rated defense combine for an overall score of A. The Ducks run their infamous Spread offense.
Oregon is loaded with great players on both sides of the ball. On Offense, the stars are HB #21 and QB #1. Both excellent rushers, this combination makes the Duck offense very difficult to defend. Their very accurate kicker can also hurt you, even if you somehow manage to stop the offensive attack.
On defense, key players include FS #20 and CB #13. The Oregon secondary is not to be trifled with, so make sure your receiver is where he's supposed to be before you let the ball go, or they'll make you pay.
Oregon State Beavers
Overall, the Beavers of Oregon State rate a B+. Their offense is respectable, with a B+ rating, and their defense is a solid B. Oregon State runs the Pro-Style offense.
The Beavers are led by their All-American receiver and punt returner, WR #8. He's very fast and has excellent acceleration, so make sure he's contained on all returns and passing downs. OSU also has a very solid offensive line.
On defense, CB #17 and FS #10 are the leaders. Watch out when passing into the Beaver secondary.
Stanford Cardinal
Stanford is the other powerhouse offense in the conference. Their overall rating is a solid A, thanks to a B+ rated defense and an A+ rated offense featuring quarterback Andrew Luck. The Cardinal run the Pro-style offense.
Stanford's standout player is their quarterback, QB #12. He's a very accurate and powerful passer, and has the agility and speed to hurt you with his legs. Contain him or you're in for a very long day on defense.
On the defensive side of the ball, the Cardinal's best players are MLB #11 and LOLB #44. These players are excellent tacklers, have outstanding hit power, and excel at shedding blocks. If you see these two coming on a blitz, get the ball out as quickly as possible
UCLA Bruins
UCLA runs the unique Pistol offense, a combination of the shotgun and single-back sets. This year's Bruins team receives an overall rating of B, with a B in offense and a B- in Defense.
UCLA's offense is anchored by an outstanding running back, HB #23, and two great receivers, WR #82 and WR #83. With so many weapons, it can be hard to stop this offense once it's rolling.
On defense, SS #6 and ROLB #11 are standout players. SS #6 is a hard-hitting safety who will make your receivers pay for crossing him, and ROLB #11 is a hard-nosed run stopper, so make sure you know where he's lined up before you hand the ball off.
USC Trojans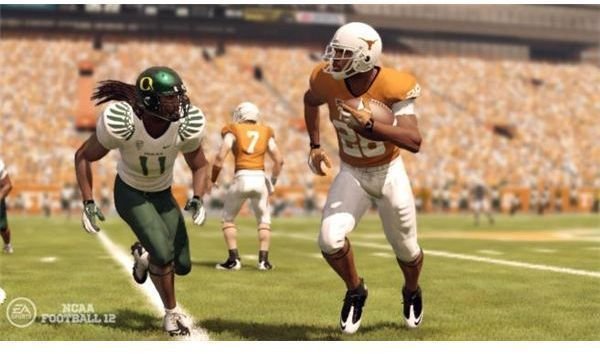 The Trojans have an overall rating of A- this year. Their offense and defense both receive a B+ rating. USC favors the Pro-style offense.
On offense, look out for the Trojans' QB #7, a junior pocket passer who is finally starting to come into his own, and HB #26, a potent power running back with the ability to flatten defenders.
Defensively, standouts include FS #7, CB #37, and MLB #42.
Utah Utes
Another newcomer to the Pac-12, the Utes utilize the Pro-style offense, as well. Their offensive rates a B+, defense is a B, and their overall rating is a B+.
Utah's best player is their balanced middle linebacker, MLB #32. The Ute defense also features a good secondary led by SS #2 and FS #35.
On offense, QB #3 is not to be taken lightly. With a 89 overall rating and respectable speed and agility, containing him will be difficult.
Washington Huskies
The Huskies receive a B+ overall rating, with scores of B+ for their offense and B for their defense. The Huskies, like so many in the conference, favor the Pro offensive set.
With the graduation of their standout quarterback last year, the Huskies must now rely on the talents of HB #1 and WR #15, the best players on the team.
On defense, watch out for MLB #31 and FS #29.
Washington State Cougars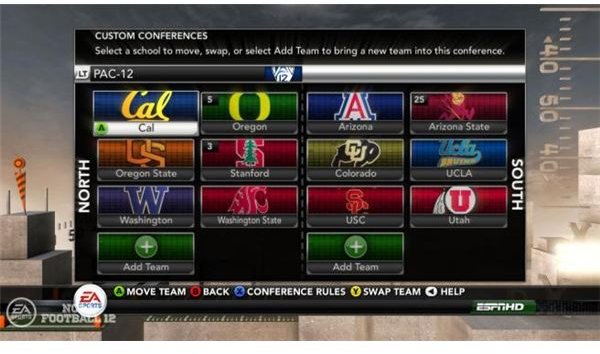 The final team in the conference, the Cougars use Multiple offensive sets to keep defenses on their toes. The worst-rated team in the conference, Washington State gets a C+ for offense, a C for defense, and a C+ overall rating.
The Cougars may have a low overall rating, but there are a few standout players to be aware of. WR #86 is fast, agile, and runs excellent routes. Put your best defensive back on him or watch him torch your team all day.
On defense, SS #20 is the highest-rated player. Overall, the Cougar defense is somewhat average, but this strong safety will hurt you if you get complacent.
References
All references from NCAA Football '12.
This post is part of the series: NCAA Football '12 Conference Guides
Our series of guides to the different conferences in NCAA Football '12 features a team-by-team breakdown of offensive and defensive ratings, offensive schemes, and top players on each team.