NCAA Football '12 Full Scouting Reports for Teams in the Mid-American Conference (MAC)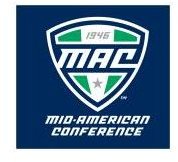 The Mid-American Conference is comprised of twelve schools from the country's great lakes region. Known as the "conference of quarterbacks" because of the large number of alumni at that position who went on to have success in the NFL, the MAC is made up of two divisions: East and West.
Our full collection of scouting reports for the teams in the MAC covers best players on both sides of the ball, full ratings, and offensive schemes for each team in the conference. Whether you're looking to take one of these teams to the national title game or simply defeat them en route to a title with another school, our guide has the information you'll need about each squad.
Most NCAA Football '12 players choose to download named rosters, and this guide will reflect that preference by referring to individual players by name, rather than the position/number combo of the default rosters.
Akron
The Akron Zips prefer to run the Pro-style offense. Among the lowest-rated teams in NCAA Football '12, the Zips receive a D for defense, D- for offense, and an overall grade of D-.
Akron's best player on defense is Brian Wagner at MLB. Offensively, they rely on quarterback who, even with a 67 overall rating, is among the top ten players on the team.
Ball State
The Cardinals run the Spread with their D-rated offense.
Defensively, Ball State earns a C-, giving them an overall rating of D+.
Three of Ball State's best players are Baker at SS, Freeman at MLB, and Martin at ROLB.
Special teams are worth mentioning, as well, with both kicker Schott and punter Kovanda ranking among the top five players on the team.
Offensively, the top weapon is Orsborn at WR, with an overall rating of 72.
Bowling Green
Perhaps Bowling Green's greatest strength is their consistency, scoring a C- on offense, defense, and overall.
The Falcon offense utilizes Multiple looks to keep their opponents on their toes.
Bowling Green's top offensive weapon is Kamar Jorden at wide receiver.
Defensively, Woods at MLB is the team's most talented player.
Buffalo
The Bulls earn a 1.0 GPA, receiving a D in all three categories: offense, defense, and overall.
The Buffalo offense prefers the Spread formation.
Buffalo's offense is led by Marcus Rivers at wide receiver. Defensively, their top player is Mack at LOLB.
Central Michigan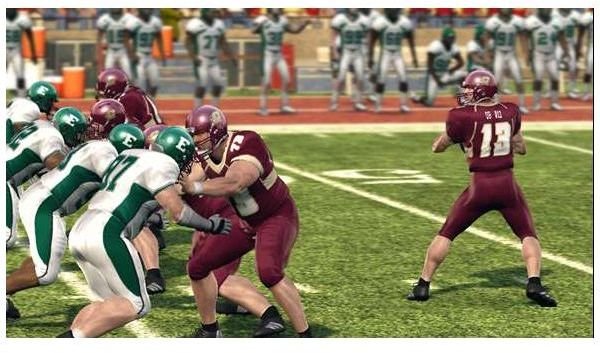 Tim McGraw's girlfriend's favorite team, the Central Michigan Chippewas, utilize Multiple offensive sets.
Offensively they score a C, defensively a C-, and their overall rating is C.
Central Michigan has a decent connection on offense, with highly-rated quarterback Ryan Radcliff and wide receiver Cody Wilson.
Defensively, the top player is Addae at SS.
Eastern Michigan
The Eagles make use of the One Back style of offense.
Eastern Michigan receives a score of D overall, the sum of their D+ offense and D defense.
The Eagle offense leans heavily on Dominique Sherrer at halfback. Defensively, the best player is English at middle linebacker.
Kent State
Kent State's mascot is the Golden Flashes. Look for them to use short "Flashes" to move the ball with their Pro-style offense.
The Golden Flashes earn a rating of C - for defense, C for offense, and C overall.
For Kent State, Roosevelt Nix at defensive end is the key to stopping opposing offensive drives. Offensively, watch out for Terry at halfback.
Miami University
The Redhawks of Miami University are fierce rivals of the Ohio Bobcats. Their Pro-style offense receives a C+ rating.
Defensively, Miami U earns a C+, adding up to an overall grade of B-, making them the most highly-rated team in the conference.
The Redhawk offense runs through quarterback Zac Dysert, who is fond of tossing the ball to Harwell at wide receiver.
On defense, watch out for Wedge at MLB and Harris at ROLB.
Northern Illinois
Northern Illinois is home to the fighting Huskies and their Pistol offense.
With a rating of C+ on offense and C on defense, Northern Illinois has an overall rating of C+.
Chandler Harnish is the talented quarterback leading the Husky offensive attack. On defense, Northern Illinois relies on Butler at MLB and Clark at ROLB.
Ohio
The Pistol offense is also the name of the game for the Ohio Bobcats. Receiving ratings of C on offense, C+ on defense, and C+ overall, the Bobcats are a remarkably average team.
Ohio's strength defensively lies in their linebacking corps, with Benjamin at ROLB and Edwards at MLB among the most talented players on the team.
On the offensive side of the ball, keep an eye on Harden at halfback, he's their best offensive weapon.
Temple
Temple University only joins the MAC during football season. Their Spread offense receives a grade of C+ while their defense earns a C. Overall, the Owls receive a C.
The Temple offense relies on a two-headed monster at halfback with Bernard Pierce and Matt Brown, the two highest-rated players on the team.
Defensively, top players include Gildea at SS and Whitehead at LOLB.
Toledo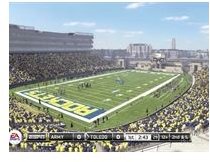 The Rockets are amongst the most highly-rated teams in the conference, earning an overall rating of C+, largely thanks to their B- rated Spread offense.
Defensively, Toledo receives a grade of C+.
It's fitting that a player with a name like "Adonis" is the most talented on his team. Halfback Adonis Thomas leads the Toledo offense and MLB Dan Molls is the best player on the other side of the ball for the Rockets.
Western Michigan
The Broncos of Western Michigan are the final MAC team on our list. With an overall rating of C+, a product of their C+ ratings on both offense and defense, Western Michigan prefers to run a Pro-style offense.
The Western Michigan offensive attack is led by Carder at quarterback. Defensively, keep your eye on Zajac at MLB and Toler at CB.
References
All screenshots and references from NCAA Football '12.
This post is part of the series: NCAA Football '12 Conference Guides: Big 12, MAC, and Mountain West Conferences
Looking for scouting reports on teams in the MAC, Mountain West or Big 12 Conference in NCAA Football '12? Our guide has information on each team featuring best players, offensive and defensive ratings, and offensive schemes.
Hello Broncos, Goodbye Horned Frogs: Full Scouting Reports for the Mountain West Conference in NCAA Football '12